Posted
November 26, 2007 by Mike Mineo
in Features
Kathy Zimmer Uses a Spare Key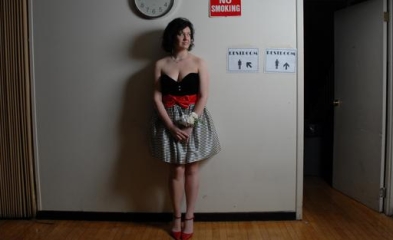 The transition from serene rurality to urban skyscrapers can be quite traumatic, especially in regard to first-time visitors of New York City. Public transportation, swelling streets with numbered names, the ceaseless commute… what is considered overwhelming to visitors is a natural way of life for natives. For artists, the change of scenery can be a make-or-break affair. Many either find it a struggle to adapt to the swift change of life or scenery, but others embrace it and consider it to be a new experience that will guide them in their upcoming work. As her songwriting shows, Kathy Zimmer can certainly prove in appliance to the latter. Raised in rural Nebraska, Zimmer's childhood seems more like a singer/songwriter stereotype than anything. She grew up admiring folk music, impressing the eager townsfolk with her powerful voice and melodic adeptness. She learned guitar early in her life, singing at a variety of Nebraskan-based functions like rodeos and county fairs. After attending the University of Nebraska as a music major, she relocated to New York City, a place where the word "rodeo" is even more foreign than sushi or Pad Thai.
Though her name has yet to reach a significant stage of popularity, those who have known Kathy Zimmer's music since her teenage years should not be surprised to know that she is prospering in New York City. Her musical sophistication and lyrical aptitude makes Zimmer perfect for the city's thriving folk scene, with her occasional implementation of jazz and soul being additional sparks of life that makes her presence even more fulfilling. While her childhood influences based in "wash tub bass-style folk music" can still be recognized under layers of acoustical and brass instruments, Zimmer has become an artist where no specific genre is wholesomely applicable. Zimmer's desire to express herself in a pressured but abundantly talented environment like New York City shows her courage, even attempting to summarize the city and its inhabiting "hipsters" in the soulful "Whatever Gets U Thru the Day". No worries though. Seeing that it would not be wise to insult your prime fan base, she instead focuses on realistic analogies "Like a cowboy feels his freedom, and a hipster needs his thrills," she sings softly over an inviting saxophone, "Like New Yorkers need their pace, and a murderer needs his kills." Hipsters looking for a thrill? That seems to be an endless adventure, though one is viable to come close while listening to Kathy Zimmer's third and latest release, Spare Key.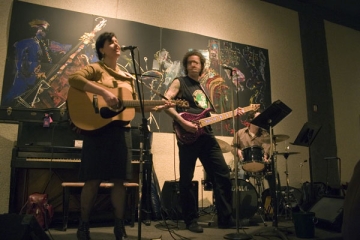 Zimmer's constant analysis spread throughout the lyrical content in Spare Key is one of witty observance and experience. You can thank her bravery to relocate to a thriving atmosphere for that one; many other artists are either reluctant or fearful to adapt to other lifestyles. Since she released her debut album, Under Your Spell, in 2003, Zimmer has built a reputation for building her songs around such aforementioned points of analysis, romanticized innocence, and amiable folk melodies. Spare Key is Zimmer's first release since her 4-song EP, Dreamin', in 2005. Featuring 6 memorable songs, it is displays a remarkable progression of maturity and growth from her earlier works. Though her lyrics have always been though-provoking and generally amusing, her melodic capabilities throughout Spare Key are undoubtedly an improvement. Whether it be her own backing vocal accompaniments in the brisk "Arms Crossed" or the sensational brass-led chorus in the opening "In the Park with George", moments of instrumental elegance now are intertwined cohesively with Zimmer's seemingly natural use of story-led lyrical intricacy. It makes Spare Key something of a breakout album, both stylistically and commercially. The last aspect, of course, depends on whether or not audiences give Kathy Zimmer the well-deserved recognition. With the majority of the release being enjoyable, it is not a hard task to accomplish.
Another component of Zimmer's charm is that she presents her lyrics in a form that is instantly realistic and comparable to real-life circumstances. "In the Park with George" details the "perfect date". Describing a simple but pleasant day date at the park, Zimmer portrays the emotions involved when two people mutually connect. With analogies being a clear interest of hers, it is no surprise when she sings, "In the park, some people were laying in the sun while others sought out the shade, just like some people like to lay it all out on the line and others keep under cover cause they're just too afraid." A bit too analytical? Perhaps, but the infectious chorus uplifted by a sassy saxophone makes it all worthwhile. Her vocals quiver with emotional strain, though dramaticism is genuine in the sentiment that her lyrics portray such humane affairs. While its chorus features an instrumental build-up similar to "In the Park with George", the lyrics in the enjoyable "Arms Crossed" reflects the task of forgetting a recent lover. "If it were winter I'd build a wall of snow, blockade you out of sight and mind," she sings, "Shield from the ice you throw, I'd lie alone in the shape of an angel flying." Her poetic prowess is admirable and the topics, while hardly innovative, are honestly presented. Such sentimental reflections make Spare Key quite an enjoyable listen.
——————————————————————————————
Kathy Zimmer – In the Park with George
[audio:https://obscuresound.com/mp3b/kzimmer-int.mp3]
——————————————————————————————
[audio:https://obscuresound.com/mp3b/kzimmer-arm.mp3]
——————————————————————————————
Kathy Zimmer – Whatever Gets U Thru the Day

[audio:https://obscuresound.com/mp3b/kzimmer-wha.mp3]
——————————————————————————————
Mike Mineo
I'm the founder/editor of Obscure Sound, which was formed in 2006. Previously, I wrote for PopMatters and Stylus Magazine. Send your music to
[email protected]
.