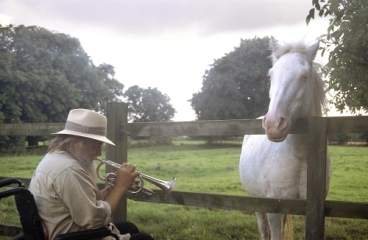 First off, I hope everyone's holidays treated them well. I took a break from the site for a week and I come back feeling relatively relaxed. After that arduous (though heavily rewarding) "Best Albums of 2007" feature, I felt that any further posts past that point for a week would be the result of complete burn-out. However, as any compiler of such lists would tell you, my list was by no means perfect; no list of that sort ever is. Several posts throughout the end of the year and January are bound to feature artists that flourished in 2007, yet that have been overlooked by me or the scene in general. There is no reason to fret though, as I will obviously continue to expose some of my favorite acts from 2008 in the process. It looks to be an exciting year, musically and otherwise.
When I was first told to check out Robert Wyatt's new album, Comicopera, it was near Halloween. Now, upon looking back, I regret not taking the opportunity when I was first informed of it. I just took Comicopera for its first spin this week, one week too late for the annual "Best of 2007" feature. I have to tell you though — this one would have definitely slid into the Top 30 had I listened sooner. I expect to kick myself a few times in the coming weeks for such decisions, though it is admittedly unrealistic to expect to listen to EVERY album from 2007 (though I try to tackle every good one). In regard to Robert Wyatt, I should have seen this coming from a mile away. As even his albums from the last 10 years have shown, Wyatt is one of those rare songwriters where the aspect of age is obsolete. He is an example of quality songwriting, whether it be from his time with Soft Machine in the early 60s or his own solo career (stretching over 40 years). For those who are not too familiar with Soft Machine, I recommend their first four albums, released from 1968 to 1971, as starting points. They are true classics in the field of English rock and pop, exhibiting forms of psychedelia, jazz fusion, funk, and prog-rock that were well beyond their years in the late '60s. After contributing percussive and vocal duties, Wyatt left the band in 1971. As he began to pursue a gratifying solo career, Soft Machine could never match their early success after that.
As Wyatt has proven since his debut solo album, The End of an Ear, in 1971, his exposed instrumental prowess is as eclectic as his own musical taste. The sense of ambition gathered in a Robert Wyatt album is incomparable to most enduringly consistent acts, in which an artist usually milks one fan-led style in order to remain a prominent figure in their latter years. Wyatt instead takes considerable influence from a widespread array of genres, with several forms of freeform jazz often being the most prominent. It seems that jazz is often the genre in which age is never an aspect that hinders quality. I do not know what to pin it on, though the ceaseless dedication and sheer love for music that a quality jazz musician often conveys certainly has something to do with it. Though some of Wyatt's songs are indeed strictly jazz, he cannot be classified solely as a jazz artist; his incorporation of world music, psychedelia, and pop has additional influence on each album; the preference of style is never mundane or overwrought with contemporary desperation. After over one dozen solo albums, Comicopera is merely a continuation of his individualized and eclectic talent. Even at his current age of 62, it is one of the best albums of Wyatt's career too.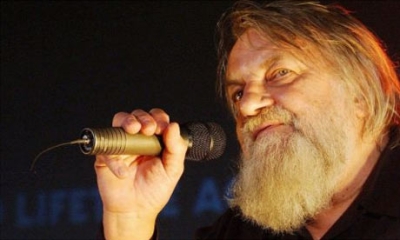 When speaking of Comicopera, Radiohead's own Thom Yorke certainly was not one to hold back his emotions. Considering Wyatt one of his greatest influences, he recommended the album wholeheartedly and called the first track, "Stay Tuned", "absolutely beautiful". That seems to sum it up well too. Written for Wyatt by Anja Garbarek (daughter of Norwegian jazz saxophonist Jan Garbarek), it is one of the most brilliant tracks included in Wyatt's prolific solo career. With the steady chill of the rhythm section presenting an aroma that moves leisurely at a pace that appears seemingly appropriate in contrast to the desolate soundscape that Wyatt conveys with his frailly invigorating voice, a variety of bolstering horns, keys, and cornets can be heard underneath the eventual instrumental growth. Wyatt's vocals move with the rhythm section during the verse, but the chorus features a beautiful array of brass instruments clashing cohesively together as Wyatt utilizes the voice of a classically trained woman and his own to pull off a hook that ranks up there with his greatest. "I'll get back to you," he sings as the song fades into its final moments, capitalizing on the atmosphere of sheer desperation that the song expresses in full form.
The album's instrumental epicenter, "On the Town Square", is an absolutely delightful display of jazz fusion, with elements of African music interweaving with jazz in impressive form. With Wyatt on cornett, Gilad Atzmon on tenor saxophone, Del Bartle on electric guitar, and Orphy Robinson on steel pans, with the unique rhythm section serving up a style that gives off a vibe of tropical exoticness. Once a member of the Communist Party of Great Britain (until its abandonment in 1991), Wyatt has been known to dwell on politically active lyrics. Whether he is sharing his own views on religion, politics, or philosophy, his viewpoints – though typically controversial – are emotionally stirring and vividly intimate. "I really envy Christians, I envy Muslims too, it must be great to be so sure," he begins on "Be Serious". The song is generally an observatory outlook on the degree religion has on one's individuality and how, in turn, it affects the restrictive qualities that one is able to endure. "How can I express myself when there's no 'self' to express?" he ponders aloud over the raspy strain of swift electric guitars and hushed percussion. Though one of the most instrumentally linear tracks on Comicopera, Wyatt's outlook on "Be Serious" is certainly an interesting one, regardless of the listener's personal philosophy. It is quite an accomplishment that, at age 62, Robert Wyatt can still produce one of the best albums of his exhilarating career in Comicopera.
——————————————————————————————
——————————————————————————————
Robert Wyatt – On the Town Square
[audio:http://mineorecords.com/mp3/rwyatt-ont.mp3]
——————————————————————————————
——————————————————————————————
If music is your hobby, buy new home furnishings to house your records!   If you're in the market for home electronics, simply look to the Internet for awesome product discounts. Whether you're searching for music entertainment centers or want to get a great bargain on portable dvd players, you will discover nearly everything you desire on the Internet.