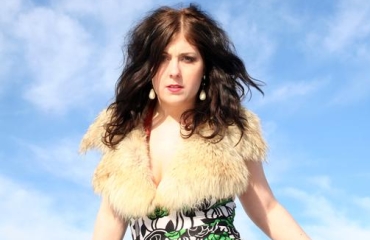 Contrary to what the type of her newest release may conventionally entail, Linda Carlsson has been creating albums under the name Miss Li for just over one year. Releasing a double-disc greatest hits compilation may seem a bit premature at this point, but at the rapid rate Carlsson is releasing albums, I suppose that fans have little to be surprised about. Since her debut album, Late Night Heartbroken Blues, was released a mere 13 months ago, Carlsson has steadily released two more full-length albums in addition to it. Both 10 tracks long, God Put a Rainbow in the Sky was released in May and Songs of a Rag Doll was released in October. With a work ethic that appears prematurely comparable to Ryan Adams, the budding Swedish songwriter has all the tools necessary to make it big as a successful singer/songwriter, whether it be in her Swedish homeland or across the distant seas. The name of her greatest hits compilation (released in November) may look a bit awkward at first, but Best of 061122-071122 simply relates to the concisely effective one-year stretch that her career under the alias of Miss Li has seen (11/22/06 to 11/22/07). Featuring 19 of her most resounding songs, its accessibility is quite commendable. Considering that her solo albums usually end up around the 30-minute mark, my recommendation to most is to check out Best of 061122-071122 before looking into the smaller snippets of Carlsson's solo career. Like any properly compiled greatest hits album should, it proves as a refreshing summary of Miss Li's career so far.
On her web site, Carlsson reveals the early stages of her music career in unique form. By posting a letter that her sister, Cecilia, wrote just before the release of Late Night Heartbroken Blues, it is easy to get an idea of Carlsson's musical intentions. Clearly a fan of styles both conventional and abstruse, her dwellings in blues, jazz, rock, classical, and even opera have resulted in a variety of solo projects, so many that even her sister initially did not take Carlsson's Miss Li project "too seriously". As she notes though, the remarkable thing about the output of Miss Li is the involvement of piano in each of the tracks. Prior to the formation of Miss Li, Carlsson had apparently not touched a piano since grade school. As the letter details, when Cecilia asked her sister about the instrumental transition, Carlsson churned out a confident reply: "I don't need to play that well to make it sound nice." Though such a statement would send classical composers into a resentful fury, any one who listens to a Miss Li song is liable to understand Carlsson completely. Led by piano-laden melodies that are simplistically infectious, it is not within the factor of complexity where Carlsson reveals her true talents. It is instead her lyrical astuteness, melodic prowess, and tremendous vocal force that establishes her as a star on the rise.



Though it sounds somewhat odd, the one thing that struck me odd about Carlsson is that she is from Sweden. Perhaps I am too wound up in the italo-disco revivalism and sugarcoated pop that the country churned out in 2007, but Carlsson's influences certainly appear to be familiarly in tune with shades of Americana, folk, and jazz. I learned of her geographic origin after taking God Put a Rainbow in the Sky for a first listen and, I ended up being very surprised. The implemented elements of folk and jazz were more in the vein of Tom Waits, Joni Mitchell, and Vashti Bunyan than ABBA or Ace of Base. This is the beauty of music though; artists are never held back by their own geographic standards. Artists can influence one another regardless of location, whether they are on the other side of the world or right next door. Stereotypes aside, whether it be folk or dance music, there is no strict order of geographical classification in music. Carlsson certainly benefits from this. Also, for those of you reading this who prefer comprehensible lyrics, there is good news: all of Miss Li's songs are sung in English. It helps too, as Carlsson's intelligent lyrical content is certainly worthwhile.
"I'm Glad I'm Not a Proud American" and "Kings & Queens" are perhaps the most evident examples of Carlsson's political involvement. Both touch on the shameful hierarchical aspects that comprise an evolutionary society, though it would be foolish to expect a politically charged song to become a force without a few governmental stabs in the process. It mainly touches on the country's obsession with violence (Michael Moore would be proud) and the government's dumbfounded ability in seemingly ignoring issues that are humanely vital. Though I admit to being far from politically astute, I find joy in both because of Carlsson's exhilarating vocal croon. She howls and shifts pitch in an impeccable manner, making her lyrical content appear as genuinely as possible, in agreement or not. "Let Her Go", while entailing the typical scenario of moving on from a relationship, is my favorite Miss Li song. Though led by a somewhat predictable piano melody, its infectiousness is irresistible. Being the opener on God Put a Rainbow in the Sky, it serves as a fantastic introduction. "The Songs We Used to Sing" is a more accurate display of Carlsson's emotional depth, being more dramatic in tempo and instrumentation. Touching on similar aspects of romanticized loss, the slight murmur of strings created by her backing band provides for an extremely moving experience. Though we have all heard songs about loss and regret before, Carlsson delivers it in an exquisitely unique manner. Do yourself a favor and pick up Best of 061122-071122 with some leftover holiday money. It is certainly worth it.
——————————————————————————————
——————————————————————————————
Miss Li – The Songs We Used to Sing
[audio:http://mineorecords.com/mp3/missli-son.mp3]
——————————————————————————————
Miss Li – I'm Sorry, He's Mine
[audio:http://mineorecords.com/mp3/missli-ims.mp3]
——————————————————————————————