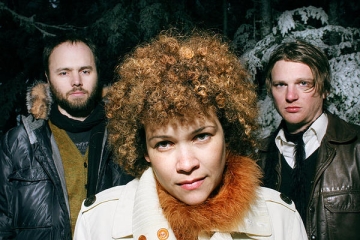 Regardless of the industry they work in, getting fired is something that most people have dreaded at one point in their life. Not only could it serve as a predestined financial blow, but the embarrassment caused is occasionally substantial enough to push some into a state of depression. The worst is when the reason has nothing to do with your efficiency or work ethic, but rather with the reason being that the employer simply has a cheaper alternative. With that in mind, how many people do you know who have been fired and then re-hired by the same person? Due to accustomed human nature in which many people are reluctant to admit when they were at fault, many bosses would rather just hire someone new and less productive instead of substituting their ego for an increase in productivity. An employee is most often finished with a company if they get the involuntary boot, regardless of whether or not the bigheads regret the decision in the future. When bands take on this corporate mentality, I imagine the effect on any dedicated members who are kicked out is devastating. When music is what you live for, having someone tell you that you are not good enough for some local independent band is really demoralizing. But fortunately for them, not all bands have an obstructive ego that is the size of a whale.
I rarely see cases where a group apologizes for firing one of their previous own, only later to bring them back with open arms. For Amelia, we can thank our lucky stars that the group is mature enough to face the facts when they make a decision that is erroneous in nature. The Portland-based trio would have clearly not found as much success without the vital aid of Jesse Emerson, the bass player who the group "regretfully fired" during the group's originative stages in 2000. When Amelia started out, it appeared as if they were alternating band members like an old pair of socks. However, after alternating between a pair of drummers and bassists, the group ended up where it started; original founders Jesse Emerson and Scott Weddle were at the helm once again. This time around, they convinced solo artist Teisha Helgerson to give her current project a break and join Amelia, a decision that eventually proved wholly beneficial. Weddle and Helgerson met on a rainy Tuesday night in a bar where he was playing with his friend, Warren Pash (the guy who wrote Halls & Oates' successful "Private Eyes). Over a half pint of brew, the two budding musicians engaged in a practical conversation regarding their most prevalent hobby.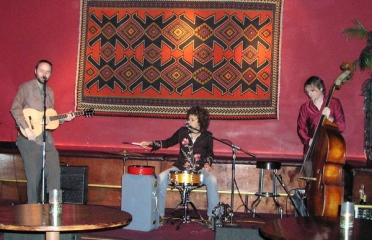 After that fateful night, Weddle and Helgerson became great friends, exchanging a variety of interests over their mutual love for music (he began teaching her how to play guitar and they attended a variety of shows together). Most importantly, they began collaborating together musically. Weddle gave her an album from his previous band with Jesse Emerson, The Flatirons, and she was apparently impressed enough to become a main component of the duo's newest project, Amelia. Consisting of Weddle, Emerson, Helgerson, and drummer Richard Cuellar, Amelia debuted in 2003 with Somewhere Left to Fall, an impressive first showing that displayed the group's stylistic leanings toward adult-contemporary pop, integrated jazz, and delicate folk. All of the songs were written by Weddle, who credited former Flatirons guitarist Jason Okamoto for the valuable experience that he collected during his stay with his former band. "Jason is a God. He taught me everything I know," Weddle said. "I took the best things from The Flatirons and added some sounds I thought completed the music." It is not the work of a duplicater, but rather of someone who is attributing some vital past experience to their current project. Past musical outputs, embarrassing or not, have proven vital for many overwhelmingly successful artists in the past. Amelia is no exception.
Now that Cuellar is no longer considered an official member of the band (though he still collaborates regularly with the group), the newly attributed trio are set to release their fifth album, A Long, Lovely List of Repairs, on April 22nd. Out of the previous material I have heard, this is clearly their strongest effort yet. Their style remains their most refined, with their eclectic implementation of folk-pop, jazz, and soul being at its strongest. Not only is their style at its best, but producer Mark Orton has given the group a newly polished edge that should satisfy fans old and new. The extremely talented Orton also plays a variety of instruments on the album, lending his hand at piano, guitar, and percussion while also writing the string arrangements. Featuring 14 tracks, this particular effort sees all three members getting in on the songwriting action. Per usual, Weddle wrote the majority of the tracks with his 8, but Emerson also wrote 4 and Helgerson wrote 2. Though Emerson's and Helgerson's tracks remain impressive, I remain most fixated on Weddle's meticulous efforts, the main reason being that he wrote my two favorite tracks on the album, "Tragedy" and "Enemigo". The latter is a suavely exotic gem, with Helgerson delivering her sultrily irresistible vocals in Spanish over a variety of acoustic guitars, bell-led percussion, and sweeping strings. Megan Sorensen-Orton handles most of the beautiful string work on the track, adding violin and trumpet violin to the mix. She makes her mark most well known during the track's impressive chorus, highlighted by Helgerson's swift vocal usage and the collaborative techniques used between the strings and percussion.
Though the majority of the album is well worth the full listen, the most overall impressive track on A Long, Lovely List of Repairs is clearly "Tragedy". As the name implies, the melancholic emphasis is heralded by a variety of twinkling keys and subtly interlaced strings over the steady progression of a steel guitar. With her outstanding vocals lying somewhere between a mixture of PJ Harvey and Norah Jones, Helgerson delicately navigates her work through the track flawlessly. "All the white ships in a slow drift," she sings, highlighting the importance of moving on past life's devastatingly – and often cruel – obstacles. "Can we write this in a new script? Can we both close the door?" The questioning marks both ardent urgency and romanticized longing, with the simultaneous effect coinciding well with Helgerson's ceaselessly resounding usage of her voice. "Dolores" also serves as one of the more enjoyable tracks on the release, once again featuring a variety of strings. Sorensen-Orton appears once again, and violinist Mary Lou Weddle . I do not know either of their exact relations to the band members, but it is readily apparent that music in runs in both the Orton and Weddle families. Scott Weddle's blues evidences are most evident in "Dolores", though Helgerson's brings upon the form of elegant folk-pop that listeners have grown accustomed to. Jill Coykendall's clarinet also adds a unique flair to the track, presenting a form of both rare elegance and impassioned sincerity. In the often mundane world of subdued adult-contemporary pop music, Amelia have produced a worthwhile effort in A Long, Lovely List of Repairs.
——————————————————————————————
——————————————————————————————
——————————————————————————————
——————————————————————————————