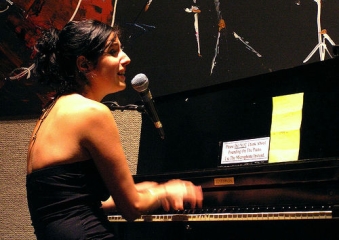 Though the album's name and cover art provide ample indication of its overlying theme, it is the first line on Ann Vriend's third album, When We Were Spies, that truly prepares the listener for the cinematic storyline that the budding Canadian singer/songwriter has built the release around. "Ducking into alleys in my overcoat, tracking from a random phone booth," she sings over a steady rhythm section that is eventually supplemented by twinkling keys and a suave electric guitar. "Take the stairs, avoid the elevator, I'd do anything to get back to you." If you still don't get it, maybe a bit of background info will help (or as Vriend would call it, pre-mission briefing). Apart from being a songwriter that has attracted thousands of fans and a handful of major labels, Vriend admits to being a former spy. Yeah, that's right… a spy. Though I cannot tell if it is some trendy promotional campaign, the straight-cut facts, or a mixture of both, she claims to have worked for an anonymous agency in western Europe. And what is a good spy tale without a touch of romance? While working as a spy, Vriend apparently fell in love with another spy, leading to an intricate game of "torn loyalties, clandestine passion, and treacherous lies". The supposed plot has quite a similarity to the James Bond movie, "The Spy Who Loved Me", but believing it all makes the listening experience better anyways. Also, considering that her astute lyrical prowess is reflective of someone with a background in English, her cover as a freelance journalist seems quite appropriate.
Even while the spy tidbit has to be one of the most unique characteristics of a new artist that I have heard in awhile, Vriend's life as a songwriter was certainly more conventional before her mysterious western European pursuits. Born in Vancouver, it was immediately recognizable that Vriend had a rare form of musical adeptness. By age three, her parents had discovered that she could melodically identify nursery songs on a Fisher Price xylophone; not exactly a grueling task, but impressive for a three-year-old nonetheless. She continued to pursue music in school, with a performance at her high school talent show earning her a production deal in NYC. While there, she participated in the local scene by writing and performing in various bands. She left NYC a few years later to return to Canada and attend Grant McEwan College in Edmonton, where she studied pop and jazz for two years. She returned to NYC less than a year later when Sony Studios invited her to a recording session, with Paul Simon (her biggest childhood) tickets to woo her into the process. With funding aid from a songwriting contest she won earlier in the year, Vriend released her debut album, Soul Unravelling, in 2003, immediately winning over a diverse array of fans. She released her sophomore effort, Modes of Transport, in 2005 and put out an EP, The Clandestine EP, last year.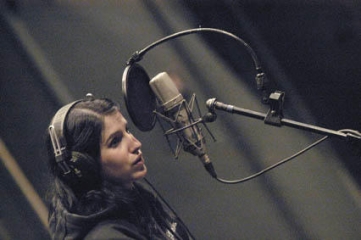 Vriend plans to release her third full-length album, When We Were Spies, on March 11th. It was produced by acclaimed Canadian producer Douglas Romanow and has already pre-sold nearly 1000 copies. The two headlining singles are the thematically appropriate "(If We Are Not) Spies" and "St. Paul", both touching on the apparent dangers of mixing a mysterious and life-risking occupation with emotionally demanding aspects in the vein of romance, companionship, and morality. Both have already earned heavy Canadian radio play, with Vriend's sights now set on a growing American audience. She also has a surprisingly large fanbase in Australia. "I've been to Australia four times now in the last two years. It seems exotic somehow because I am from the other side of the world," she said. "They think you are renowned in your own backyard because you are travelling around the world to perform. You never really know where your music goes to." Like a spy, the ideology may be manipulative, but Vriend truly deserves all the recognition she receives. To give comparative examples of the acclaim Vriend is receiving, critics have likened her voice to Kate Bush and Regina Spektor; even better, they compare her lyrical ability to the likes of Paul Simon and Leonard Cohen. The only issue, as she claims, is the distribution process, which makes it enduringly difficulty for listeners to receive new quality music. "The only thing that is a drawback about the music business is all the time it takes beforehand to actually get to the music," she says. With her soaring vocals (they are surprisingly untrained), impressive songwriting ability, and multi-instrumental prowess, Vriend is truly an all-in-one package.
While listening to the album's opening track, "(If We Are Not) Spies", it should become quite apparent to listeners that Vriend has the doubtless potential to become a radio darling. She possesses the swagger and stylistic flair of a star in the making, with "(If We Are Not) Spies" being the most immediate proof of it. Backed by a grandiose chorus that is once again led by her empowering vocals, the topic of how emotionally demanding it is to be a spy is a unique but entertaining subject, entirely suitable when sung over an array of masterfully arranged instrumentation that is both suave and infectious in tone. "Cut me free, I can't seem to get away from this job," she sings during the chorus, demonstrating her stunning vocal ability in both range and genuine ardency. Like fellow Canadian songwriter Neil Young, Vriend incorporates a distinctive country twang into her vocal delivery while focusing on instrumental elements that are more alt-rock in nature. Appropriately enough, she attempts a cover of Young's "Rockin' in the Free World" and succeeds overwhelmingly. Though the chorus remains true in form to Young's classic, the verse is now led by a series of strings and rhythmic progressions that are reminiscent of Vriend's continuous spy theme. The bolstering strings recalls any likable theme song from a quality spy movie, with the peaking of strings creating a fulfilling sense of urgency until the guitar-led chorus of universal memorability. "St. Paul" is a touching gem that touches on the same spy-oriented subjects as "(If We Are Not) Spies)", only this time being delivered primarily over keys and an acoustic guitar. Her melodic capacity is in full form here too, being of beautiful elegance in her seemingly natural ability to craft vocal-led hooks. When We Were Spies is Vriend's most consistent release yet, with both her fantastic songwriting and vocal ability resulting in her best overall effort to date. If this album does not gain her some serious recognition outside of Canada, I would be absolutely shocked.
——————————————————————————————
Ann Vriend – (If We Are Not) Spies
[audio:http://mineorecords.com/mp3/avriend-ifw.mp3]
——————————————————————————————
Ann Vriend – Rockin' in the Free World (Neil Young cover)

[audio:http://mineorecords.com/mp3/avriend-roc.mp3]
——————————————————————————————
——————————————————————————————