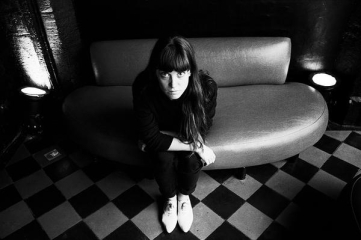 When I was 8 years old, my taste of music was generally limited to conventionally accessible acts in the vein of The Beatles, Radiohead, and Zeppelin. True, no one will deny the significance of any of those artists, but my taste had clearly not yet reached a level where people would respond with "who the hell is that?" after asking who my favorite new artists were. That being said, if an 8 year old trotted into their 2nd grade with a presentation assignment to share with the class their favorite artist, there is a chance that even teacher would be startled if the answer was someone like Tom Waits. Waits, as most of us know, is one of the most enigmatically successful songwriters of the past 30 years. Still though, how his ingenious lyrical intellect and blending of various – and often inaccessible – musical styles could capture the usually inattentive ears of an 8 year old is beyond me. Well, as it was easily apparent at an early age, Phoebe Killdeer had a natural tendency to stray outside the artistic norms. "Tom Waits got to me at the age of 8 and I've been a constant listener ever since," the aspiring songwriter explains, effusively confident in her unconventionally fulfilling ways. It is easy to believe that songwriters are most efficiently groomed by stylistically analogous influences they discovered as a child. In Killdeer's case, she was and still appears to be ahead of the pack.
Even before she became enamored with the individualistic audacities of Tom Waits, Killdeer also proved mature beyond her years when she expressed an interest in the choreography of dance. "I was fascinated with the relationship between movements and sounds and always felt that they communicated through a language I could understand," she says. This sparked interest later prepared Killdeer for her current occupation as a talented songwriter with a potential that remains as high as the sky. Like Waits, she continues to disregard any stylistic norms in favor for her own tendencies. Is she a beatnik at heart? Sure, I guess you could call her that if the term fails to bother you, but Killdeer's embrace of stylistic philosophies both old and new provides for an experience that is freshly stimulating. As for her influences apart from Waits, Killdeer believes that her most important influence derives from a broad level of sociology that we can all relate to. "People are my inspiration," Killdeer says, referencing civilization as a whole instead of through specific individuals. "They are a never-ending source of emotions, feelings, reactions, disturbances, and surprises. If you sit long enough you will always catch a moment, just like a photographer who has caught a story, a thought in a snapshot." For Killdeer, her first snapshot in the world of songwriting happens to be one of the most enjoyable debuts of 2008.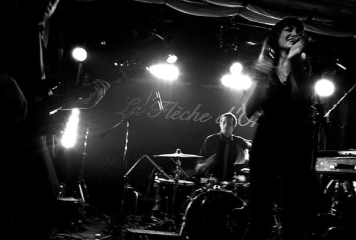 Like many young artists looking to get their share of experience, Killdeer began her musical career collaborating with artists who had been around long enough to know a helpful thing or two about the industry. Basement Jaxx, Bang Gang, and Nouvelle Vague were a few of these names, with the latter providing a surreal experience for the young Killdeer. After contributing to Nouvelle Vague's second album, Bande à Part, she participated in a world tour with the French duo, apparently lasting 3 years. Knowing Nouvelle Vague's leading man, Marc Collin, also helped out to a large extent in the long run; he went on to produce Killdeer's solo debut, Weather's Coming. To be released on April 1st, it is truly one of the most impressive debuts of the year so far. "It dramatizes the elements I love most about our little world; people and what makes us so undeniably us," Killdeer says. "I wanted the sound of the album to be dirty enough to represent the quirkiness of these characteristics, so with Marc Collin we got some crazy horns, ghostly vibraphones, edgy guitars, and tribal drums together to capture the necessary mood." And after six weeks of working with producer Marc Collin and mixer Oz Fritz in the city of San Francisco, Killdeer realized just as much as her listeners that her debut has the capability to be something special.
Alongside an extremely capable backing band that goes by The Short Straws, Killdeer's outstanding debut tackles a variety of genres that include hints of rockabilly, blues, and folk. With tinges of surf, punk, and even funk also being evident, her ability to write addictive pop songs with such underlying stylistic leanings is extremely impressive. With Killdeer's seductively swanky vocals complementing her eclectic stylistic approach, it proves to be a lethal combo. The lush "Let Me" utilizes forms of folk, soul, and even Afro-pop as Killdeer breezily glides over a twinkling set of keys. The keys have the simple job of providing chordal whole notes, with the single-handed spur of percussion supplementing the rhythm. Separate keys in a deeper tone appear after each verse, establishing a hook that mainly relies on the melodic similarities to nostalgic soul-like ballads. "He's Gone" sees Killdeer playing more with elements of R&B and vocal jazz; the brass section provides for a refreshing alternative to guitars and keys. And for kicks and giggles, many will find the brass to be particularly reminiscent of… Tom Waits, of course.
For vocal jazz, however, nothing on the album can come close to comparing to "Big Fight". Killdeer vocally reflects the melodic arrangements of each brass instrument, providing a "bang!" for every note during the bridge. She whispers seductively and croons like a jazz bar veteran throughout the entire track, backed by a devastatingly infectious instrumental section; the music is compliments of the outstanding The Short Straws. "I Get Nervous" is one of the most devastatingly haunting tracks I have heard so far this year. An organ leads this minimalist gem as the reverb-soaked Killdeer asks, "Why can't love be a little easier on me? Scratch me, pinch me," before the brooding rush of guitars and percussion. Almond also provides outstanding production, using techniques of implementing orchestral elements into pop music somewhat similarly to Matthew Herbert. Even tracks in the vein of traditional Americana and rockabilly, like "Paranoia" and "How Far" respectively, bode well. However, it is in avant-garde gems like "I Get Nervous" and "Big Fight" providing the best examples of Killdeer's outstanding songwriting, even if "Let Me" remains the most instantaneously infectious. If you fail to pick up Weather's Coming on April Fools' Day, the joke is simply is on you.
——————————————————————————————
Phoebe Killdeer & The Short Straws – Let Me

[audio:http://mineorecords.com/mp3/killdeer-let.mp3]
——————————————————————————————
Phoebe Killdeer & The Short Straws – Big Fight
[audio:http://mineorecords.com/mp3/killdeer-big.mp3]
——————————————————————————————
Phoebe Killdeer & The Short Straws – I Get Nervous

[audio:http://mineorecords.com/mp3/killdeer-ige.mp3]
——————————————————————————————