Since yesterday I featured the sisterly charms of Ghost Bees, I figured it would be appropriate to even out the gender ties a bit. Though they are not twins like Romi and Sari Lightman, brothers Dominic and Rob Campanella possess just as much chemistry and are able to tout a more substantial degree of experience. Being the two founders of The Quarter After, an up-and-coming collective that promotes the so-called "3rd Wave of Psychedelia", the Campanellas seem determined to bring back a style of rock 'n' roll that has been generally devoid of quality since the mid-'90s. Not since fantastic acts like Teenage Fanclub reigned over the scene over 15 years ago, the correlation between psychedelic rock and rootsy rock has been mediocre at best, with middling bands like Jet and The Mooney Suzuki turning the genre into something of a shameful occupation. Calling acts like Teenage Fanclub and Rain Parade their most notable influences would be appropriate, but only in a contemporary sense. Like their aforementioned forefathers, the Campanella brothers blend a style of neo-psychedelia with shades of jangle-pop and alternative-rock, noting British legends like The Byrds and The Who just as significantly. Their eclectic taste in rock 'n' roll has its roots as well, with both brothers having a history of lending a helping hand toward of a few of the most modernly prominent rock revivalists.
The Quarter After's formation in 2000 marked the first attempt at an individualistic effort for both Dominic and Rob, though Rob's collaborative involvement with artists like Brian Jonestown Massacre dates back nearly a decade. He worked with frontman Anton Newcombe on a variety of material on and off, admitting, "I've quit and been fried a couple times. But it seems kind of like the mob, just when you think you're out…" Outside of his involvement with the Brian Jonestown Massacre, Rob also serves as a highly sought-after producer with names like the Black Angels, Mia Doi Todd, and Goldrush to his credit. This year, he has produced albums by Innaway and the recently featured Dead Meadow. On the other side of the band, Dominic has served as an aspiring singer/songwriter who has been refining his skill while his brother was gaining production-based experience with a few of the most promising indie-rock acts. This has led to Dominic being the principle singer and songwriter for The Quarter After, with Rob taking charge as lead guitarist and producer. With both of their pasts exhibiting a form of skilled progression (both in terms of songwriting and audible production), their second album, Changes Near, looks to finally be the release that establishes the Campanella brothers as songwriters with purely individualistic intentions.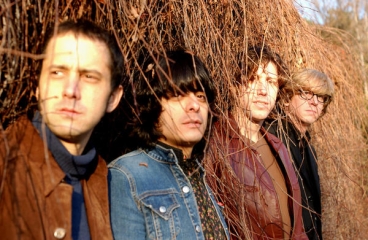 Though The Quarter After's second album brings nothing new to the table in terms of style and delivery, the most prevalent factor of enjoyment comes in the brothers' mutual ability to craft songs that are both accessible and infectious in nature. Though comparing the duo to predecessors like Teenage Fanclub is dramatically premature, The Quarter After's growing experience has eluded to the group touching similar aspects of greatness. Looking ahead, I would not be surprised if The Quarter After eventually become a great singles band, much like Teenage Fanclub. That is not to say their full albums do not flow cohesively though, as Changes Near is a generally enjoyable listen from start to finish. Even if a handful of fillers prevent it from being a full-fledged success, the potential shown on fantastic tracks like "Sanctuary" and "See How Good It Feels" are optimistically representative of the brothers' near future. One thing that remains cumulatively admirable throughout the release is the production and instrumentation, featuring the likes of bassist Dave Koenig (ex-Brian Jonestown Massacre) and drummer Nelson Bragg (Brian Wilson Band). A few reputable names like Anton Newcombe and Matthew Sweet also make an appearance; Sweet provides backing vocals on "Early Morning Rider" and Newcombe dabbles in a variety of instruments throughout the album. It shows just how highly other respectable musicians think of the up-and-coming The Quarter After.
Even though The Quarter After's blend of jangle-pop, neo-psychedelia, and alternative-rock (with an occasional country-rock twang) creates a style that will sound familiar to most listeners, I doubt that anyone will find Dominic Campanella's vocals to be singularly comparable. Alternating deliveries throughout the album, he occasionally proves reminiscent of Michael Stipe or Tom Petty. As for the Stipe comparison, take one listen to "Sanctuary" and I imagine that it will be easy to agree with. In fact, the R.E.M. comparison as a whole is not far off, even if the backing vocals and slight touch of strings provide for a more psychedelic effect. Possessing both stylistic flair and selective ambitiousness, Dominic steers the song with an endearing vocal delivery while his brother rounds out the rest of the track with a variety of intricately layered guitar progressions. Regardless of similarities though, it proves to be a fantastic opener to Changes Near. Both "See How Good It Feels" and "Turning Away" exemplify the more accessible renditions throughout the album, providing an accessible three minutes of jangle-pop goodness. Though it lacks the durability and ambitiousness of "Sanctuary", both tracks are more radio-friendly due to amiable choruses that are supported by an whimsically enjoyable guitar solos. With influences as lovable as Teenage Fanclub and R.E.M. shining through brightly on Changes Near, The Quarter After's second album is simply hard not to enjoy. It drops on March 18th.
——————————————————————————————
——————————————————————————————
The Quarter After – See How Good It Feels
[audio:http://mineorecords.com/mp3/quart-see.mp3]
——————————————————————————————
The Quarter After – Turning Away
[audio:http://mineorecords.com/mp3/quart-tur.mp3]
——————————————————————————————