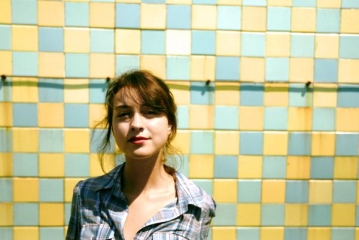 When I wrote about the tactful Håkan Hellström earlier this week, the only nuisance that I found in regard to the Swede was the lack of information surrounding him. Come to think of it though, if I could read Swedish then it would not have been a problem, as it was finding informative details not written in Swedish that proved to be difficult. My lack of bilingualism aside, it simply provides indication that an artist who is heralded in their homeland has no sure guarantee of reaching a substantial foreign audience immediately. However, in regard to both Hellström and the Madrid-based Russian Red, I would be shocked if both of them did not become significantly recognizable names in the western independent music scene by year's end. For Russian Red, the blossoming solo project of the attractive and talented Lourdes Hernandez, it appears that she already has an advantage when compared to her peers. Apart from dwelling on a similarly paced style of avant-garde folk music that has been lauded by both critics and fans alike over the past several years, English audiences will likely be pleased to know that Hernandez sings her songs in English. While Spanish remains her first language, her decision to sing in English mainly stems off the belief that more people could recognize the content and, in turn, relate to it.
Looking at Hernandez, a first glance would indicate that she is little more than a stylish and attractive college student. Like most seniors, she anticipates the future ahead of her, even if it remains conventionally indecisive at this point. At this point in their lives, most 22-year-old musicians still find themselves pursuing their dreams rather than immediately accomplishing them, but Hernandez is clearly already ahead of the game. With her bold talent providing to be the domineering force, Hernandez has been recognized in Madrid as one of the most promising artists of the past decade, with both her lyrical content and hauntingly unique vocal delivery providing for a plethora of very unique thrills. Seeing the unlimited potential of her craft, the somewhat local Eureka Records scooped her up last year. Now, after a variety of local performances and successful attempts at various forms of songwriting, Hernandez released her debut album, I Love Your Glasses, on April 1st. Though fame appears imminent for the young songwriter, she vows to never leave her love for Madrid behind. "I really like this place… and I really feel that I'm from here," she said. "I suppose in a way that's materialized in my songs."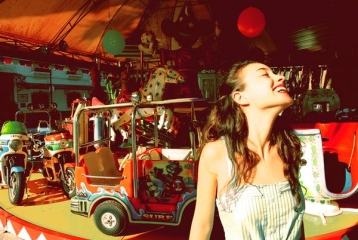 While localized odes provide for a commendable display of Hernandez's proud cultural identity, many who listen to Hernandez without background knowledge would not even guess that she spent all of her life outside of America. Her voice recalls the oddly invigorating flair of contemporary female folkies in the vein of Joanna Newsom and Marissa Nadler, with not even the slightest sign of an accent. The lyrics are consistently clear in tone and the content is just as emotionally poignant as her recent indie-folk predecessors. The album's delicate opener, "Cigarettes", audibly illustrates the feeling of regret when one is unable to translate their emotions into words, leading to messy circumstances for all parties involved. The topic is quite ironic, considering that Hernandez has an undeniable skill in the craft. Her voice shows impressive range over a tinny reverb, with the repetitive and enjoyably lush guitar-led melody allowing room for Hernandez's vocals to craft impressive hooks on their own. In the case of melodic additions, the faint strain of an additional electric guitar emerges during the second half of the song and the sprinkling of keys follows shortly thereafter. "Gone, Play On" also displays Hernandez's haunting elegance in appealing form, with the track's only weakness being that it ends far too soon. The instrumental additions are minimal but, as it is with most successful folk artists, the power of both "Cigarettes" and "Gone, Play On" is reliant on the wholesome emotion and touch of genuineness that Hernandez conveys through her powerful voice.
My favorite track on I Love Your Glasses is "Nice Thick Feathers", a touching tale of unrequited love in its purest form. In contrast to most songs on the album where a bare guitar progression initiates the melody, "Nice Thick Features" is introduced by the bare progression of a guitar and the sound of Hernandez's quivering voice. However, once the instrumentation subsides, Hernandez's vocals emerge and a sense of warmth immediately encompasses the track. "And she wakes up, it's freezing cold outside" she sings over the gentle plucking of a guitar. "And he's not there, wherever he may fly." Hernandez then utilizes the power of her breathtakingly ardent vocals as she heightens and lowers her pitch within seconds of one another, preparing for the eventual chorus in which a supplementation of twinkling keys occurs with impressive precision. The additional instrumentation displayed during the chorus actually resembles Italian folk music to an extent, led by a uniquely constant force that is slightly reminiscent of the zampogna. Over it all, Hernandez encompasses a voice that would sound wildly appealing even over constant instrumental discordance, with her variation of keys and pitches being incomparable. Fortunately for her though, the songwriting and instrumentation is fantastic. In terms of folk debuts in 2008, it is going to be tough to beat out I Love Your Glasses in terms of the pure and genuine emotion that Hernandez delivers on each and every track.
——————————————————————————————
Russian Red – Nice Thick Feathers
[audio:http://mineorecords.com/mp3/rred-nic.mp3]
——————————————————————————————
——————————————————————————————
——————————————————————————————