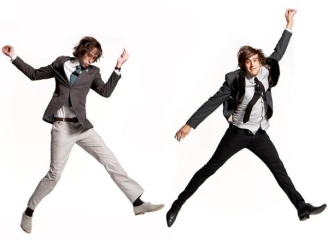 It felt like only yesterday when it seemed that all of America had an odd infatuation with snakes squirming around on an airborne plane. I remember not being able to walk down the hall of my school without overhearing some conversation about a certain movie that was called "Snakes on a Plane". When combined with some quality hallucinogenics, it was supposedly the movie event of the past decade. With that in mind, I guess I could blame my disliking of the movie on my sobriety upon the first viewing, but something tells me that it will forever have its place as one of those mindlessly entertaining movies that FX decides to play at 2AM. The most ironic thing of all is that the aspect of the movie that is likely to be remembered most fondly 10 years from now has nothing to do with the acting, script, or production. Instead, I would place my bet on two guys who lent a helping hand toward the film's soundtrack. Both members of Cobra Starship, the creators of the wildly successful theme song "Bring It (Snakes on a Plane)", Alex Suarez and Ryland Blackinton played a key role in Cobra Starship's eventual rise to stardom. Though the project was mainly attributed to Gabe Saporta, it provided Suarez and Blackinton with their first glimpses of success. And with their excellent new joint project This Is Ivy League, I can guarantee that it will be the first of many.
Even before they both joined Cobra Starship, Suarez and Blackinton were well acquainted with one another. In fact, they have a history together that traces all the way back to high school, with their musical interests first crossing paths during that period. After Blackinton moved from Massachusetts to Boca Raton, Florida in 1997, he find an instantaneous friend in Suarez. Soon discovering that Suarez was an active part of the local music scene, he began to attend shows and share his love for music in an equatable manner. However, like many close high school friends, they eventually lost touch when Blackinton went to pursue a BFA in acting and Alex carried on his love for fine cuisine at a culinary academy. Even though they were separated, the two carried on with their musical interests; Alex played guitar in the Florida-based Kite Flying Society and Blackinton occasionally performed with Parliament/Funkadelic keyboardists Jerome Rodgers and Danny Bedrosian. While simultaneously advancing in ranks at their respective cooking and acting careers, Suarez and Blackinton both moved to New York City to achieve greater success, with each one completely and initially unaware that they were merely 12 blocks apart from one another.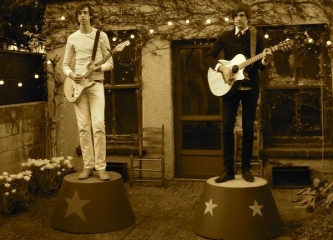 Nowadays, one constantly hears about internet networking services like MySpace and Facebook and how they make it possible for those to stay in touch with old classmates and associates. I have never personally met anyone who formed an artistic venture out of internet networking, though I realize that it likely happens everyday. Entertainingly enough, it was through this method that Suarez and Blackinton reunited, previously unaware that they were less than one mile apart. Upon this sudden epiphany, they met up, discussed their latest music-related pursuits, and decided to form a band. As a result, This Is Ivy League came to a fruition. While they also played together in Cobra Starship, they simultaneously kept busy writing their own material for the new mutual project, This Is Ivy League. Seeing their immediate potential, Twentyseven Records (one of my favorite new indie labels) signed them and released their debuting single, "London Bridges", in 2006. This Is Ivy League also serves as one of the few artists on Twentyseven Records that is not Swedish, as Twentyseven has a commendable reputation for usually signing great Swedish artists (Acid House Kings, Irene, Pelle Carlberg) in an admirable effort to expose them to American audiences. Still though, This Is Ivy League maintains the same form of breezily accessible pop that is reminiscent of Swedish acts like Peter Bjorn & John and Shout Out Louds, making the decision to sign them a no-brainer.
After working on it for two years, This Is Ivy League have finally released their self-titled debut album. With its suave guitar licks, infectiously bouncy rhythm section, and impeccable vocal harmonies, "London Bridges" prepared listeners well when it first dropped over 2 years ago. The album lives up to the potential of the excellent single in several ways, the most prevalent being the engaging form of songwriting that the duo is able to craft using their pop-oriented mindset. The album's tremendous opener, "The Richest Kids", was initially my favorite song on the album. It features a simplistically addicting melody that is complemented by the duo's outstanding duet form, with flurries of guitars being a constant reminder of their shared musicianship. In fact, if "The Richest Kids" does not become a radio favorite on several prominent indie radio stations by summer, I would be absolutely shocked. It just has that sort of radio-friendly appeal that coincides well with summery indie-pop, mainly attributed to the group's stellar melodic comprehension.
As for my current favorite track, "Visions of Tokyo" is an excellent throwback song that beckons '60s pop. The comparisons to The Beach Boys are imminent and it adds a lot to the enjoyment factor, with the vocal comparison to Brian Wilson being very tantalizing. Both "The Richest Kids" and "Visions of Tokyo are certainly a few of the most enjoyable tracks I have heard so far this year. And for those who prefer individuality to accessible hooks, there are certainly clear signs of innovation too; the spacey guitar riff at the end of "London Bridges" and the impressive acoustical fingerpicking displayed on "Til the Day" are just a few examples of how it would be ignorant to group This Is Ivy League with other conventional indie-pop bands. The latter sounds eerily similar to Simon & Garfunkel's early work, and I mean that as an utmost complement. Be sure to take note that This Is Ivy League's fantastic self-titled debut was released on Tuesday, as I recommend it wholeheartedly as one of the best debuts of the year so far.
——————————————————————————————
This Is Ivy League – London Bridges

[audio:http://mineorecords.com/mp3/ileague-lon.mp3]
——————————————————————————————
This Is Ivy League – The Richest Kids

[audio:http://mineorecords.com/mp3/ileague-ric.mp3]
——————————————————————————————
This Is Ivy League – Visions of Tokyo*
[audio:http://mineorecords.com/mp3/ileague-vis.mp3]
——————————————————————————————