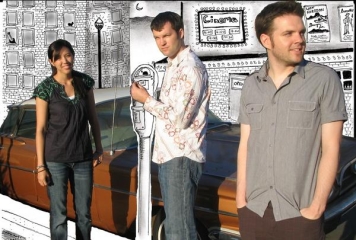 Side projects are an aspect of music that has gradually allowed artists to explore different scenarios, both in a stylistic and collaborative vein, without as much habituated pressure for decades. Considering that many successful ones are derived from a previous project that has already seen a considerable degree of success, the amount of hype often reduces due to the audience's inability to confidently assume what it will sound like. Whether the side project proves to be a giant jump of ambition or simply in the mold stylistic continuance, the artist can revert to both a new sound and finalized mindset without the press bashing the final result as a result of jumping the shark. It allows the artists more flexibility, consequently resulting in something that may fare out even better than their original project. The list of successful side projects is quite sprawling, with names like Gorillaz, Broken Social Scene, and The Postal Service all coming to mind as a recent few that have seen a magnitude of success. While the members of the self-proclaimed "side project" Faded Paper Figures do not have the past accolades of a Damon Albarn or Ben Gibbard at hand for effortless exposure, the classification alone may have made the stylistic transition that much more seamless.
Like all those confident enough to classify a new expenditure as a side project, the three members of Faded Paper Figures have all had experience in other bands. Multi-instrumentalist Kael Alden also heads Robot Repair, a music studio and production company that serves as his day job. While there, he wrote a song that eventually ended up on a Lexus commercial. Considering that I do not watch much television at all and I have seen it several times, I imagine that it will be strangely familiar for many people (check it out here). As Kael states in his own YouTube comments, the full-length version of the untitled track "should be available for free download any day now". But let us return the focus to his band, Faded Paper Figures. They also have material set to debut this week, an album by the name of Dynamo. Alongside Alden's impressive multi-instrumental electronic chops, R. John Williams takes helm of vocals and guitars. Alden's wife, Heather, rounds out the group in providing some excellent backing vocals, an aspect that is vital toward crafting several of the most accomplished moments on Dynamo. Featuring 12 tracks of devilishly clever electronic pop, Dynamo will be self-released through the band's Shorthand Records in the U.S. and through Rallye Records when it hits the shores of Japan.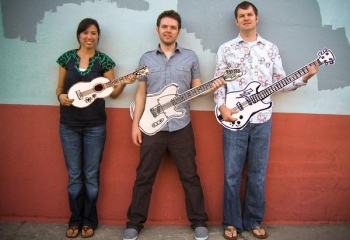 In the vein of any successful side project, Faded Paper Figures capitalizes on the most prevalent talents of each member involved. Williams' vocals are soothingly appropriate when set to the backdrop of Kael Alden's synthesized melodies, with Heather's angelic backing vocals providing just the right amount of harmonic diversity. Kael's electronic approach is eclectic, providing glimpses of arpeggiated progressions that are enjoyably supplemented by concisely effective percussive samples and riveting synth-bass lines. Williams' gentle croon and acoustical accompaniments cause comparisons to The Postal Service and The Notwist to be ubiquitous, also sounding occasionally like Stars as well (if they had no access to strings). A similar electro-pop ideology is present though, with the expansive style allowing for plenty of uniquely memorable moments on Faded Paper Figures' impressive debut. The release is striking from the get-go, with "North by North" serving as a richly enjoyable opener that illustrates each member's unique capabilities to the fullest. Kael Alden's electronic arrangements never prove overwhelming though, with the accessibility of "North by North" solidifying such a sentiment. The track and methodical approach remain highly infectious, with the trickles of higher-pitched synths during the chorus contrasting nicely with the emergence of Heather Alden's caressing vocals. "You said a long long time ago, you were happy being someone," she sings during the chorus as a tinge of brass incorporates itself into her husband's swirling electronic arrangement. With a touch of evident desperate romanticism, "North by North" is a thoroughly pleasing track.
"Logos" is a track that sees Williams' guitar usage appear considerably dominant, even if the progression is initially nothing more than a looped succession. The approach eventually works well though as the progression evolves into an expendable structural component that glides seamlessly over Alden's accentuated synth and rhythmic arrangements, once again uplifted by a chorus that sees Williams and Heather Alden execute a fluttering duet. "Polaroid Solution" sees minimalist electronica accompanied by Alden's trickling synth lines, with an increase in vocal intensity being initiated by a variation in instrumental intricacy. The futurist musings of "Metropolis" succeed similarly, employing a familiar technological focus over Alden's topically appropriate musical approach. "Now information without flesh means your body's just a drive," both vocalists sing, "Loading up with life and death: the after-human has arrived." The topic has been reiterated time and time again, but the trio of Faded Paper Figurines provide additional depth to technological rampancy with their infectious melodic engineering and wisely executed vocal harmonies. While it is one feat to create music for a successful commercial that has generated many views based on the music alone, Dynamo is a different type of accomplishment that shows all members of the California-based trio working with great precision to mold a sound that sounds neither generic nor repetitive. Side project or not, Faded Paper Figures' debut is one not to miss.
——————————————————————————————
Faded Paper Figures – North by North

[audio:http://mineorecords.com/mp3/fpfig-nor.mp3]
——————————————————————————————
Faded Paper Figures – Metropolis

[audio:http://mineorecords.com/mp3/fpfig-met.mp3]
——————————————————————————————
——————————————————————————————