Posted
July 1, 2008 by Mike Mineo
in Features
Stoney Clove Lane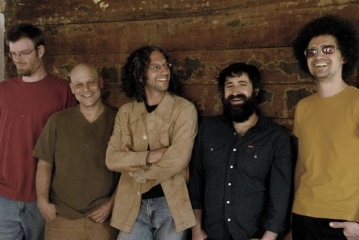 Whether it was sparked by sheer curiosity or one of the several documentaries bearing its name, many of us have asked our parents at one point about their possible participation in the Woodstock Music and Art Fair of 1969. Perhaps it is the image of our straight-laced parents passing around a joint to the sounds of the greatest artists of the '60s that entertains our minds so much, or maybe it is the thought of a 3+ day-long festival where "peace and love" were central themes instead of "parking and concessions". Regardless, the event is considered one of the most important in the history of American music and most people under the age of 50 are reliant on fuzzy videotape and photographs to provide an idea of how influential it really was. For any actual residents of Woodstock, New York, I imagine that the history is inescapable. Considering that Woodstock is generally synonymous with quality music, I always wondered myself how thriving the music scene in that area of upstate New York actually was. As it turns out, the current music fans appear to be as passionate as their forefathers; check out any of the artists on the local record label, Woodstock MusicWorks, to see for yourself. Stoney Clove Lane is one of the handful of local artists on the label that has really impressed me and, though the members do not look quite old enough to have been participants in the legendary festival themselves, they clearly would have fit right at home on stage in their hometown 39 years ago.
While Stoney Clove Lane has been reputable in Woodstock since the release of their debut album, Bernstein & The Kid, in 2003, it appears as if they are about to receive some well-deserved widespread recognition due to the release of their third and newest album, Stay With Me. Named conventionally after the road bearing a similar name, Stoney Clove Lane is guided by two main members, Jeremy Bernstein and Adam Widoff. As the guitarist and lead vocalist, Bernstein writes the lyrics while the multi-instrumentalist Widoff writes the music and plays everything else, ranging from organs and drums to bass and slide guitar. The two are hardly modest when describing their most recent release, calling it the "strongest collection of tunes" they have put out. After listening to it for the past few days, I have to agree wholeheartedly. Though the catchy folk-rock appeal of Bernstein & The Kid and the poignant fusion of country and pop of their second album, Down Rent War, provided for plenty of enjoyment, Stay With Me sees the band at a creative peak in which their structural and melodic tone never suffers from being overly repetitive or predictable. From sweeping ballads like "Tonight" and "Gone" to brisk interpretations of traditional rock in the vein of "Castles Fall" and "Chasing Rainbows", the 14 tracks keep the listener constantly amused, even if several styles sound remarkably familiar.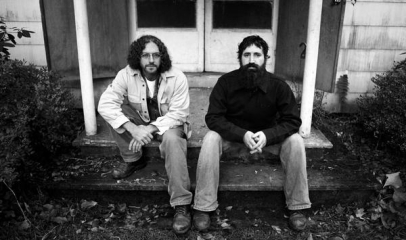 Apart from Stoney Clove Lane's classic-rock repertoire fitting in very well with their geographical standing, the talented duo are able to produce a sound that should draw comparisons to the likes of Neil Young, The Byrds, and The Band without lacking in their own version of ingenuity. By blending elements of blues, folk, country, and purely initiated rock 'n' roll, they utilize genres that tread within a frame of familiarity. However, as a track as capable as "Castles Fall" could tell you, Stoney Clove Lane excel in even the simplest of circumstances. Bernstein's vocals are comparable to Neil Young on tracks like "Lonesome Road" and "Ontario" throughout the album, but "Castles Fall" sees him revert to a haunting delivery that is more reminiscent of Richard Manuel during his prime in the late '60s. The track is initially guided by an extremely basic guitar progression as Bernstein ruminates about how all things must come to an end, all in suave melodic elegance. The verse chugs along in traditional form but the chorus is where "Castles Fall" becomes irresistible. Upon its emergence, Widoff throws a stark organ under a more intricate guitar progression, contrasting well with Bernstein's quivering vocals to establish a somewhat cinematic feel. "But you're not here at all to watch my castle fall and turn to dust," he sings during the second chorus, shortly followed by a concise bluesy guitar solo that summarizes the aforementioned touch of romanticized pain in immensely enjoyable form.
After listening to a bustling track in the vein of "Castles Fall", giving a track like "Tonight" a spin should prove indicative of Stoney Clove Lane's stylistic diversity, especially for an artist of their naturalized stylistic preference. This one has more of a country edge to it, backed by the gentle strumming of an acoustic guitar over the sound of crickets chirping in the distance. Along with the concluding "Gone", it is the most prevalent ballad on an album full of varying tempos and tonal guidelines. "No more blue skies, the well has run dry, I'm all alone," Bernstein sings, capitalizing on the melancholic atmosphere to a commendable extent. The chorus complements the bare verses extremely well, featuring a variety of sparkling keys that supplement the acoustical melody to an ardently invigorating effect. "Chasing Rainbows" may serve as an ideal single choice, drawing immediate comparisons to The Allman Brothers with a twangy mix of expressive country and folk-rock. As a whole though, Stay With Me is a brisk collection of accessible tracks that should appeal to fans of classic rock. Considering that a large demographic is still drawn to the allure of such a style, the quality presented on Stay With Me should open Stoney Clove Lane to new horizons of success.
——————————————————————————————
Stoney Clove Lane – Castles Fall

[audio:http://mineorecords.com/mp3/sclane-cas.mp3]
——————————————————————————————
Stoney Clove Lane – Chasing Rainbows

[audio:http://mineorecords.com/mp3/sclane-cha.mp3]
——————————————————————————————
[audio:http://mineorecords.com/mp3/sclane-ton.mp3]
——————————————————————————————
Mike Mineo
I'm the founder/editor of Obscure Sound, which was formed in 2006. Previously, I wrote for PopMatters and Stylus Magazine. Send your music to
[email protected]
.