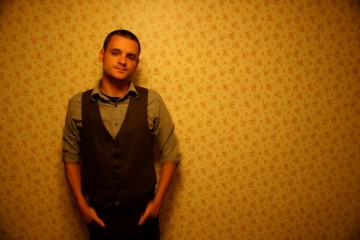 When I read that the material of The Gentle Guest consisted of "hobo tales", I had no clue what to think. Would I be entertained with ballads about scrounging for food or jams highlighting the intricate art of begging? As entertaining as that may have been (in small doses), The Gentle Guest's formula is more accessible than that. With an oddly successful mixture of humor and realism, they tackle the depths of American society with a focus on the underdog and the obstacles in which they endure. Now, listening to a concise description like that so far, what would you expect the genre to be? Honestly, I doubt that anything apart from Americana would be appropriate. The collective from Eau Claire, Wisconsin likely felt the same, as their interpretation of eclectic Americana with heavy tinges of blues and folk makes their vivid storytelling come alive in superbly entertaining form. As fans of music, many of us have come across a plethora of artists who classify themselves under the genre of Americana in shameful fashion, opting to use the tag to cloak several forms of stylistic indecisiveness. The Gentle Guest, though, are true surveyors of the genre, choosing to take advantage of the style rather than to disgrace it.
While Gentle Guest does usually consist of 10 musicians during their live performances and recording sessions, the leading man is clearly Eric Rykal. As the lead songwriter and vocalist, his talents help lead a collective of musicians who are already superbly proficient in their own right. Rykal is a storyteller who allows his songwriting craft to flow freely throughout the characters and engrossing situations he creates, a feat that artists in the vein of Tom Waits and have done so influentially over the past several decades. From Depression-era ballads like "Seven Sons", a metaphorically suicidal ode to the psychologist John Watson, to historically irrelevant romanticized pleas like the vigorous "Under the Setting Sun", his high level of diverseness and downright intelligence as a songwriter is two of several notable qualities that cause The Gentle Guest's full-length debut, We Are Bound to Save Some Souls Tonight, to contain some of the most innovatively riveting material I have heard so far this year. At ten tracks and a mere 32 minutes long, it is by no means an extended effort either. Rykal and the group's other nine members allow each moment to count significantly and choose to do so with a lively historical and melodic context.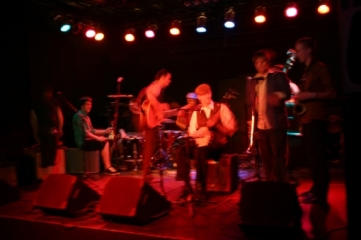 Considering the album's intricacies and cumulative depth, I somehow doubt that Rykal wrote the entirety of We Are Bound to Save Some Souls Tonight in on one rainy weekend, as he claims. Listening to the album though while recognizing his skills as a songwriter, I would not be surprised if he simply awoke one day to find his creative juices flowing, that of which were already clearly in abundance. Written in April and recorded during late June, it is now set to be released on September 30th. To kick off the festivities, the group is hosting a CD Release Show on the 20th at The Grand Little Theater (in Eau Claire) with Nick Jaina, a previously featured artist who dwells very much in the same territory as the story-led aptitudes of The Gentle Guest. As shown best on tracks like the seductively dazzling "Darlin' Darla", Rykal's vocal range embodies his ardent lyrical usage in exuberant form. The song itself covers one of the more conventional topics on the album in its allusions toward both the peak and downfall of a relationship, but the variations of brass that collide with the progressions of an acoustic guitar create circumstances that are genuinely unique. "Darla, give me your answer please, don't make me get down and beg on my knees," he sings after a brass solo, being both precise and authentically convincing in his melodic tone.
As the shortest track on We Are Bound to Save Some Souls Tonight, "Down at the Still" does not waste a moment in being the most excitable effort on the album. The energetic clashing of brass, intensely interwoven rhythmic additions, and vocal techniques that vary from yelping to low-pitched murmurs, the immediate comparison to be made is to that of Man Man. It is not one to be shameful of either, as few groups are able to come close to the raw power conveyed by the chaotic orchestral and gypsy-like additions of Man Man. As displayed on more subdued tracks like "Martyrdom" and "Seven Sons" though, instrumental intricacy is not required for The Gentle Guest to be successful. Some of the most memorable moments on the album are through excellent lyrics and simplistic melodies, aspects that are brought to light on the fascinating "Ship Without a Crew". In what sounds like a bunch of sullen ghosts singing a chant on their former sunken ship, one can't help but feel the eeriness crawling up their spine as nothing more than a paced percussion slams to the ground every measure or so. The melodic content comes barely in the seamen's chants, but it provides more atmosphere than it does melody. The following track, "This Town Is Dead", concludes the album is sprightly melodic form regardless, reassuring the listener of the variety they just experienced throughout the previous nine tracks. As a sure treat, be sure to check out the full stream of We Are Bound to Save Some Souls Tonight for free here. It will likely convince you to pick this gem up when it drops on the 30th.
——————————————————————————————
The Gentle Guest – Down at the Still

[audio:http://mineorecords.com/mp3/gguest-dow.mp3]
——————————————————————————————
The Gentle Guest – Darlin' Darla

[audio:http://mineorecords.com/mp3/gguest-dar.mp3]
——————————————————————————————
The Gentle Guest – Under the Setting Sun

[audio:http://mineorecords.com/mp3/gguest-und.mp3]
——————————————————————————————