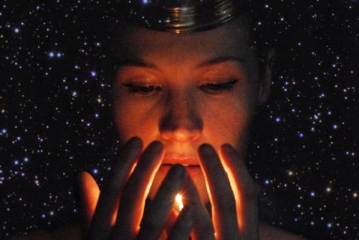 Treading the thin line between generic cheesiness and captivating ingenuity is a common practice for contemporary pop artists, especially now that the genre has been prevalent in media for numerous decades. We have seen brilliant pop music in a variety of forms, whether in the form of Beatles' integration of rock 'n' roll or ABBA's more conventional utilization of wistful keys and synthesizers. And, as a result, it is a more common practice to label a pop artist as an imitator over that of an innovator due to the average listener's preordained familiarity with it. With this in mind, it would be difficult to expect an artist who specializes in a style or method that is previously known to masses of listeners to obtain success as a sculptor of music in their respective decade. So, is this cause to discard them entirely? The answer depends on the opinion of the individual, as some are more reluctant to allow contemporary modifications of familiarity to embrace their ears than others. While those that opt to engage in a constant pursuit of stylistic innovation may not be immediately enamored with Music Go Music, a more thorough look at their overall attributes should result in acceptance from both contrasting parties.
While the LA-based trio of Music Go Music does specialize in a form of glittery, synth-aided pop that '70s influences like ABBA and Electric Light Orchestra made so renowned in their heyday, there is little doubt surrounding the creativity of this elusive trio. Their innovation does not lie in one specific style, but rather the way in which they combine influences of the past to create something that is enthralling and filled with hooks. The snappy use of guitars in "Light of Love" alludes to a slight glam-rock influence, while the bass line remains more reminiscent of rockabilly. These two attributes are hidden under a lead melody based in keys and synths that should immediately remind listeners of ABBA. The fact that lead vocalist Gala Bell sounds like a cousin of ABBA's Agnetha Fältskog brings that comparison to life as well. As for the actual identity of one "Gala Bell", the three members of Music Go Music actually use aliases as a means of disguise. Bell is apparently the lead vocalist for a somewhat reputable indie-rock group entirely separate of Music Go Music, and she decided to go under a different name entirely in an effort to separate the two. Blogs and fans alike have attempted to guess the identity of Bell over the past several months, but there has been no breakthrough as of yet. If the voice sounds eerily familiar and you can pinpoint the source, feel free to share in the comments below.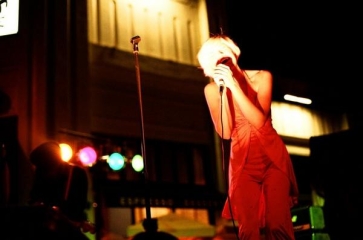 While a majority of groups that are based in aliases and melodramatic mystique are often resolved to be an effortless side project or form of comedic output, Music Go Music are a rare breed in that they are truly looking to expand their stylistic boundaries in addition to finding success. Their first glimpses of it have already arrived, with the Indiana-based Secretly Canadian signing the group before the release of their first EP, Light of Love, in May of 2008. Since then, the trio has released two more EPs in October and, most recently, in January. Like the debuting Light of Love, Reach Out and Warm in the Shadows feature three tracks that capitalize on the glimmer and grace of the trio's infectious fusion of synth-pop, dance, and glam-rock. Pursuing the route of an independent group who achieves hype through a string of short EPs, it has certainly benefited Music Go Music by placing them with a reputable label and earning a variety of amiable comparisons. In fact, it would be a challenge to find a review or feature of them that does not mention either ABBA or ELO, as such influences are distinctively intertwined in a manner that renders itself unavoidable. That Music Go Music are able to attract these comparisons while maintaining their sense of originality is impressive in itself, but that these influences are so enjoyably implemented without their sound being sacrificed in the process is part of a tactful art that is arguably the most defining factor in Music Go Music's successful sound.
Considering that the three available EPs from Music Go Music are so similar in approach, effectiveness, and even cover art (each features the same landscape of a sunset, though at different times of the day), many will likely wonder why they did not just bother with putting out all nine songs as one release. Well, word is that the trio may intend to keep the three self-titled tracks from each EP and include it on a forthcoming album. If that were to happen, listeners would at least be guaranteed of three excellent tracks. Their most recent self-titled, "Warm in the Shadows", is a nine-minute epic that sees the group at their most ambitious, with a structure reminiscent of house music allowing each instrument to gradually build upon one another until a melodic explosion of sorts that is embedded into the listener's brain. "What kind of heart would break so easy as my own?" Bell asks over a thunderous bass and sprinkling of synths. The answer is never quite resolved, but with a variety of guitar solos and surprisingly effective melodic alterations occurring throughout the song, it hardly matter. Though some may find it too long for their own liking, it is hard not to respect 'Warm in the Shadows" for its pure stylistic vision.
"Reach Out" introduces a more raucous side of the band, even if the songwriting and presentation is just as easy to wade through as star-studded relaxers like "Light of Love". If anything though, "Reach Out" may be the best example of Music Go Music's eclectic qualities, an attribute that will very likely be overlooked when their eventual full-length captures the attention of many. When a funk progression kicks in at about 03:42, this should become quite evident. A guitar solo and smattering of organs take over the minute-long instrumental section before an eerie acoustic guitar takes the lead, signaling the entry of Bell's vocals once again. "Let my voice be your guide, let my love be alive," Bell sings, providing a sparse moment of tranquility before the roaring guitars commence again over swirling organs and a thumping bass. With such powerful energy within the instrumentation around her, it is hard not to heed Bell's forceful words.
——————————————————————————————
Music Go Music – Light of Love

[audio:http://mineorecords.com/mp3/mgmus-lig.mp3]
——————————————————————————————
Music Go Music – Warm in the Shadows

[audio:http://mineorecords.com/mp3/mgmus-war.mp3]
——————————————————————————————
——————————————————————————————