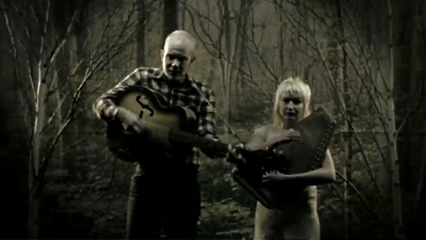 Although it can be classified as one of the most straightforward terms in music theory, timbre also holds the status as being one of the most audibly important. If music lacked timbre, it would be as if a language was running on one word or letter. No inherent differentiation in melodic content or instrumental accompaniment would make the art obsolete, along with the abolishment of technique or style. This hypothetical babble has little merit (simply because it will never occur), but it is also worth pondering if only for the artists that make such detrimental use of it. Calling your project Timber Timbre can be one way to show an admiration for the power of minimalistic differentiation, but the gripping form in which Timber Timbre is able to powerfully emit through the bare tweaking of folk, blues, and pop music is an approach that comes off more resoundingly than any name or description. Timber Timbre's instrumental arsenal and emotional capacity most often sound like they have been generated by a deceased choir that is broodingly unaware of their non-living state, making it quite startling that the project is led by only one individual, Taylor Kirk. In combining his blues-oriented influences and tactful songwriting, he has created a project worth dying for.
Like many aspiring musicians, Kirk began his career by manufacturing a series of lo-fi, acoustic-based songs that originated from his bedroom in Toronto. Well, bedroom recordings aside, his official debut under the Timber Timbre name was actually recorded in a farm house near Ontario. Appropriately entitled Cedar Shakes, his debut involved both warmly reverberating acoustical progressions and a central lyrical focus on nature and its surroundings. Looking back on it, the 2006 release of Cedar Shakes could have very well fit in the transcendentalist mold of recent recordings by buzzed-about folkies like The Tallest Man on Earth and Horse Feathers. In a conventional development for most modern folk songwriters though, Kirk opted to explore new territory on his second album. Medicinals was released in 2007 with even more immediate recognition than its predecessor, despite prevalent stylistic modifications that included a higher emphasis on blues and a broader instrumental arsenal (with jazzy horns and allusions to strings). Though Medicinals was recorded in Kirk's apartment, it showcased an impressive side of his songwriting that was only slightly touched upon in Cedar Shakes. No matter how bare his songs are in arrangements or melody, Kirk seems to have the power to compel listeners through his quivering voice, atmospherically relevant lyrics, and enchanting song craft.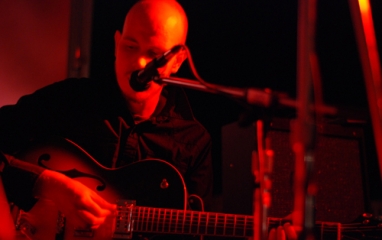 Kirk has always been somewhat reluctant to classify his music as blues, even if the style has become the most predominant within his material. I suppose a part of his reluctance may be attributed to false stereotypes, as many new listeners appear to conceive blues as a style that does not have the ability to tread far from the basis of 12-bar-blues. Well, for the sake of these new listeners, I personally hope that Kirk continues to quell his stylistic reluctance, especially after the release of Timber Timbre's third album. Apart from offering up eight highly enjoyable songs, the self-titled affair efficiently demonstrates how ambition and unconventionalism are perfectly recognizable qualities of the blues, as they always have been. A track like "Trouble Comes Knocking" can offer aspects of traditional blues from the get-go with a bass and harmonica simultaneously emitting a standard blues progression, but it is the way in which Kirk expands upon these conventional ideas that makes Timber Timbre's third album Kirk's best yet. Underneath the bass-led progression, one can hear the brooding cries of strings, a quality that tends to fade once Kirk's vocals emerge. It is one of many ingeniously implemented tactics on the album, here serving to provide an inimitably haunting element at all times. When the guitars and keys arrive for the devilishly haunting chorus, it gets even better. With a yelp, Kirk concludes this section as he clears way for additional strings. For any fans of Southern gothic folk music, "Trouble Comes Knocking" should become an immediate favorite.
While the shrill keys and halted bass of "Lay Down in the Tall Grass" may initially to be borrowed more from Afro-pop than blues or folk, the entry of Kirk's ethereal voice once again establishes the perfect meeting point between subdued blues and evolving folk. Like "Trouble Comes Knocking", the chorus in "Lay Down in the Tall Grass" is primarily an expansion upon the original melody in the verse. Here, a shrill organ takes over the leading keys and Kirk's voice raises in intensity, all while the bass remains generally similar. "I was born white, dry, and scaly, but you still took me home," he sings. "Dreaming every night of you, shaking at the sight of you." Whether the song serves as an ode to a figure of maternity or romantic love, there is little doubt concerning Kirk's sincerity and emotional resonance. "Oh, I'll be dreaming every night, I'll be shaking at the sight of you," he sings once more toward the conclusion, reaffirming the thematic focus over a melody that repeats itself until it becomes embedded in the listener's head. Though one of the most stylistically unique tracks on Timber Timbre, it accomplishes subtle beauty through the things that fans of Kirk have become accustomed to: brilliant lyrical perception and cleverly infused build-ups.
The captivating opener, "Demon Host", is more indicative of Kirk's previous material with a solemnly acoustic opening over a series of clever metaphors, but – like most of the essential tracks on the album – it expands into something of a majestic beauty. "Here is a church, and here is a steeple," he sings, just as the slight tinge of an organ can be heard under the acoustic guitar. "Open the doors, there are other people." The theme that I gathered here is the comfort that one obtains from religion, even if it becomes detrimental to one's perception of beauty in the world. But, like much of Kirk's material, it is highly interpretable. The last minute or so, with its high-pitched progression of keys and backing choir of ghostly resonance, concludes a marvel of an effort that begins an album with plenty of similarly executed gems. After listening to this track, you will likely find it difficult to stop until the album finishes with the delicate "No Bold Villain".
——————————————————————————————
Timber Timbre – Lay Down in the Tall Grass

[audio:http://mineorecords.com/mp3/timbre-lay.mp3]
——————————————————————————————
——————————————————————————————
Timber Timbre – Trouble Comes Knocking

[audio:http://mineorecords.com/mp3/timbre-tro.mp3]
——————————————————————————————