Posted
June 23, 2009 by Mike Mineo
in Features
Parental Guidance for Big Fresh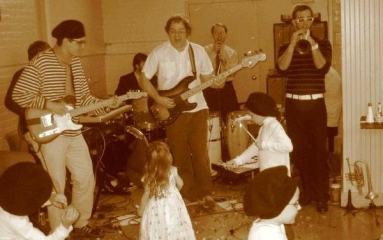 Are eccentric artistic tendencies hereditary? Like eye color or facial characteristics, I would not be surprised if they were, mainly because I have witnessed friends that walk and talk eerily similar to one of their parents. Whether or not musical talent is hereditarily passed down is too theoretical to be argued for or against, so I tend to think that one's upbringing has more to do with it than anything. If one is constantly surrounded by music and their idol, presumably a parent, is a musician, what else do they have to look up to and aspire to be? Like all children of parents in a professional occupation, there are advantages to be had here. Most kids that want to learn music are hammered with traditional songbooks and stiff learning routines. Some, though, are raised on it. Traditionalists may argue that theoretical mastery is the key to musical ability, but actual experience seems to be the prevailing factor in most cases. In regard to the passing down of "musical genes", there are examples to cover each end of the spectrum. Jeff Buckley, Rufus Wainwright, and Femi Kuti all stand as exceptionally talented musicians, but their history leads fans to different circumstances despite a few shared characteristics. They all have a musically renowned father and later found future success of their own, but their differing relationships may elude to whether musical ability can be hereditary.
The sons and daughters of famous musicians could have their own capacity to resourcefully create their own music, but it is just as likely that their talents can be attributed to their parents in some way. Jeff Buckley is an example of a reputable musician with a famous father, but his talents and style are undoubtedly his own. He only met his father, Tim, once before his death when Jeff was 11. While his father's career may have inspired him to pursue music full-time, Jeff Buckley was given no special treatment. His lack of guidance suggests that, perhaps, music simply runs in his blood. Then you have a case like Femi Kuti, whose father Fela Kuti is legendary for his prolific discography and upbringing of afro-pop. Femi initially lived with his mother, but went to live with his father when he was 15. A few years later, Fela gave his son a spot among his all-star performers on stage and the experience needed to pursue his own career. Nowadays, Femi boasts a consistent discography that separates him from his father's work, while not entirely dismissing the vital experience he was given due to his father's esteemed status. The differences between Buckley and Kuti show that musical talent is found too often on a case-by-case basis to assume whether it is hereditary or not, but it also shows that musicians tend to impact the lives of the people they influence, whether they are related to them or not.
Although there are many musicians that do not pursue parenthood, the ones that do often vary dramatically in the relationship with their children. Some go off on tour and never return due to indifference, but others are genuinely interested in the happenings of their children… and maybe even their children's friends. Such is the case with R. Stevie Moore, the prolific producer and songwriter whose accomplishments in both fields are admired by most in the music industry. His genre-bending and technological innovations in music seem nearly endless, and his contributions do not stop there. He gave a former bandmate's son, who is also interested in music, the proper knowledge as he was growing up, exposing him to his material and quirky innovation in the process. As a result, it is not surprising that the kid's band, Big Fresh, seems nearly like a replica of the elder Moore's unique craftsmanship. The group consists of the collaborator's son and his longtime friends, all thankful for the privilege to work with the legend. This video from 1999 shows just how great Moore seems with these kids, playing a rendition of Moore's "Why Should I Love You?" from his classic 1976 debut, Phonography. The band is understandably rough there, but they certainly show some potential for their age. And now ten years later, it looks like Big Fresh's potential has finally caught up to them.

After a debut that showed plenty of promise but not enough execution, Big Fresh returns with a second album that explains why they are so renowned in their native Lexington, Kentucky. Big Fresh Forever is an album that expands upon the group's electro-pop repertoire, now complementing lush synths and bouncy bass lines with overlapping vocal melodies, eccentric structural transitions, and stylistic intricacies that show an increasing amount of ambition among the band members. Mixed by Robert Schneider (The Apples in Stereo), Big Fresh Forever takes the lo-fi brilliancy of Moore and combines it with the psychedelic musings of Elephant 6 standards like Schneider. "W.L.U.V." shows off the group's nostalgic leanings, complete with the crackling of vinyl as they sing about an Illinois radio station over the twinkling of keys and the "la-la-la"-ing backing vocals. It is electronic pop, but its minimalism results in one of the more restrained tracks on the album. That is not to say it is lacking in any way though, as it is nice way to begin a dense album with a track that is purely accessible. Songs like "W.T.O." and "Entertainment" recall electro-pop surveyors like Chin Chin and Hilotrons with their thick synthesizers and swift implementation of acoustics, topped off by cartoon-ish vocals that echo Frank Zappa's early material. As you can see, the comparisons to other groups are abundant but Big Fresh mix and match enough genres to call the varying stylistic results their own.
"Large Crowds" stands as one of Big Fresh's biggest accomplishment though, introducing the listener to an otherworldly atmosphere that is the band's own. It sounds as if The Flaming Lips combined with Depeche Mode, covering both spectrums of electronic pop with serenely entrancing synth lines and slickly utilized guitar progressions. The catchy "Satan, No" is more reflective of Of Montreal with its satirical lyrical content and key-led assortment of varying rhythmic transitions, made even funkier by an electronic edge that shows the group's production chops and percussive emphasis. I guess it helps that R. Stevie Moore and Robert Schneider had a hand though, as their experience with the subtle grace of lo-fi production is practically unparalleled. For Big Fresh, their contributions on Big Fresh Forever contributes to a successful album that finds a young group inching closer to their eventual sound. The variety of comparisons warrants some indecisiveness, but there is so much to like on Big Fresh Forever that these insufficiencies can be overlooked. After all, any famous musician would be proud of an album like this, whether a family friend was involved or not.
——————————————————————————————
[audio:http://mineorecords.com/mp3/bfresh-lar.mp3]
——————————————————————————————
[audio:http://mineorecords.com/mp3/bfresh-sat.mp3]
——————————————————————————————
[audio:http://mineorecords.com/mp3/bfresh-wlu.mp3]
——————————————————————————————
Mike Mineo
I'm the founder/editor of Obscure Sound, which was formed in 2006. Previously, I wrote for PopMatters and Stylus Magazine. Send your music to
[email protected]
.