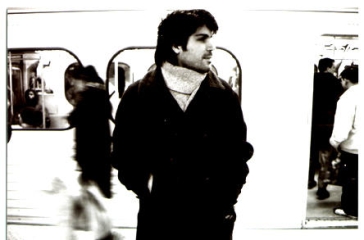 Artists that write from a retrospective view often do it for good reason. It is a characteristic that can carry into their music, since reflecting upon one's experiences with a modernistic mindset can provide aid for their struggles in the present. In the case of songwriters, artistic difficulties are encountered rampantly throughout one's career regardless of their natural ability. Plenty of them have astounding potential, but an emphasized swagger and impatience can cause a disturbance in their artistic development. If an enlarged ego prevents them from reflecting upon past failures in addition to the triumphs then they will never move forward and develop fully as an artist. The name Barzin may sound foreign to most of you at the moment, but their newest release shows an artist that is wholly receptive to tackling past errors and altering them for the better. A mysteriously vague songwriter from Toronto, Barzin H. has been active since his group's self-titled debut in 2003. He actually began writing material in 1995, but perfectionism did not allow the results to flourish until the following decade. Their debut was generally impressive, showcasing a fascination with minimalism and classical folk that seemed to beautifully complement Barzin's ethereal vocals. His potential was blatantly evident, but the album seemed to lack the emotional depth that was intended for it. But, with Barzin as a retrospective songwriter, slight deficiencies simply gave him more material to derive his current strengths from.

Like most gifted songwriters with a knack for reflection, Barzin significantly improved upon his debut release by expanding his style of minimalistic folk into an empowering blend of indie-rock, chamber-pop, and country. My Life in Rooms, his 2006 follow-up, was melancholic like the debut. But the improvements were evident; the results were more polished and the songwriting contained clever maneuvering that made the results more unpredictable and, consequently, rewarding in a sense that most sadcore indie-rock acts strive toward. This vein of sadcore indie-rock – occupied by acts like Low, Red House Painters, and American Music Club – rewards a certain amount of emotional unpredictability, as varying ardency translates as a more realistic depiction of tragedy than melodramatics and inaudible weeping. This, along with an implementation of varying styles, allowed My Life in Rooms to flourish as a possible indicator of Barzin's future. The release showed that he might be one of those rare songwriters, the ones that are too genuine to exploit the common emotions involved in break-ups, deaths, or other tragedies.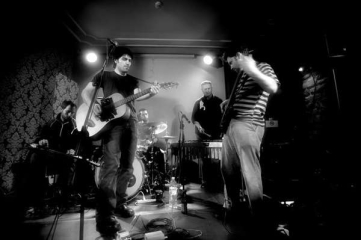 Barzin released another EP, Just More Drugs, in 2007 that featured re-done versions of My Life in Rooms tracks like "Just More Drugs" and "Leaving Time, but it proved to only serve as an appetizer for the main course, this year's Notes to an Absent Lover. While not completely devoid of the somber material on his earlier releases, Barzin's third full-length manages to inject a bit of optimism in his work to provide a cohesive balance between tear-soaked pillows and chin-up ideologies. The album's thematic focus is still bleak, as most albums that deal centrally with break-ups are, but Barzin never attempts to exploit the topic with over-production or lyrical gripes. It would be easy to over-produce an album like this, with its wide assortment of strings and vibraphones, but Barzin instead opts for quality over quantity in building each of his songs up until additional instrumentation is beckoned for. Also, unlike the stereotype that surrounds most sadcore music, Barzin is not hesitant to tie in interweaving themes into his work. Notes to an Absent Lover is not all moping, it is an emotional journey where Barzin personally acquaints the listener with his pulsing emotional vibrancy.
"Nobody Told Me" is an apt way to open the album, basically serving as a metaphor for Barzin's artistic growth from the time of his debut to the release of Notes to an Absent Lover. It begins somberly with nothing more than an acoustic guitar and piano, but its expansion into a full-grown accompaniment of strings, percussion, and electric guitars finds Barzin repeating one key phrase throughout the track, altering his emotional delivery each time out. "Nobody told me forgetting could be so hard," is what he repeats, solidifying the album's theme as he says it first in somber fashion before sounding somewhat triumphant over the gradual additions of strings. Melissa McClelland's backing vocals are also a wonderful addition, giving the listener additional solace in Barzin's empathetic delivery. Unlike his earlier releases, a track like this shows developmental expansion; Barzin now builds like these with the whole picture in mind, rather than simply one good idea.
"Stayed Too Long in This Place" touches the elegant moods of groups like Cousteau, placing a balmy mixture of pianos and strings as Barzin laments over the blame issued in a break-up, singing "I'm always in love, some days in despair, it's always the same" over violins, viola, and a double bass. A perfect atmosphere for some bleak thoughts, just as Barzin intended. "Soft Summer Girls" is delicate in its instrumentation like the rest, but provides a reprieve from the typical content as Barzin instead nostalgically reflects upon the positive effects of relationships. And although he sings of times being passed and gone, he acknowledges love as a force that can aid one in life's hardest battles. "They take me away from the one I used to know," he sings, perhaps eluding to the outstanding capacity that Notes to an Absent Lover has to comfort those in tragedy and take them away into a realm of acceptance, emotional comfort, and quality music.
——————————————————————————————
——————————————————————————————
Barzin – Stayed Too Long in This Place

[audio:http://mineorecords.com/mp3/barzin-sta.mp3]
——————————————————————————————
——————————————————————————————