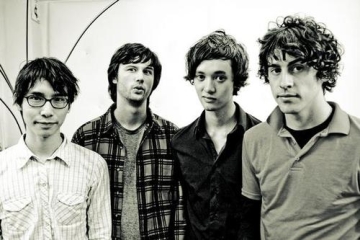 by Mike Mineo
Although they have only begun to break out the past two years, I already have fond memories of The Morning Benders. When I posted about them back in April 2006, it was only a month after the site formed and I was eager to cover something fresh and worthwhile. At the time, this site had little direction and my focus was sporadic, so anything to attain readers was desired. One thing was clear though, and that was the undeniable potential of The Morning Benders. Their debut EP, Loose Change, is definitely one of the earliest memories I have of sharing great, new music to more than a room full of close friends. There was nothing to dislike about the young quartet from Berkeley, California living up to their flexible namesake in their surf-inspired pop and rock songs. '60s pop collided with an early Strokes sound to make their emergence in 2006 timely, though it was not nearly enough material (in quantitative standards) to get excited over. They teased audiences some more with two EPs before their debut album, Talking Through Tin Cans, was released in 2008. The tracks were as stellar as the EPs, but it felt more like two or three EPs glued together rather than a full album. With their follow-up Big Echo, they have done a remarkable job of creating a satisfying full-length that marvels with cohesive songs and production.
Like any band whose first five years are pinnacled by a string of EPs, The Morning Benders prepared Big Echo with plenty of expectations surrounding them. Previous releases found them producing a very amiable style of lo-fi pop, the hooks appearing prominently despite a lack of resources. As five years have past, The Morning Benders have been searching for a sound that caters to their natural indie-pop sentiments without limiting themselves to a DIY schtick. On Big Echo, one finds a band comfortable for the first time. Sure, the majestic use of strings and vocal accompaniments help and are new for the group, but what shines most brightly is the presentation. The production is exceptionally suitable, sounding like sparkling indie-pop performed in a concert hall. This growth can be attributed to producer Chris Taylor, who is already quite established at the age of 28 with Grizzly Bear, Dirty Projectors, and TV on the Radio to his name. The Grizzly Bear multi-instrumentalist and Chris Chu recorded the album together in San Francisco. Chu's songwriting flourishes with this clean presentation, particularly on gems like "Promises". This effort in particular is the best thing I have ever heard from The Morning Benders, not to mention 2010 in general. There is still that anthemic, Strokes-like indie-rock vibe going on in the chorus, but the structural variation elsewhere is more reminiscent of Weezer's Rivers Cuomo when he actually gave a shit (1994-2001).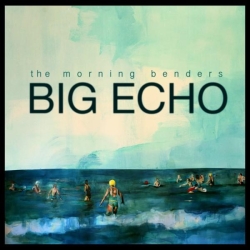 Weezer and Neutral Milk Hotel are certainly obvious influences, but unlike The Morning Benders' previous releases there is no feeling of replication on Big Echo. They have a nice arsenal of instrumentation that makes for some great moments, once again courtesy of new production advantages. The high-pitched marimba feel on "Cold War (Nice Clean Fight)" that slowly evolves into a addictive, folk-based sing-along is indicative of this, as is the subdued wave of organs on "Pleasure Sighs". The vocals here sit somewhere between Neil Young and Wayne Coyne, adjusted accordingly since the subsequent "Hand Me Downs" is more akin to The Walkmen's Hamilton Leithauser and the respective group's excellently unpredictable rhythm section. The Walkmen find themselves to be an apt comparison as well, mainly because they are expanding upon the boundaries of traditional indie-rock led by guitars and keys without borrowing too heavily from the past. The guitars on "Pleasure Sighs" resound with heavy doses of reverb and intricate progressions, which under the slight touch of organs creates for a serene feel that fits perfectly in the middle of Big Echo. Away from the guitar-driven pop that marked most of their early releases, the ambition shown here alone marks The Morning Benders' revelation here.
The first half of Big Echo, particularly the succession from "Promises" to "Pleasure Sighs", is breathtaking. The last four tracks are more spotty in their consistency, but still have their shining moments. "All Day Day Light" is not amusing enough with its acoustic arpeggios and steady drumbeat to make it memorable, and the vocals sound like too much of a stretch in their twangy delivery. This song in particular is one of the only instances of a lazy chorus though, for most tracks introduce a plethora of variations that unexpectedly sneak into your head. "Promises" is probably the best example of this, though the epic demeanor of "Pleasure Sighs" and the beautiful, post-rock frailty of "Stitches" come close. The heavy-charged and vivid emotions of the latter remind me strongly once again of The Walkmen, a band for which comparisons are rare. A minor miscue like "All Day Day Light" and the somewhat extraneous "Sleeping In" aside, Big Echo is a tremendous step forward for a band whose potential has finally caught up to them. Rough Trade Records really struck gold with this one. Thanks to the imminent success of Big Echo, The Morning Benders are bound to be one of the most popular indie-rock acts of 2010.
8.5/10.0
RIYL: The Walkmen, Neutral Milk Hotel, Ra Ra Riot, Dr. Dog, Someone Still Loves You Boris Yeltsin, The Broken West, Bishop Allen, Voxtrot, Grizzly Bear, Sunset Rubdown, Neil Young, The Flaming Lips,

——————————————————————————————
The Morning Benders – Promises
[audio:http://mineorecords.com/mp3/mbend-pro.mp3]
——————————————————————————————
The Morning Benders – Pleasure Sighs
[audio:http://mineorecords.com/mp3/mbend-ple.mp3]
——————————————————————————————
The Morning Benders – Stitches
[audio:http://mineorecords.com/mp3/mbend-sti.mp3]
——————————————————————————————