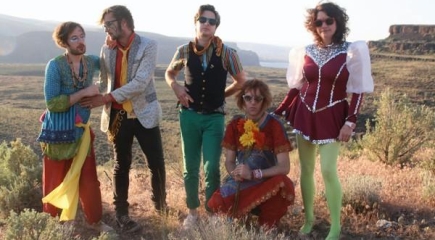 by Mike Mineo
Kevin Barnes has been both a subject of criticism and acclaim, the latter encouraging his one-of-a-kind talent and the other focusing on his whimsical songwriting, sometimes resulting in efforts where he sings grating falsetto over music with no backbone. His songwriting has brought moments of incomparable pop brilliance, illustrated broadly on Hissing Fauna, Are You the Destroyer?, and there is no doubting the flamboyant frontman's talents, but listeners are often forced to tread through lackluster moments to reach the dizzying heights of melodic and conceptual goodness that range in styles from glam and funk to straight-cut indie-rock.
These heights are admittedly grander than most indie-rock bands of the '00s and Of Montreal's success is well-deserved. After all, Barnes' erratic songwriting and idiosyncratic methods can make their stunning moments that much more effective. But it also makes the filler increasingly evident, making it hard to distinguish whether Barnes is working toward a killer hook, thematic message, or an all-out jam session. If the band called it wraps now, 2007's Hissing Fauna, Are You the Destroyer? would likely be considered their masterpiece, if only for the fact that it captures a cohesive format – both musically and lyrically – that Barnes is somewhat reluctant to embrace.
With their new album, False Priest, Barnes and co. have broken new ground in perfectly juggling their ambition with some much-needed cohesiveness. To some dismay, there are no efforts here that specialize in noise-rock or even psychedelia. Still, if one is able to push Barnes' past stylistic experimentation out the window, then the embrace for False Priest should be easy to understand. It offers the most straightforward set of pop songs Of Montreal have produced in their career, which would be an issue if not for the fact that the melodies and lyrical content are both remarkably consistent and tolerably ambitious. The humor and wit is prevalent as usual, but now offered in a more congenial format where traditional structures are embraced and big-time choruses are able to repeat more than once. The delivery and confidence is immediately comparable to Hissing Fauna, Are You the Destroyer?, except for the fact that False Priest offers production with greater clarity (courtesy of Jon Brion).
As amazing as some of the sounds Of Montreal were able to produce using VST plugins alone, Brion's presence here is undeniably beneficial. It was not vital per say, but it is always preferable to smoke a Cuban over a 7-11 dutch. In addition to albums by Big Boi and Gorillaz, False Priest is one of the best produced albums of 2010 in its polished quality alone. And like those, it would be safe to say there are not any blatant duds on the album, even if some are incomparably greater than others. The first song on the album, "I Feel Ya Strutter", might actually be the weakest with its rushed delivery and underwhelming chorus, which is a great example of how Barnes over-estimates the power of a falsetto over a melody that simply does not satisfy. This may be the only track on False Priest that favors stylistic fetishism over quality songwriting, a plague that occurred to Skeletal Lamping. Other efforts like "Our Riotous Defects" and "Hydra Fancies" elegantly build toward a well-constructed chorus, while "I Feel Ya Strutter" shows rushed composure in literally writing a song around the chorus. Unlike its predecessor though, False Priest only gets better after the first track.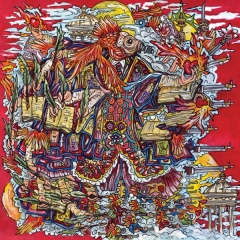 "Our Riotous Defects" encompasses what most people love about Of Montreal. When Barnes employs his falsetto over a bare piano like he does in the beginning here, he places a heavy reliance on the current melody and that which follows. Here, the explosive electro-funk chorus bursts with an energy familiar to fans of tracks like "Bunny Ain't No Kind of Rider", where subtle laid-back melodies eventually conjoin for a memorable chorus. "Crazy girl, you're just a crazy girl!" Barnes yelps over the ascending synths. "I don't know why, I even try, to understand you!" As you can see here, psychotic partners and the venomous relationships they create and self-destruct is essentially the concept of False Priest, and this is enforced most coherently on the irresistible "Famine Affair".
Drawing some inspiration from Robert Smith for sure, "Famine Affair" is a concisely catchy indie-pop effort that relies on boosted bass, a crystallized synth pad, and a playful little electric guitar. The lyrics are intentionally simplistic – "you're a bad thing! a useless thing!" – but that is exactly the point. "I thought she was my Annie Hall, or at least Ali MacGraw," Barnes starts during the song's most infectious moments, not sounding the least bit rushed. The keyboards during this section are exceptionally harmonious and this really shows what Barnes is capable of doing when he writes down a thematically coherent song with no disdain for traditional structures. The next effort, "Casualty of You", expands upon the track's ideology with a significantly more melodramatic presentation. Strings and piano are the main players here, the strings reaching unparalleled emotional representation during the song's middle parts. Suffering at the hands of a "significant other" with no regard for your well-being is masterfully delivered as well, with this two-minute orchestral addition providing excellent closure to the preceding "Famine Affair".
As for the meat of False Priest, there is nothing to complain about beyond the opening track and the closer, a terribly jumbled and incoherent "You Do Mutilate?". The album should have concluded with the swankily infectious "Around the Way". These are poor bookends but the album in its entirety is outstanding, the three unmentioned standouts being "Godly Intersex", "Enemy Gene", and "Hydra Fancies". These consecutive tracks offer ten straight minutes of Barnes at his peak, showing a vein of songwriting that coincides with his impressive ambition without appearing too cluttered or disjointed. Guest vocalist Janelle Monáe continues her sweeping collaborative success this year with "Enemy Gene", a track that begins with Gorillaz-like grimey electronica and then succumbs to pure pop elegance, courtesy of Ms. Monáe's gripping presence and Barnes' pre-destined intentions to write this song specifically for her inclusion. Expect this one to be on the radio.
"Hydra Fancies" has an elegant, retro pop feel to it during its chorus, even if it is juxtaposed by somewhat of an overly active series of verses that portrary funk more than delicate pop. The transition from verse to chorus is a bit rough as a result, but the song receives high marks for its hybrid of restrained pop goodness, wonderfully enthralling vocal harmonics, and delightful synth solo that wraps it all up. "Godly Intersex" is a personal favorite and easily engages from the beginning with its bubbly synth presentation. And of course, as the title entails, there are plenty of lyrical quips typical of Barnes. Infatuation, abuse, and neglect – as stark as they be to each other – are feelings conveyed by Barnes all throughout False Priest, and his proper variation of humor and serious infliction help aid an album that is emotionally demanding, humorously witty, and melodically superb. Not to mention, both the songwriting and production is the most cohesive out of the band's ten albums. Even if it lacks the balls-out ambition of its predecessors, False Priest is a phenomenal accomplishment for Of Montreal.
9.0/10.0
RIYL: David Bowie, Funkadelic, The Oliva Tremor Control, The Apples in Stereo, The Unicorns, Beulah, Elf Power, The Fiery Furrnaces, Circulatory System, The Magnetic Fields, The Boy Least Likely To, Animal Collective, Starlight Mints, Tilly and the Wall, The Decemberists, Tilly and the Wall, The Silent League, Dressy Bessy
——————————————————————————————
——————————————————————————————
Oops! I'm not allowed to post either "Famine Affair" or "Godly Intersex", but definitely seek those out (+ the entire album) on your own!
The clip below has the following songs in the specified order:
"Our Riotous Defects" -> "Hydra Fancies" -> "Godly Intersex" -> "Like a Tourist" -> "Enemy Gene"