Posted
October 15, 2010 by Mike Mineo
in Reviews
Avey Tare – Down There (2010)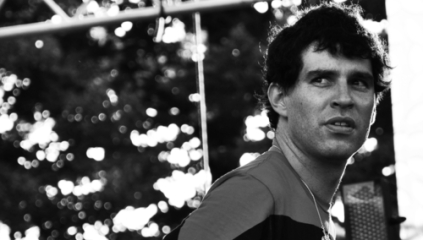 by Mike Mineo
Down There may be the most apt album title of the year. Avey Tare's debut full-length sounds like it was recorded in some submerged swamp, where the croaking of frogs and buzzing of flies is enough to satisfy the percussive urges of Tare – AKA David Portner, best known for his work in Animal Collective. Portner's production on his debut full-length is resourceful yet serene, sparse enough for his voice to tremble with signature passion yet expansive enough to allow for the monumental build-ups that Animal Collective fans are accustomed to. The truth is that Down There was recorded at a church in upstate New York, not some brooding cave that magically lights up in a variety of colors with each accompanying synth arpeggio. That is simply what your imagination will concoct when listening to an album like this, full of sounds and ideas that trigger the most bizarre of images.
The album begins with a very low-pitched voice ominously proclaiming "down there!", followed by a scream that sounds like it came from someone or something that just fell into an endless hole of abyss. Through this, it is immediately apparent that Portner is taking this swampily melodic delivery seriously. There is not anything on Down There that resembles the spontaneous screams in "For Reverend Green" or the crunchy loops in "Summertime Clothes". Portner said himself that songs on Down There will not appeal to fans of Animal Collective's "sugary" stuff, like "My Girls". This album's tone is more along the lines of "No More Runnin'" or more appropriately "Bluish", both tracks that contain initial sereneness that is flexible enough to allow for tonal expansion. Some tracks on Down There – particularly "Cemeteries" and "Heads Hammock" – lack the explosive hooks of such past favorites, but they are in the minority here. These "mood" tracks are not particularly dazzling on their own, but in the context of Down There – which finds literally every song transitioning beautifully into the next – they serve an essential purpose. This is an album that Portner wrote in response to some personal struggles the past few years, like the separation with his wife Kría Brekkan, the death of his grandmother, and the diagnosis of his sister with cancer. Even on the tracks where the melodies are not as strong, the savvy emotional punch of the content is not in doubt.
When one looks at the highlights on Down There, it is not a crime to say that they compare to any classic Animal Collective or Panda Bear tracks. "Ghost of Books" is absolutely stunning, building up to a frantic combo of trickling keys and dub-like bass where Portner repeats, "I'm so tired of disappearing. You're so beautiful you can't hear me." The final two minutes of this are quite extraordinary, melodically empowering and structurally gripping. "Ghost of Books" does have stiff competition for the album's most impressive effort though. Any of the first three tracks, and later the heartrending "Heather in the Hospital", holds similar worth. The latter contains morbid imagery over some translucent twinkle of keys, reminiscent in a way of Alan Ball's "Six Feet Under". "Machines of modern magic keeping folks above the ground," he sings, before overlapping several vocal cuts to express that "it brings me down." The passion is evident, illustrating the scene at a hospital where the light of day passes through windows to momentarily touch those that are bandaged and on their deathbeds.
He details the pain and suffering of boyfriend the dad, the mom… yet he remains unable to relate to the pain of the patient, suffering selflessly in their hospital bed. It is heartbreaking yet entirely comprehensible – the feeling of helplessness as you look at someone you love in pain. It is easy to spot the sincerity in this song, as Portner wrote it about his family's experience with his sister's cancer. It follows a similar delivery of The Antlers' gorgeously tragic Hospice, one of 2009's best and also one of the most genuine musical pieces detailing the witnessing of bed-bound suffering. The next track, "Lucky 1", is essentially a continuation of "Heather in the Hospital". Its bubbly synths sound like a triumphant reprise of sorts, ending the album with a hint of optimism after revealing one of Portner's most personal tracks.
Down There is not all emotionally heavy, which may be fortunate considering it had the chance to override Portner's blatant melodic tendencies. The exuberantly melodic "Oliver Twist" is more Animal Collective-like with its warbly vocals and heavy synth pads, which provide a beautiful arrangement that carries the synth stabs to a vibrant percussive accompaniment. It is here, in the final minute or so, that Portner's vocal chops show their full potential. The ferocity of his vocals seem reliant on the ferocity of percussion; the consistently dubstep-like drums that take up much of Down There means that Portner's voice is consistently restrained as well, at least compared to earlier Animal Collective material. But there is usually one or two segments of a song that yields very interesting results, where the song gets busy. In "Laughing Hieroglyphic" we find it when the keyboards subtly change melody; the instrumentation is only slightly different, but the dual punch of Portner's climaxing voca melody and percussive stomps bring the listener to the song's primary hook.
"3 Umbrellas" is more straightforward and tropical-sounding. The echoey Afro-pop and repeating structure make it perhaps the album's most conventional track. It is not nearly as interesting as the others, but still delightfully catchy. It stands as one of three excellent tracks that open up the album though. If not for the dull period that encompasses "Cemeteries" and "Heads Hammock", Down There would be a stunning listen completely throughout. As it stands though, it plays like a very well-crafted album that should allow listeners to appreciate Portner's additions to Animal Collective's vast catalog even more. Personally, I believe there are some tracks on here that overshadow recent Panda Bear solo tracks by a wide margin. There is little reason to compare though, as both artists remain required listening nonetheless.
8.5/10.0
RIYL: Animal Collective, Panda Bear, How to Dress Well, Deerhunter, Ariel Pink's Haunted Graffiti, El Guincho, Women, Teengirl Fantasy, No Age, Candy Claws, Wavves, Gold Panda, James Blake, Glasser, Active Child, The Tough Alliance, CEO, Magic Kids, Twin Sister, Here We Go Magic