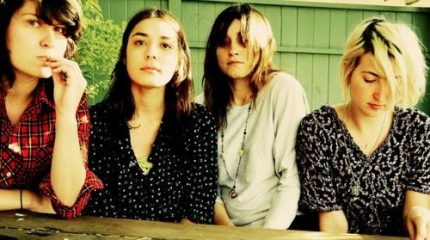 I have no complaints about post-punk fetishism. If an artist justifies their attempts to replicate the dark, grumbling moodiness of bands like The Chameleons UK or Joy Division, then listeners are generally treated to polished songwriting that parallels styles arising from primitive psychedelic-rock. Post-punk, shoegaze, and indie-rock show frequent tributes to early forms of psychedelic-rock – like that of 13th Floor Elevators, The Beatles, and The Byrds – and often serve as a gateway for older listeners struggling to identify with modern indie-rock sensations in the vein of Phoenix or Vampire Weekend. Recent notables – like the post-punk of Twin Shadow, Tamaryn's shoegaze, and Beach House's mixture of both – find success among young and older listeners alike because their music offers some classic familiarities while staying faithful to the "indie-rock" tag that permits contemporary production techniques. An all-girl rock group from LA by the name of Warpaint looks to be joining that venerable list with their outstanding new album, The Fool.
The ethereal guitar tone fuzzy bass in the gripping "Undertow" resembles the spacey guitar work of artists like The Smashing Pumpkins or The Cure, particularly on respective albums like Siamese Dream or The Head on the Door. The increase in hi-hats around the 02:30 mark signals a snazzy twist, with the lethargic pacing of moody guitars transitioning to a quicker flurry of angular guitar chords. "Runnin', runnin', runnin'," Emily Kokal repeats, "from the troubles." The howl that complements the plea here is pretty spine-tingling, as is the percussively involved conclusion. Tracks like this and the fluttering arpeggio-led "Warpaint" remind me distinctively of Deerhunter, who produce an unrivaled blend of indie-rock and post-punk that does not confine itself to the stereotypes of either. Comparisons to Fleetwood Mac are not far off either.
The ambition of Deerhunter and Warpaint fit as well in alt-rock as they do in shoegaze or post-punk, and that is simply because both have an infinite grasp of psychedelic-rock concepts. The intricate layering of guitars, stop-start percussion patterns, and flashes of synth allow infectious hybrids to be bred that remain indebted to quality songwriting. The quality is enough to allow the existence of a subtle vocalist, who employs mood and pacing over ferocity and flexible pitch. It seems natural in a style like this, where the tonal resonation that houses the songwriting in question reigns supreme. This is one the main drawing points of The Fool, which certainly has something for everyone from the lush balladry of "Baby" to intricate rock efforts like the exceptional "Bees".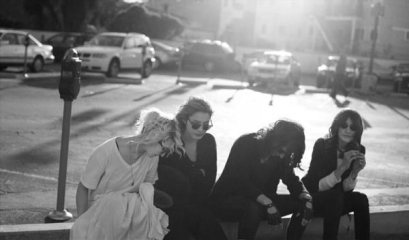 "Bees" is an immediate standout on the album for its interesting percussion, which sets itself apart from the other efforts by opting for rhythm that sounds more sample-based than the organic presence of other efforts. This serves as a decoy though, and we see why during the chorus when a grumbling bass erupts over new drums that are more aligned with post-punk expectations, in being simplistic but aptly concise. A middle-eastern melodic theme is somewhat consistent throughout as well. The high-pitched guitar lick at the tail-end of each verse is reminiscent of the jangly guitar work of Sonic Youth and Yo La Tengo, two more influences that are clearly at play throughout The Fool. It is hard not to love the transition from high-pitched plucks to lower ones as the bass line becomes more boisterous over an eerie set of "dah-dah-dah"s from the variety of talented vocalists in Warpaint. There is alteration between Emily Kokal and Theresa Wayman on the vocal front, but it hardly matters on who it is since both show mastery and similar tonal recognition.
"Shadows", one of Wayman's vocal offerings, works with a phased acoustic guitar to usher in a ghostly serene form of indie-folk. A little trickle of piano signals the bass-led tremolo and drum-line percussion as Wayman's vocals soar with vigor familiar to fans of Hope Sandoval. "The things you once told me, the thoughts you once gave me," jump-starts an excellent chorus featuring grainy piano chords and subsequent percussion that shows outstanding pace as usual. Wayman's hollers and yelps that conclude the latter part of this track is also notable, as is the balmy bridge that leads to a chaotically brilliant final 45 seconds.
Moments like this comprise the bulk of The Fool, which will certainly be one of the most talked-about albums of the year by its end. There is little stylistic innovation here, but the sheer charisma and innovation of the band is extremely present. Simply put, their songwriting is a homage to post-punk and shoegaze without containing stylistically superfluous aspects that artistic admirers of these genres often fall victim to. There is absolutely no filler to speak of on The Fool, which is as sharp as any rock album of 2010. It is an album that is going to get absolutely gushing reviews once it reaches a broader audience. A free preview of The Fool on Hype Machine this week will not hurt those chances at all. Check it out below:
RIYL: Deerhunter, The Cure, Smashing Pumpkins, Fleetwood Mac, Sonic Youth, Yo La Tengo, Sleater-Kinney, Twin Sister, Best Coast, Dum Dum Girls, Tamaryn, Beach House, Twin Shadow, Glasser, Blackbird Blackbird, Marissa Nadler, Beach Fossils, Zola Jesus 13th Floor Elevators, The Beatles, The Byrds