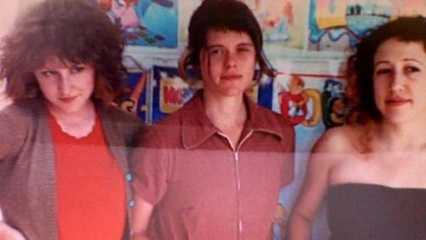 by Daniel Levine
There are occasions in the girl group canon when the genre, so wholly given over to the ephemeral, will unwittingly create something briefly sublime. These moments are so fleeting that they often won't even encompass the entirety of the track. They flare up briefly, brilliantly, only to fall back into the pattern of immediate and temporary gratification they were created for. The first 13 seconds of "Tell Me That You Care" by Elaine and the Shandells, the first gentle harmony hit in "Tell Me" by The Termites, the brief periods in "Sally Go 'Round The Roses" by the Jaynetts – where the vocals recede in the mix and the organ's car-horn riff give the impression the music was coming from a distant apartment building – are a few apt examples.
San Francisco's Grass Widow manage to coax some of these moments on their most recent LP, Past Time. Though their M.O. hasn't changed drastically from their 2009 eponymous self-release, the sound was distinctive enough to merit this further exploration. Hooks and melodies drift in and out of the mix, and even if individual songs aren't in a hurry to distinguish themselves, the atmosphere they create collectively entrances the listener.
Grass Widow's essential tension is one of competing timbres, those of the drawn out, interweaving vocals and the insistent menacing bass lines courtesy founder Hannah Lew. Tension is ratcheted up by the slightest addition to their sparse instrumentation. It builds and builds until slinking childlike vocals provide welcome release, only to begin again. Dynamics are skillfully engaged and augmented by the ever present element of discord in the vocals and arrangement of instruments.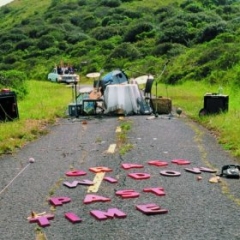 Their sound is a restructuring of the jagged edges of 60s pop music; its subconscious elements seem in constant danger of derailing. Something in both the meandering melodic tendencies of The Shaggs and the aggression lying beneath the surface in surf guitar speak to something far beyond their intended reach. Grass Widow realize this tension and let it derail, allowing for a certain catharsis.
In the music video for the album's sort-of single "Fried Egg", a de-saturated haze is given to the film stock, the video itself feeling aged and loose like a home shot super 8 or scopitone. This suits the atmosphere of the record to a tee.
However, for all the atmosphere provided, the band still has yet to give the songs, and thereby the record, a tangible shape. Standout tracks show huge promise, and have been scattered throughout the group's still young career. The highlights on Past Time are "Uncertain Memory", with its spaghetti-western bass line, and "Fried Egg", which has the most pronounced vocal hooks on the album.
7.5/10.0
RIYL: Sleater-Kinney, The Shaggs, Vivian Girls, Christmas Island, The Mantles, Mika Miko, Thee Oh Sees, Eternal Summers, Woven Bones
Official Site / MySpace / BUY