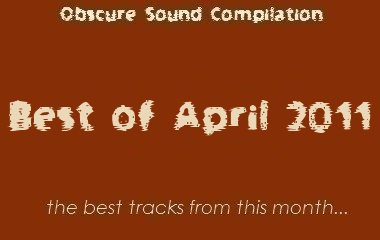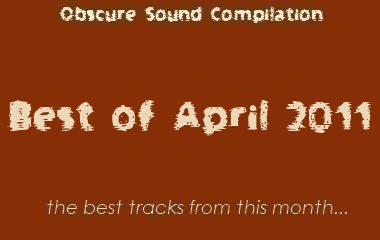 April was a busy and thoroughly enjoyable month in music. It's easy to point out that big names dominated most of it, some of them even brand names in indie music; Panda Bear, TV on the Radio, and Fleet Foxes are as close as you can get to that. I try to avoid featuring artists that are extremely well-known like that, but it's hard to ignore a a relatively essential effort. After all, several of these releases will be appearing in the Top 50 at year's end. More importantly, in most of these examples they have offered something new and innovative to their pre-existing sound. Even if you can't stand hearing about Panda Bear or Fleet Foxes one more time this year, I feel that I selected the tracks from their respective albums that best show how they developed from their previous, more familiarized sound. Even with that in mind, this month's compilation is pretty thick at 15 tracks, so a handful of artists that you already know shouldn't be too detrimental to your listening experience.
Many of the other artists on this month's compilation are on the absolute fringe of a breakout. Cass McCombs is seemingly one album away from gaining the widespread acclaim he deserves, and Wit's End was certainly a step in the right direction. The Antlers did much of the same, with another devastatingly haunting album in Burst Apart. Then you have the long-awaited return of three artists specifically in John Maus, Peter Erchick (Pipes You See),  and HAL. It has been a half-dozen years or so since either have released a full-length. Judging by Maus' "Believer", Erchick's "Lost in the Pancakes", and HAL's "Be With You", they all sound better than ever. Their breakouts seem to be in the near future as well.
Of course, new and emerging artists are not forgotten. The buzzed-about Son Lux and Shabazz Palaces have albums on the way that are sure to get some positive press, while brand new artists like Mass Fiction, The Salvadors, Silk Flowers, and Brickwork Lizards are showing heaps of potential. Check out Mass Fiction and The Salvadors, specifically. Hopefully all these tracks, from both the headliners to unknowns, can distract you from the over-excess of political opinions stemming from almost everyone today. If someone starts ranting, just tell them to relax. Then put on your headphones. Many of the songs on this month's compilation are perfect for blocking out excess.
01. Cass McCombs – County Line (post)
02. Panda Bear – Alsatian Darn (post)
03. Pipes You See, Pipes You Don't – Lost in the Pancakes (post)
04. Fleet Foxes – Grown Ocean (post)
05. The Antlers – No Widows (post)
06. Son Lux – Rising (post)
07. Mass Fiction – Cold Heart (post)
08. Shabazz Palaces – Are You… Can You… Were You (Felt) (post)
09. TV On The Radio – Will Do (post)
10. John Maus – Believer (post)
11. The Salvadors – Wilson (post)
12. Brickwork Lizards – Live at Cirque Subite (post)
13. Silk Flowers – Small Fortune (post)
14. HAL – Down in the Valley (post)
15. The Belle Brigade – Losers (post)


DOWNLOAD ENTIRE COMPILATION>>> (94.9 MB, .RAR)