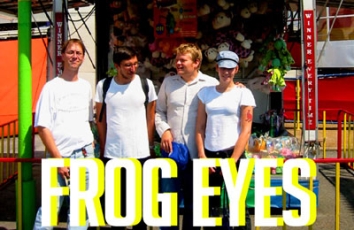 Here is a brand new track from Frog Eyes. You know, one third of the apparent holy trinity that is Swan Lake. I may sound a bit unjust in saying this, but my favorite songwriter out of the three is Frog Eyes' Carey Mercer. Sure, Dan Bejar's songwriting may be considered some of the most talented from a Canadian artist in several years based on sheer brilliance, but Mercer's muddled and varied musical approach usually hits all the right spots for me. I've met many people who cringe at the thought of listening to Frog Eyes (usually the same people who hate Xiu Xiu), sometimes classifying it as a bunch of mumbled shouts over a small amount of musical intellect, but Mercer's intellect and ingenuity ranks with some of the best. I'm also a big fan of Spencer Krug (Wolf Parade, Sunset Rubdown), with Shut Up I Am Dreaming being one of my favorite albums this year. After three LPs of great material, they released The Future Is Inter-Disciplinary or Not at All earlier this year. The style was quite different, even for their standards, focusing on a more lo-fi and repetitive approach. I found it to be lacking the passion that the previous LPs held, being a blow to one of the more consistent bands of the past few years. When I heard their new song, 'Idle Songs', I was filled with relief that Frog Eyes are back to their original sound. Inventive guitar effects, lively percussion, and actively imaginative keys are all thrown on top of Mercer's falsetto vocals. The song originates from a sampler released this year from Force Field, the PR that handles Frog Eyes.
Sunset Rubdown – Snakes Got a Leg III
[audio:https://obscuresound.com/mp3/sunset-snake.mp3]
——————————————————————————————-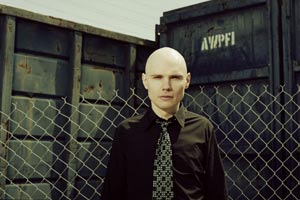 I've never seen Billy Corgan or any members of the original Smashing Pumpkins in person, despite them being my first actual so-called "favorite band" during my early childhood years. During the early 90s, I first found the Pumpkins performing 'Today' on SNL when I was about nine. My first impression (as a musical virgin) towards the band was that they consisted of awkwardly tall bald man, an Asian woman, a disturbingly pale bassist, and a wild drummer. About three years later, I saw the magical video for 'Tonight, Tonight'. At this point, I cared more about music and less about appearances. I found the music beautiful, which launched me into an obsession with the band, collecting every Pumpkins album I could get my hands on. The first album I ever bought was Mellon Collie and the Infinite Sadness, so it strikes me as a bit surprising that I never really mentioned the band on Obscure Sound that much, despite their personal importance to me. Perhaps I've outgrown them, seeing as how I now prefer about a dozen or so bands to them, but I can still put on any Pumpkins song and bring back nostalgia to when life was simple and girls, money, and school didn't screw with the mind. When Corgan announced a Pumpkins reunion earlier this year, I didn't know what to expect. The Pumpkins' last album, Machina, was a total dud, Zwan had some mediocre songs but nothing special, and Corgan's solo album was a huge disappointment. Aside from Corgan and original drummer Jimmy Chamberlin, the band hasn't revealed who is in the band. James Iha has denied involvement and no one knows where D'Arcy is, so I would guess that they'll just bring in another female bassist and reputable guitarist like the duo did with Zwan. Chamberlin broke a few months worth of silence with a post on his MySpace, "We are moving along nicely in the studio. BC pulled off a magnificent guitar symphony last night and it is still ringing in my ears this morning. Eight guitars resonating in one big harmonic handshake! And the drums………..of course!" Sounds exciting. He continues, "Yes, things are sounding great my friends. Today we will be working on vocals and solos, tomorrow, who knows. We are channelers. Sonic students." If the band can even touch the material they produced during their first three albums, I'll be very pleased. Sadly, I don't have any new material (wait a month or two!), but the classics won't hurt.
The Smashing Pumpkins – Tonight, Tonight
[audio:https://obscuresound.com/mp3/.mp3]
The Smashing Pumpkins – To Forgive
[audio:https://obscuresound.com/mp3/.mp3]
The Smashing Pumpkins – To Sheila
[audio:https://obscuresound.com/mp3/.mp3]
——————————————————————————————-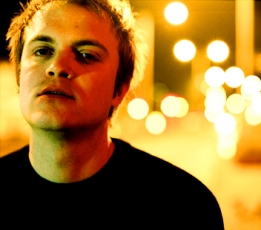 Maps is the work of London's James Chapman, a talented musician who implements the use of electronica with British pop legends such as The Verve and Blur to create a sound that is being favorably featured by the likes of NME and Rough Trade. Chapman writes and records his songs on a 16-track, using the aid of three or four friends when playing live. Likened to My Bloody Valentine simply for the atmospherically soothing effect that Chapman conveys in his music, the production is the element that is standing out for me on 'Lost My Soul'. Despite the professional sound, Chapman is not on a major label, or even a significant one, but it should only be a matter of time. The detailed string and synth elements are alluring with the certain sparkle that Muse and The Verve captured in their prime. Chapman's other tracks, such as 'Don't Fear', work as enticing and hypnotic songs that drill their dream-like features unknowingly into your head, but 'Lost My Soul' is more willing to make the commitment. It's off Maps' EP, Start Something, which was released last year, being one of the better debut EPs that flew under the radar.