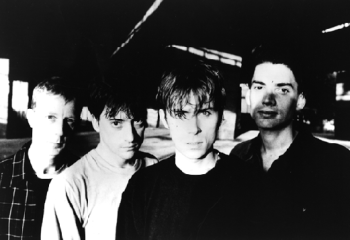 After a year of rampant speculation, it is finally official: Blur is back! The Brit-pop legends recently confirmed that former guitarist Graham Coxon will put aside his differences and aid in the recording of their final album, an attempt to finally "bring closure to the band". The Sun confirmed the news last night, stating that the band will head into the stead in February, after frontman Damon Albarn is done touring with his current project, The Good, The Bad and The Queen. Coxon's initial reasoning for leaving the band in 2002 was due to the lifestyle of drinking and drugs, which he grew to dislike. He also had artistic intentions that he wanted to express, as he did so successfully in a reputable solo career, releasing the solid Happiness in Magazines (#25) in 2006. For years, Albarn has publicly begged Coxon to return to Blur, only being returned by Coxon's vague responses. He must have suddenly had a change of heart, though a specific financial situation must have certainly been a factor. So, this Summer/Fall, we're going to have new releases by Radiohead, Oasis AND Blur? Sounds good to me. Maybe we'll all be able to re-live that epic Blur-Oasis feud. To refresh your memories, here are three unforgettable Blur classics. I was also e-mailed a track off of The Good, The Bad and The Queen's self-titled debut album last week. It's entitled 'History Song' and though I find it rather monotonous, it's nice to hear Albarn reaching back to his early roots of Brit-pop. It also sounds like one of those tracks that might sound better with the flow of the album than as an individual listen, with the song's general atmosphere in consideration. After all, I did enjoy 'Herculean'.
The Good, The Bad and The Queen – History Song
[audio:https://obscuresound.com/mp3/goo-his.mp3]
The Good, The Bad and The Queen – Herculean
[audio:https://obscuresound.com/mp3/goo-her.mp3]
——————————————————————————————-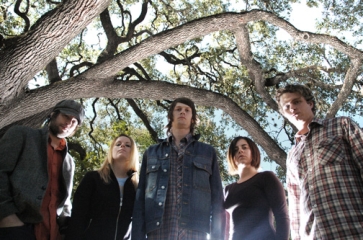 The Black Angels originate from Texas, a state that is often overlooked when in relation to the significance of the newly popularized Blues-rock revival. After forming in May of 2004 out of simple friendships and similar musical interests, they found quick success in their native Austin, eventually resulting in effective publicity from BBC Radio's Zane Lowe and a sold-out West Coast tour in the summer of 2005. The band members are actually all quite unique, as Nate Ryan (bass) was apparently born on a cult compound, Jennifer Raines (organ) grew up in a mortuary (Ã  la Six Feet Under), Christian Bland (guitar) is the son of a sterotypical Texas preacher, and most of the band believes that a little girl in a red linen dress is haunting their home. They describe their own musical style as "Native American Drone 'N' Roll", though in simpler terms they sound similar to the Americana Blues-rock that The Black Crowes and The Black Keys have so effectively embraced us with over the past few years. Ironically, The Black Angels they are also major tour partners with The Black Keys. So, that makes three talented Blues-rock bands whose names begin with "The Black". Perhaps it is some secret agreement between the three bands in order to cause confusion? It would be worth a laugh.
Even while it is a bit exaggerated, The Black Angels do have a point with their creative "Native American Drone 'N' Roll" tag, as their material is certainly more droning and mind-numbing than the Crowes and the Keys. The Black Angels are much more guitar-driven than their tour partners, relying on reverb and improvised solos more than the accustomed vocal melody and precise song structure. 'Bloodhounds on My Trail' seems to be a constant trail for vocalist Alex Maas, building his hurried vocals over a rush of guitars, organs ("the drone machine"), guitars, bass, and percussion. A harmonica can be heard slightly in the distance over the echoed guitars, right before Maas shouts "one, two, three!", signaling an simplistically effective guitar solo that generally turns the song into one big jam. 'Sniper at the Gates of Heaven' has an amusing name and it holds for an interesting listen. While some will definitely consider the style pretentious, those who appreciate contemporary versions of classic Blues-rock will find joy in the mumbled vocals of Alex Maas and the double-guitar attack of Christian Bland and Nate Ryan. They released a self-titled EP in 2005, with these two tracks being off of their full-length debut, Passover, which was released last April. They will begin a tour in February that will cover Scotland, England, France, Belgium, and the Netherlands. Check out their official site for details.
The Black Angels – Bloodhounds on My Trail
[audio:https://obscuresound.com/mp3/black-blo.mp3]
The Black Angels – Sniper at the Gates of Heaven
[audio:https://obscuresound.com/mp3/black-sni.mp3]