Posted
March 13, 2007 by Mike Mineo
in Features
The Voyces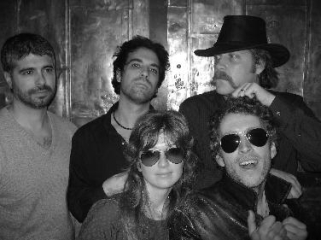 Sometimes we all need a break from the riff slashing and rhythmic thumping attack of rock music. Even if it's just a few minutes a week, the widespread definition of "relaxing music" can be enjoyable for even the most ignorant elitists who prefer volume over quality. The Voyces deliver this type of delectable sound, being a series of hushed and air vocals, soft acoustic guitars, light keys, and moderately paced percussion. The beginnings of The Voyces came together in the late 90s when Brian Wurschum and Laurel Hoffman were members of the California-based alternative rock group DOG. The two lead singers eventually bonded and formed the softer acoustic duo Zelig. As Zelig, they released two albums, Mr. Night and Nevada, using their acoustically balanced folk approach, eventually propelling themselves to local success around California, specifically Los Angeles. After getting tired of their surroundings, the duo decided to move to New York City in 1999 to pursue their musical endeavors even more. After singings like a bunch of talented bums in Central Park and the subway, Wurschum and Hoffman gathered up a collective of talented local musicians and called themselves The Voyces. After establishing themselves as a quality band in the east village, they released The Angels of Fun in 2002. It was an impressive debut for the band in a similar mold to the acoustic folk approach of Zelig, though additions concerning percussion and keyboards were gladly noticeable. It was produced by Diego Garrido, known for his work in "The Simpsons" and "The Squid and the Whale". Though the release saw a nice following in New York, the band's true break was when their song "Relate To Me" appeared in Jack Johnson's film "Thicker Than Water", landing on the fast-selling soundtrack. Hoffman stopped singing with the band in 2005 and with that, Wurschum brought in a new supply of members, which included vocalist Jude Kastle, guitarist Steve Dawson, and drummer Eric Puente. This was in addition to Wurschum and bassist Frank Carreno. After recording on the compilation Sunsets & Silhouettes with the likes of Camera Obscura and Linda Draper, they released their second EP Love Arcade in 2006.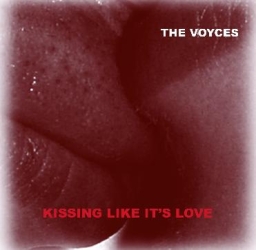 Kissing Like It's Love will be released on May 8th and it's the third EP from the band. The album is the same mold in which The Voyces can attribute their success. Influences are extremely noticeable, with Simon & Garfunkel and Neil Young both coming off as vital figures in Wurschum's songwriting. The vocals themselves sound very much like Matthew Sweet and even somewhat like The Magic Numbers' Romeo Stodart. This is especially evident in "Humming", arguably the most concise pop song on the album. Wurschum and Kastle make for an accessible vocal duo, melodically singing along over a rapturous acoustic melody overlayed by a few electrical solo charges. "Top of My Lungs" reminds me of their earlier influences, being Simon & Garfunkel and Neil Young, singing in a traditional American folk typecast with a slight country slur and a gripping repetition of self-assuring. "I'll be all right again baby," indicates a slight pause, further pushing, "as soon as I get back home". "Call It Home" is a song of stepping stones, beginning with a slight acoustic guitar eventually accompanied by keys, percussion, and bass. The song is another display of the band's tendency to craft relaxing but effective choruses that sound suitably in touch with the album's typically romantic mindset. Ten songs long, Kissing Like It's Love offers a generally enjoyable experience pushed forward by The Voyces' consistent style in offering lush melodies accompanied by the usual acoustics and distressed vocals. While it's certainly not music to adjust a lively weekend to, a rainy Monday or Tuesday afternoon will do it great justice.
——————————————————————————————
[audio:https://obscuresound.com/mp3/voyces-hum.mp3]
——————————————————————————————
[audio:https://obscuresound.com/mp3/voyces-top.mp3]
——————————————————————————————
[audio:https://obscuresound.com/mp3/voyces-cal.mp3]
——————————————————————————————
Mike Mineo
I'm the founder/editor of Obscure Sound, which was formed in 2006. Previously, I wrote for PopMatters and Stylus Magazine. Send your music to
[email protected]
.