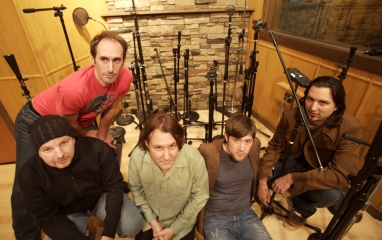 I admit, I have not heard many successful bands with an unabbreviated name as long as this five-piece from Seattle. In fact, I was surprised to find that they fit their name on their album cover. Boasting a whole 12 syllables, Gary Reynolds and the Brides of Obscurity are out to prove that there are no lengthy limitations to success. With their name actually being the least important aspect of their overall makeup, frontman Gary Reynolds and his four talented henchmen are slowly but steadily making a name for themselves as one of the catchiest indie-rock acts to come out of the Pacific Northwest this year. Though their photos depict a group of older men who appear past the norm of a stereotypical "indie rocker" with dyed jeans and slick hairdos in their early 20s, the cumulative experience of the five band members causes their ideal artistic peak to be more in the present and future than it is in the past. Though the majority of members in Gary Reynolds and the Brides of Obscurity have been basking in a variety of musical acts throughout the past 15 years, their latest release under their current moniker is undoubtedly their best on several fronts.
Having your name preceding the title of your backing band often symbolizes a role of productive leadership and raw talent. Gary Reynolds is no exception. Though the Brides of Obscurity are faultless in their instrumental craft, Reynolds' engaging songwriting remains the heart and soul of his promising act. He also provides for much of his material's production process, as he engineered and produced the majority of his releases so far. It must help that he owns Electrokitty Studio, the site of Gary Reynolds and the Brides of Obscurity's second full-length release, Santiago's Vest. It is the follow-up to the band's impressive 2005 debut, Instant Happiness; it was a widespread effort that drew pleasurable comparisons to John Lennon, Donovan, and other legendary British songwriters. In addition to providing lead vocals, guitar, and piano, Reynolds is joined by guitarist Don Durham, bassist Justin Friesen, organist Jeremy Manley, and drummer Perry Morgan. The group manages to execute a cohesive display of power-pop and Americana influences while constantly reminding us of their knack for irresistible hooks, often led by Reynolds' vocals, guitar, or Wurlitzer. He has the voice of a storyteller, a deep and soulful croon that exhibits an ability to turn a chorus into a moment of absolute magnificence on vocal strength alone. Look no further than the powerful "Sleep" for a credible example; it is one of the best tracks on Santiago's Vest that never seems to get tiring. Its dynamic chorus, fully supplemented by Reynolds' vocals, is arguably the finest moment on the album.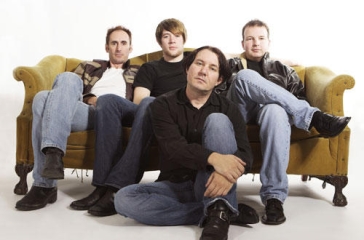 Oddly enough, though Reynolds is based out of Washington, his vocals frequently remind me of several Brit-pop greats, particularly an accent-less Damon Albarn. Check out the rollicking sing-along, "Where We Go From Here", or the harmonious Wall Eyed Girl", a sympathetic guitar-led tale depicting the similarities between artistic and humane imperfections, for some justifiable comparisons. Though both stray in similar patterns, the repetition seems rewarding because of Reynolds' sincere melodic recognition. The swift changes of key, particularly during "Where Do We Go From Here", are often supplemented by a proficient guitar solo or percussive burst. It is there where the Brides of Obscurity shine, incorporating key-based instruments flawlessly with a variety of electric guitars and interlaced percussion. The overlapping approach contained in the varied instrumentation is echoed through the origination of the album's name, Santiago's Vest. "The concept is about ordinary things being held up like they have great worth," Reynolds explained, relaying a story in which he used an intern's (Santiago's) leftover vest as a case for his trusty Wurlitzer. With guitars often being the domineering force in indie-rock and power-pop, Reynolds takes pride in using a variety of instruments that often go overlooked.
Though guitars and a steady rhythm section remain vital aspects throughout Santiago's Vest, I have found the most uniquely beneficial instruments to be in the form of Reynolds' Wurlitzer and and Manley's organ. Both the infectious "Everybody's Somewhere" and "Mrs. Lowe" are highly demonstrative of these instrumental qualities, both reaping in crafty key-oriented execution. "Everybody's Somewhere" takes a minute or two to kick into full gear but, once it does, Reynolds' vocals make an irresistible chorus soar. "Mrs. Lowe", on the other hand, is just as enjoyable in its showmanship, this time showing slight shades of British psychedelia. Strains of organs and the progression of a Wurlitzer during the bridges and choruses make each song an absolute treat, much like Santiago's Vest as a whole. In fact, the opening "Capital State" is nearly solely dominated by a Wurlitzer and acoustic guitar, being hauntingly enriching considering the lyrical content it tackles. "It looks like you're flying at half mast," Reynolds sings, detailing the struggle that many go through in their attempt for artistic singularity. Though the five men in Gary Reynolds and the Brides of Obscurity take nods from a variety of genres including psychedelia, Brit-pop, blues, and folk, their most readily apparent style is that of fun, hook-filled power-pop. Look for Santiago's Vest when it hits the shelves in February. Mark it up as another great one for '08.
——————————————————————————————
Gary Reynolds and the Brides of Obscurity – Sleep
[audio:https://obscuresound.com/mp3b/greyn-sle.mp3]
——————————————————————————————
Gary Reynolds and the Brides of Obscurity – Everybody's Somewhere

[audio:https://obscuresound.com/mp3b/greyn-eve.mp3]
——————————————————————————————
Gary Reynolds and the Brides of Obscurity – Mrs. Lowe
[audio:https://obscuresound.com/mp3b/greyn-mrs.mp3]
——————————————————————————————