Appropriately in sync with the luminous setting of their originative Orlando, Florida, The Sugar Oaks produce a form of indie-pop that is reflective of amiably warm summer days, with their breezy melodies and lush instrumentation being wildly reminiscent of the '70s light folk-pop that we all guiltlessly admit to enjoying when our emotions are down and out. However, despite their musically instantaneous similarities to The Sunshine State, the four members of The Sugar Oaks seem openly intent on crafting a sound that is geographically indeterminable. Their focus lies within the humane traits of individuals throughout the world, abandoning simple romanticism for intentions more largely interpretable on a grand scale. As their namesake implies, their harmonic abilities are delivered in a form of sweet whimsicality, leaving an immediate taste of satisfaction as a result. In a mission statement of sorts in regard to their music, The Sugar Oaks confidently imply one thing: "You don't have to be a Floridian to get it." In fact, they leave their thoughts nestled in the warm embrace of nature, comparing their influences to roots, new members to sprouts, and the entire music scene to "an elaborate, self-sustaining ecosystem found nowhere else on the earth." Yeah, we should have figured that Thoreau was influence.
Recently made a four-piece after the departure of Soraya Zaumeyer in early January, The Sugar Oaks are comprised of Eric Hayden, F.C. ("Field Commander") Belt, Matt Gersting, and Jon Kraft. Gersting and Kraft take care of the rhythm section with bass and percussion, respectively, while Hayden and Belt hold roles as leading multi-instrumentalists with an interchangeable display of vocals, guitars, and keys. The year of 2007 marked a time of introductory measures for the band, as they self-released their debut EP, Red Grapes in the City in June. Featuring 5 enjoyable songs, it has drawn considerable acclaim in Florida and it appears to just recently be making its rounds throughout the rest of the world. Fresh off the release, they scored a few gigs opening for the likes of the Hold Steady, Of Montreal, John Vanderslice, and Magnolia Electric Co. when they held shows in Florida, suitably presenting to us how revered The Sugar Oaks truly are in their native state. Apart from their thoroughly relaxing sound, one of the most glaring factors that has attributed for recent success can be found in their confident form of outputted eclecticism. Their blend of pop, folk, country, and jazz provides for an experience that is largely incomparable, despite the occasional reminiscence of retro AM-pop.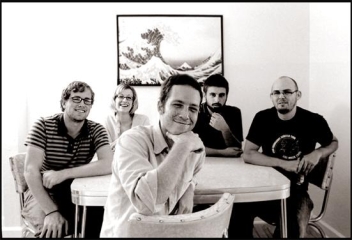 The opening track on Red Grapes in the City, "Los Rebeldes", and its irresistible swagger immediately drew me into The Sugar Oaks, enhanced beautifully by a flurry of instrumentation bolstered by sweeping strings, the lead of an electric guitar, and a solid rhythm section. "I heard the news in my town – the government was done," the group sings in near unison, "So I got an airplane; it took me to a town where the government was sound." Sure, while the lyrical simplicity "Los Rebeldes" is certainly not an appropriate example of the band's comprehensive depth, the song is steered by a melody that remains hauntingly memorable. With the slight strain of an organ backing a suave boy-girl duet, an upwelling of strings (cello, viola, and violin) and guitars soon evolve into a chorus where the strings shine prominently over the subtle emotional leverage that both vocalists convey. It is, so far, The Sugar Oaks' most impressive track and it should not be missed by any means. I admit though, I have not yet heard all of The Sugar Oaks' songs from their expansive song book. Though I have listened to and enjoyed all five tracks on Red Grapes in the City, their web site cites over 20 original songs as unreleased. Looking ahead as the group prepares their debut full-length, a lack of material should certainly not be an issue to worry about.
"Clearwater . Like its name implies, the guitar progression sees the genre of blues incorporate itself over rhythmic variations of guitars and saxophones. The topic is their form of self-declared expansive romanticism, as they even declare that the song "is not a drug song" on their site. Regardless, the emphasis on nature is once again in full bloom, comparing the beauties of wealth to those of a more natural growth. Do the words "lakes", "theme parks", and "citrus groves" sound more appealing than "cash machine"? If not, it serves as the point that "Clearwater Blues" is attempting to make. The swift blues solo of an alto and tenor saxophone signifies a lyrical transition, now focusing on the weaknesses of an educational system with an overbearing emphasis on style over substance. "No no mama, ain't going back to college, not going back to that place any more," Hayden and Belt sing over a beautifully enhanced melody, "You can't be a monk; the girls there are whores. Better to sit in my room in Clearwater, better to play electric guitar." The grasp for individuality is admirable, and certainly represented in the musical aspect as well.
As odd as it sounds, the relaxingly exotic acoustical flair of "Banana Leaf" reminds me slightly of Jack Johnson, even if the focus on classical guitar, clarinets, and flutes creates a more ambitious atmosphere. The last minute or so of the song sees one of the most impressive moments on the album, with the nimble plucking of a guitar and squeal of distant keys over an infectious bass line summarizing the infectiousness of both "Banana Leaf" and its respected EP. The song has an easily appealing allure, largely cemented by Jon Kraft's slick production and proficient juggling of several instruments. Still, it is a shame that Zaumeyer left the band; her vocal contributions were beautifully done throughout the album. Regardless though, with or without her, The Sugar Oaks look to be heading in a potentially star-studded direction. This is the type of music you sip a Piña Colada to, allowing the proper excuse to block all those unfortunate worries from your fragile mind.
——————————————————————————————
——————————————————————————————
The Sugar Oaks – Clearwater Blues

[audio:http://mineorecords.com/mp3/soaks-cle.mp3]
——————————————————————————————
——————————————————————————————