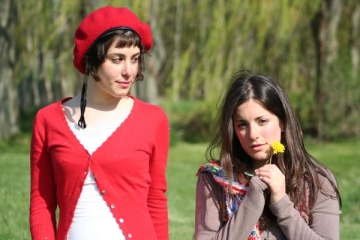 Some people say that twins have a sixth sense, an ability to mutually sense when their brother or sister is in a state of distress. Though telepathic interpretations remain too otherworldly to be of widely noted acceptance, it is not hard to fathom that twins often share a type of bond that is indescribable in mere words. Since twins are born and often raised together, I imagine that the shocking degree of emotional inseparability has something to do with paralleled brain structures, with both relaying similar emotions in regard to specific circumstances. That is just a mere guess though; apart from similar genetics, scientists do not have a concrete explanation for it. Now, if such twins happened to be musically capable to a collaboratively equivalent extent, imagine how flexible the working environment would be. With music often being a purging and delivery of emotions over wholly intended instrumentation, their similar ideals and emotions would likely create cause for a more efficiently productive atmosphere. I cannot speak for them personally, but it certainly shows on Ghost Bees' debut album, Tasseomancy, that these two Canadian twins possess the ability to work together in a form that simultaneously brings commendable results and expresses a bond that could only be found under familial circumstances.
Over the past year or so, I have noticed a pleasant developmental trend concerning the genre of folk music. Whereas stylistic limitations previously rendered the genre primarily inaccessible, indie music circles have increasingly been more acceptive of the style's growing sense of ambition. Acclaimed artists like Marissa Nadler have shown no hesitation in their incorporation of psychedelic and shoegaze elements in folk, exposing a sub-genre that many have lovingly labeled as "dream-folk". Ghost Bees are the latest to join the ascending ranks, portraying a hauntingly elegant form of folk music over lyrics that are poetically invigorating in meaning. Taking their lyrical influence from classic works of literature that deal with Gothic fiction, you can expect a slew of entertainingly original tales on the enchanting Tasseomancy. Whether the twins find themselves falling in love with a vampire on "Vampires of the West Coast" or recounting the candid circumstances of their birth on "Sinai", the lyrical variability provides for plenty of engaging moments. Their instrumental focus remains one of subtle minimalism , incorporating a variety of brooding strings and subdued percussion over fastidious acoustic guitar progressions and hushed vocals; it is a style that lingers in less reverbed lamenting than Nadler, but the melodic consistencies create a more accessible listening experience when compared to the indie-folk likings of Joanna Newsom.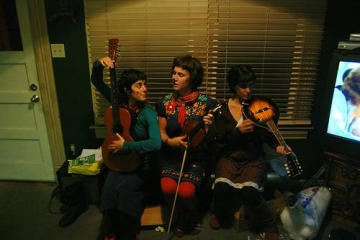 In proper alignment with Ghost Bees' lyrical emphasis on components that are either foreign or wildly unconventional, Tasseomancy takes its name from tasseography, the method of foretelling the future by interpreting patterns of tea leaves, wine sediments, or coffee grounds. The process is completely unfamiliar to me, but so is the nature of the events described throughout the album. Take "Vampires of the West Coast" for instance, an enjoyable opener that touches on the importance of patience and genuineness in a romantic relationship. It would sound standard enough if left as it is, but the underlying tone that the Lightman twins convey is one of extreme ingenuity. Falling in love with a vampire can be a complicated ordeal, especially when he is on his last legs. They make the events endearing though, playing with the eerie tone to the best of their ability in the instrumental compatibility of the finger-plucked acoustic guitar and the forlorn use of strings. "He sings like a matchstick with wolves by the fire and old prairie candles that creak like a choir," the girls sing delicately, both their tones being of a striking similarity. With that in mind, it makes sense that the girls exchange vocal usage equally on the album. It simply does not matter which one of the Lightman twins sings at any given time, as both of their vocals relay a form of captivating delicacy that is equal in comparison.
"Sinai" is another great example of the twins' avant-garde tendencies, portraying their own birth as if they had the comprehension to remember their aligning emotions during the first moments of their lives. The first line spoken is, "You came tumbling outwards across the bedsheets across our mother's bruised bloodroot thighs while I gathered courage inside the omphalos, too crooked and sorry to move." Descriptive enough for you? Considering that Romy was born 5 minutes before Sari, it is apparent that the beginning of "Sinai" is from the perspective of Sari. While I imagine that the content will make some queasy, I can't help but to commend the twins for making such an engagingly creative song. Though the strings do not make their usual noteworthy appearance on "Sinai", occasional percussion and a twinkling glockenspiel provide the backing instrumentation over the consistent use of the acoustic guitar. The strings make their most memorable appearance on "Tear Tassle Ogre Heart", with the track also being arguably the most melodically accessible on Tasseomancy. The twins' vocals (in duet form) are most whimsical here as well, attempting a wider melodic range than displayed in their other tracks. Once again using a mythological creature for metaphorical purposes, the track is inherently descriptive of the Pol Pot Regime, depicting terror through cities "with their red embers burning". The worthwhile debut from Ghost Bees will drop on April 15th, with it being a recommendation for all fans of unconventional folk music.
——————————————————————————————
Ghost Bees – Vampires of the West Coast
[audio:http://mineorecords.com/mp3/gbees-vam.mp3]
——————————————————————————————
——————————————————————————————
Ghost Bees – Tear Tassle Ogre Heart
[audio:http://mineorecords.com/mp3/gbees-tea.mp3]
——————————————————————————————