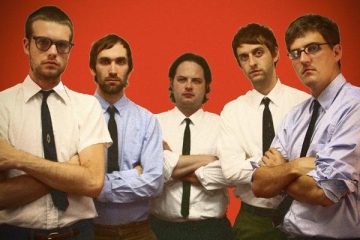 When a lack of publicity gets them down, all some bands need is a helping hand from a familiarly comforting face. It can obviously be tough for those with no musical connections or specific geographical ties, but having a friend in the music industry – whether it is on an artistic or solely professional level – can provide for the light but gratifying push that almost immediately grants something that all independent artists yearn for: an opportunity. When I wrote a short blurb about Ghosty nearly two years ago, I made note that the prestigious frontman for The Flaming Lips, Wayne Coyne, contributed to a track on their debut album, Grow Up or Sleep In. The Kansas-based group met Coyne in 2003 while recording in his native Oklahoma. Both sides agreed to collaborate with each other, as Coyne provided vocals on "Clouds Solve It" while the members of Ghosty provided additional instrumentation on The Flaming Lips' "Ego Tripping at the Gates of ill", a great track off of the classic Yoshimi Battles the Pink Robots. Now, even though the melodic skill of Ghosty is undeniable, something tells me that Coyne's collaboration was more vital in appliance to any foreseeable exposure. After all, he fronts a group like The Flaming Lips. It holds little relevance though, as many listeners were simply thankful that Coyne had helped significantly in exposing a band with heaps of potential.
With the sheer of notion of Coyne delivering guest vocals on a debut album from a somewhat inexperienced band providing indication of just how highly the potential of Ghosty is regarded, the revolving (and current) six-piece looks to capitalize on such beliefs with their second album, Answers. The release comes three years after Grow Up Or Sleep In, with the slight hiatus giving several of the band's members time to excel in the music industry and make even more connections. Frontman Andrew Connor backed up Benjy Ferree on tour, guitarist Jake Blanton toured with Sia as a keyboardist, and bassist Mike Nolte was a sound engineer for tours by Rogue Wave and Dr. Dog. The work gave three core members plenty of additional experience, ridding any "newbie" tags from the band's name. As expected, Answers proves to be a step forward in the ambitiousness and variety of Ghosty's songwriting. Released on Robert Moore's Oxblood imprint, the 11 tracks prove to be a furtherly invigorating display of Connor's uniquely accessible form of songwriting. A mixture of intricately executed guitar progressions by Connor and Blanton remain constantly steady, and the further supplementation by the rhythm section of Nolte and drummer Josh Adams is tight as usual, just like the work displayed on Grow Up Or Sleep In. The most glaring difference from the debut, however, is the variation between songs. Whereas Grow Up Or Sleep In attracted a variety of fans through its sleek and accessible take on contemporary indie-rock, Answers sees a dramatic increase in the variation of hooks, leading melodies, and cumulative instrumentation.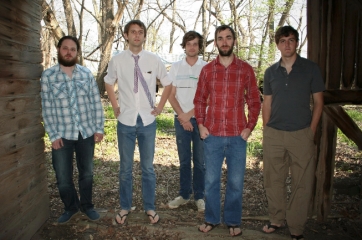 Commercials from Apple have recently featured the likes of Feist, The Vines, and other acts that were at some point regarded as up-and-coming artists in the world of independent music. Now, even though Ghosty has yet to scoop up a commercial deal, Apple has already shown that they are a fan of Ghosty's music. Listening to the best tracks from Answers, it is not hard to blame them. The utterly infectious "You Are a Big Screen" has been featured in a few Apple retail stores, ironically played on a crisply clear big screen that showboated all of the company's hottest products. When Answers drops on May 20th, the group hopes that such indications prove to foreshadow such corporate and artistic successes. "You Are a Big Screen" would certainly be a great choice for the album's debuting single, as it provides a sense of initial infectiousness with radio-friendly leanings. Despite the constantly revolving variations of interplaying guitars and keys, the song's composure remains soothing and laid-back, with the progressions never being rushed or embarrassingly melodramatic (common faults in a variety of contemporary indie-rock). Compared to linearly enjoyable greats on Grow Up Or Sleep In like "Henry Greene" and "Big Surrender", Connor's vocals appear more polished and there is not one moment of overused repetition. All in all, it simply makes for a greatly enjoyable track.
In addition to the original four members of Ghosty, guitarist Jeff Ferrell and keyboardist David Wetzel provide additional work on the album and on tour. It makes sense too, as the aforementioned variation on Answers includes a more confident usage of keyboards and increased variation of guitar progressions. The opening track, "Dumbo Wins Again", is a fantastic example of the group's ability to build upon instrumentally melodic layers. Wetzel and the band's three guitarists are all actively used, with the use of chords, solos, and bass lines being applied evenly and constructively. "A Man With Answers" also makes great use of this technique, with the backing vocals and multiple guitar progressions contrasting with perfection. The reverbed tinge of drums becomes more subdued for the entry of a light chorus, an unpredictably successful use of structure. "Who would question a man with answers?" Connor asks, hypothetically witty. It is commendable that the group shows no restraint in their style of songwriting, as it allows for a broader range of hooks and instrumental foreplay. "Staring down at my feet, strolling out on another street, asking why I waste my time," Connor sings after a chorus ushers in an additional guitar progression. Connor's vocals hold a slight resemblance to fellow collaborator Wayne Coyne and even Dave Grohl's more subdued tracks, though Ghosty's approach in songwriting makes a broader comparison to richly serene indie-rock acts in the vein of Rogue Wave more suitable. And with Rogue Wave finding considerable success with their second album, Descended Like Vultures, in 2005, I foresee the similarly laced Answers finding just as much, if not more.
——————————————————————————————
——————————————————————————————
——————————————————————————————
——————————————————————————————