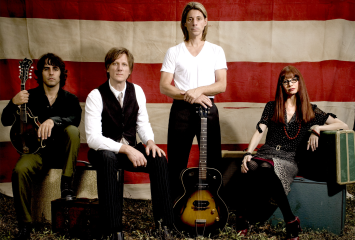 As I indicated less than two weeks when featuring Benji Hughes' excellent A Love Extreme, releasing a double-disc album as a debut can be a risky venture for numerous reasons. Inaccessibility is the primary one for sure, along with a widespread assumption that the release may play by the "quantity over quality" ideology. There is no simple way to avoid these initial beliefs, apart from releasing consistent quality of course. Taking this methodical approach of releasing a debut album with over an hours' worth of material can also prove to be a showcase of an artist's confidence in regard to their songwriting. After all, the production cost for producing a double-album is considerably more, packaging and distribution included. If they truly intend to take this route, they must have material that they are fully committed to and feel that audiences will feel the same way. No one knows where Benji Hughes will go from here, but another example of contemporary independent songwriters who were adventurous enough to take the double-album route upon releasing their debut was Future Clouds and Radar. The Austin-based five-piece put out a self-titled debut in 2007, featuring 27 tracks of a very diverse nature. Some listeners noted the album for its successful use of stylistic variation, but the most outstanding feature that most listeners found was related to the consistency in quality that stretched over the vast selection of material.
As a veteran songwriter who had already seen a respectable share of success with Austin favorites Cotton Mather during the mid '90s (their 1997 album, Kontiki, is highly recommended), Robert Harrison already had the credentials to attempt such a grandiose feat. Thanks mainly in part to Oasis' Noel Gallagher's very convincing promotion of to the adored Kontiki, the album had become very successful in the UK when it was reissued in 1998. NME basically went on to call them the next Supergrass and Cotton Mather had a few years of ample overseas recognition before the group was abolished in 2003 after releasing The Big Picture in 2001. What occurred next consisted of a series of tragic circumstances, as Harrison's intent to continue immediately with his songwriting was put on hold after he suffered a critical spinal injury shortly after Cotton Mather's break-up. Restrained to his bedroom, he continued writing songs as recovery loomed in the future. Always noted as a rather prolific songwriter with three albums and two EPs in the span of seven years with Cotton Mather, it was also a tendency of his to put out at least something every year whether it was a full-length or a single. To spend such a long period of time in recovery must have been devastating, but he obviously used the time wisely to release the debut for his new project, entitled Future Clouds and Radar.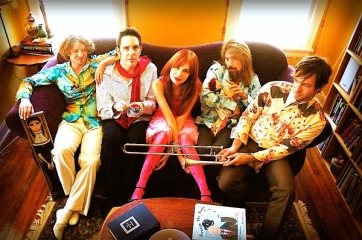 Upon the release of Future Clouds and Radar's debut, their style tended to be consistently within the realm of psychedelic-rock. While other elements in the vein of electronica, pop, and blues were also sporadically present, psychedelia was a driving force that ultimately resulted in a cross between '60s pop and psych-rock experimentation. Still though, whether one was a fan of the bluesy "Devil No More", the power-pop flair of "Let Me Get Your Coat", or the brass-led funk cover of Bob Marley's "Wake Up and Live", the album offered some of the most successful interpretations of stylistic variation that I had heard all year in 2007. Harrison's full recovery is a blessing for both him and listeners alike, as he has now reverted back to his expectedly ambitious scope. Just slightly over a year after the debut's release, he is back again with Future Clouds and Radar's second album, Peoria. However, this time it not "he" alone who writes and stars on the tracks. Peoria happens to be a more cumulative effort, featuring four other members who provide just the right dose of contrasting perspectives to complement Harrison's songwriting beautifully. Peoria proves to only be about half the length of its predecessor, but Harrison's knack for stylistic variation remains undoubtedly prevalent.
As both Future Clouds and Radar's debut and the recently released Peoria suggest, Harrison's excellent songwriting was not effected one bit by his five years away from the music industry. If anything, he has returned with more successful ideas than ever. However, unlike the expansive array of styles presented on a track-to-track basis on their debut, Peoria offers an overall more consistent sound that is a result of several blended musical genres and techniques. There is a decreasing emphasis on psychedelia and more on power-pop, as is presented on an infectiously concise track like "Feet on Grass" where a jazzy key progression underlies a series of sweeping strings, alternating percussion, and guitar progressions that sound like they are straight out of a '70s spy flick. When the next track, "Mummified", arrives, the departure is able to illustrate a stark melodic contrast within a comparable instrumental arsenal. Over a series of familiarized strings and guitar progressions, the primary addition here is in the brass that flows seamlessly over Harrison's excellent vocals (which sound like a cross between John Lennon and Jellyfish's Andy Sturmer). The first four minutes prove for an illustriously brilliant pop soundscape; it is easily one of the best things Harrison has ever written. The final three minutes of the track are quite fascinating as well, equating to a mixture of avant-garde jazz, psychedelia, and sample-led electronica as this epic of a track comes to a masterful conclusion.
"Feet on Grass" and "Mummified" are just two instances of the stark contrasts on Peoria, this time more melodically and structurally than stylistically. "Eighteen Months" serves as the most linear track on the album in rather enjoyable fashion, employing a series of repetitive guitar riffs over Harrison's vocals as it sits perfectly between the epic "Mummified" and the electro-acoustic experimentations of "The Mortal". A few other highlights include "Mortal 296", which sounds like some Gypsy death march with its smatterings of discordant brass, and "The Epcot View", a catchy opener in a power-pop vein that sounds strikingly similar to Lawrence Heyward and Felt with its jangly guitar progressions and quickly adjusted keyboard enhancements. Even more so than their debut, Peoria is a remarkable stylistic achievement for Future Clouds and Radar. While the few critics of their excellent debut complained about occasional periods of stylistic indecisiveness, Peoria offers up a consistent sound while still remaining to tread in different stylistic territory throughout the entirety of the release. From avant-garde jazz to cleanly infectious power-pop, it is remarkable how Harrison and co. are able to conjure up such a fascinating sound so consistently.
——————————————————————————————
Future Clouds and Radar – Feet on Grass

[audio:http://mineorecords.com/mp3/fcloud-fee.mp3]
——————————————————————————————
Future Clouds and Radar – Mummified

[audio:http://mineorecords.com/mp3/fcloud-mum.mp3]
——————————————————————————————
Future Clouds and Radar – The Epcot View

[audio:http://mineorecords.com/mp3/fcloud-epc.mp3]
——————————————————————————————