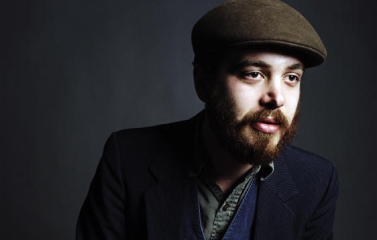 The past month provided me with a much-needed break, one that allowed me to take a break during a time in which artists are usually reluctant to release material. After all, releasing an album in late December or early January bears the risk of being overlooked for year-end honors. It is not that most artists hold much merit in the opinion of most bloggers, but the rush of the holiday season can even bombard the most dedicated music fans so that finding worthwhile new albums is no longer their most prioritized task. This is at least was what happened to me, although I was not completely out of it. One bit of practically unavoidable news involved Animal Collective's Merriweather Post Pavilion and how it may in fact be better than anything released in 2008, though writing a review seems rather unnecessary since most of the publications giving the album its deserved acclaim are spot-on. Still though, the album will be covered at some point. On another note, I will continue to encourage readers to check out my Top 50 Albums of 2008. It has brought a bit of controversy, both through agreeable and disagreeable circumstances, so feel free to jump into the fire. Anyways, getting back to the usual way of things, I will start with an artist whose name alone conjured memories of summertime baseball in the midst of winter for me. What else can you expect out of a diehard baseball fan?
Andre Ethier bears no relation to the talented right fielder on the Los Angeles Dodgers, but the Toronto native encompasses a talent entirely of his own in a musical format. He first rose to prominence as the frontman for The Deadly Snakes, a former Canadian garage-punk band, but is now coming into his own as a solo artist whose stylistic territory provides an enjoyably stark contrast to his jagged work with The Deadly Snakes. Shifting from a highly energetic fusion of rock and punk, Ethier's approach now appears more studied and precise than ever. Not only is he able to emit a wider array of moods through a more comprehensible lyrical delivery, but hiss new stylistic focus on orchestral folk music allows his majestic voice to contain the support that it always seemed to yearn for. Despite their final two albums, Ode to Joy and Porcella, receiving a heavy dose of widespread acclaim and positive sales, The Deadly Snakes disbanded in the summer in the 2006. It is rare for a group to disband at what seemed to be in the middle of their peak, but it is saying something that their final two albums introduced a crisper, confident, and darker sound that proved to later serve as an adjuster for Ethier's solo releases. Strings were ushered in, Ethier's vocal usage proved more effective than usual, and the songwriting was excellent enough to simultaneously deliver a plethora of hooks and intricately implemented emotions.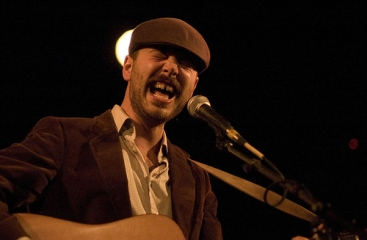 It is no coincidence that a similar description can be applied to Ethier's solo works, and those looking for something a bit more in-depth have plenty of material to choose from. After all, Ethier has been quite busy since he left The Deadly Snakes. He has averaged releasing one album per year since, with his second solo release, Secondathallam, being put out the same month that The Deadly Snakes broke up (August 2006). On Blue Fog was released a year later, and his newest album, Born of Blue Fog, was released in Canada in December. The obvious similarity between his past two albums is the name; each album represents one-third of a project designed for Blue Fog Recordings that Ethier plans to complete by 2010. With the recent release of Born of Blue Fog, he is now two-thirds complete. On Blue Fog was truly the first release that saw the evolution of Ethier's approach in its most prevalent light, and Born of Blue Fog continues to show that the Canadian songwriter is a master of tinkering with a style to perfection. Born of Blue Fog appears livelier than On Blue Fog in several forms, the main being how the strings are used more prominently and vigorously. Despite the instrumental differences though, one cannot help but notice the sheer quality within Ethier's songwriting. From album to album, the way in which he takes risks to improve his songwriting is highly commendable and it proves no different on the excellent Born of Blue Fog.
Though the mixture of Ethier's warmly reverberating vocals and eclectic instrumental output provides for something that is singularly unique, his sound occasionally appears as a distant cousin of ambitious indie-folk troubadours in the vein of Andrew Bird or The Czars. The utterly fantastic "Easiest Game", though, introduces an arrangement and form of production that is more typical of suave jazz than clever indie-folk. Much of this can be accredited to the striking saxophone that makes its emergence less than 30 seconds in after the concise build-up of acoustics and percussion. As the sprinkling of keys and the backing of bass provide a sturdy accompaniment, Ethier's vocals arrive when acoustics, keys, and percussion are the only factors at play. The sax returns when he dives into an eloquently compelling chorus. "If you're haunted by a room in disarray, and you're haunted by perfume of a new bouquet," he croons. "Oh and love is just the easiest game to play, tie yourself to it and float away." When combined with the simultaneous accompaniment of strings and a saxophone, the moment is bound to send chills up your spine. The final few minutes of "Easiest Game" proves even more extraordinary, recapping the song's prior accomplishments in more instrumentally dynamic form.
Other highlights like "Infant King" and "Heaven Above You" see Ethier tread in bluesier territory, with the latter also sporting a chorus that is reminiscent of soul music with its driving organs. "By the Stables" is also notable for its structural approach, introducing a light acoustic melody during its first few minutes before it concludes with a somewhat ominous instrumental that is driven by strings. And even on the tracks like the concluding "Can't Go Back Again" where nothing apart from an acoustic guitar and Ethier's vocals are present for the entire duration, success is hardly subtle. In fact, the entirety of Born of Blue Fog is a nearly flawless product of a gifted songwriter who deserves all the attention that comes his way. Though one of Ethier's largest gigs came when the Dodgers enlisted him in 2007 to sing the Canadian national anthem during a game against his hometown Toronto Blue Jays, his future recognition will not come simply because he shares his name with another celebrity. Instead, Ethier's future should be indicative of the lofty talent that he possesses as a musician whose stylistic vision remains constantly and enjoyably unpredictable.
——————————————————————————————
——————————————————————————————
Andre Ethier – Heaven Above You

[audio:http://mineorecords.com/mp3/aethi-hea.mp3]
——————————————————————————————
Andre Ethier – Can't Go Back Again

[audio:http://mineorecords.com/mp3/aethi-can.mp3]
——————————————————————————————