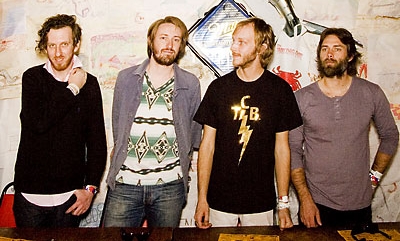 Foreign causes are often distinctive enough to warrant recognition on their own. Food is probably the most common instance of this, with the international food industry comprising for a substantial bulk of food sales in the US. After all, restaurants that are in contrast to burger joints and other casual American delicacies offer more than just food. Atmosphere is just as important, and for exotic eateries it can be the difference in retaining a customer or turning them away. There is the actual product and then the appearance, which can either relate to the appearance of the product or the atmosphere in which the product exists. Such distinctions surprisingly overlap into the music industry as well, with the allure of a foreign product being comparable. Audiences become consumed by how songwriting techniques vary from country to country, how these international musicians present their work, and how prominently their influences are displayed (in addition to who their influences actually are). It is a change of pace, and for that audiences may become more lenient or even ignore them altogether due to their foreign status. After all, culture shock can be intimidating and this relates to numerous areas, including food and music. Although their name suggests otherwise, Foreign Born are simply a bunch of guys from Los Angeles. However, their music implies a more collective fusion of influences that makes their presentation distinctive enough for the title.

While Foreign Born's style shows accessible shades of indie-rock that would be receptive toward most contemporary fans, the diversity presented on their second album, Person to Person, is more indicative of an eclectic fusion of influences, both domestic and international. British rock is certainly a prominent influence for this talented four-piece, citing the Happy Mondays and Echo & the Bunnymen as stepping stones for their guitar-based sound. This British style of rock is fused with classic American songsmiths like Bob Dylan, Townes Van Zandt, and Harry Nilsson. Their catchy mixture of concisely implemented guitar licks, frantic percussion, and other conventional attributes of art-rock does not exactly coincide with the folksy singer/songwriter musings of Dylan or Nilsson, but their simultaneous ability to combine memorable musical accompaniments and engaging lyrical content is something that combines the broodingly infectious form of British post-punk that dominated the '80s and the interpretively heartfelt lyrical content of traditional American folk songwriters. To combine characteristics of two separate genres with differing geographical origins is risky for a young group, but Foreign Born looks to finally prevail with a new album that blends their large assortment of influences beautifully.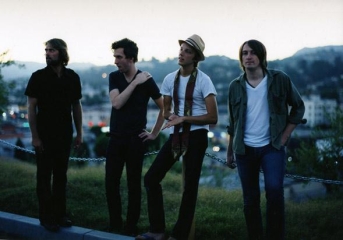 To avoid the factor of intimidation that applies to most music with a variety of inspirations, Foreign Born's new album, Person to Person, has the distinction of treading within a familiar style while exploring new territory in each song. Their first album, On the Wing Now suffered from a lack of cohesion despite some worthwhile standouts, serving as an example of a young band with heaps of potential but a lack of focus. Despite this though, they were proclaimed as one of the most promising groups in the LA area and earned some generally positive reviews. The most prominent aspects of the album included Matt Popieluch's soaring vocals and Garrett Ray's outstanding drumming ability. Foreign Born held the distinction of being a group with a capacity for anthemic heart-pumpers, and this is hardly different on Person to Person. If anything, this strength is capitalized upon even more with the expansion of the group's instrumental repertoire, featuring an assortment of woodwinds, strings, brass, and synths. From the twinkling of synths in "It Grew on You" to the exotic, Lennon-like use of strings in "See Us Home", there is plenty of eclectic musicianship on Person to Person. This is where the importance of Ray shines more than ever, as he is often the only steady force amongst a flurry of impressive instrumental additions. With an astute ability to turn even the simplest melodies into an intricately empowering force and the overly complex efforts into a more accessible format, Ray is largely responsible for restraining the group's lofty ambitions to a point where their material is accessible and instantly rewarding.
Staying true to their summery interpretation of indie-pop, "Early Warnings" is a great demonstration of the group's cumulative melodic capacity and Ray's largely complementary role in modifying some good songwriting to make it excellent. The lead guitar has the type of twang that one would expect from Little Joy, The Shins, or any other conventionally accessible indie-pop group, but the subtle variations within the track make it a treat that would benefit from a variety of listens. Listeners with a tendency to focus on the percussive elements more than anything (drummers mainly) will likely find themselves impressed at the track's end, as Ray has a tendency of restraining his percussion when vocals or instrumentation are at full force and knocking out an impressive solo when instrumental minimalism requires it. This results in a plethora of diversity throughout the album, both structurally and stylistically. The feel-good nature of "Early Warnings" benefits heftily from this, as the verse's lack of frantic percussion complements the unavoidable entry of it in the chorus extraordinarily. "Blood Oranges" also offers an excellent build-up, primarily found in a stunning rhythm section led by Ray and bassist Ariel Rechtshaid. "Anthemic" was a word used often to describe Foreign Born's debut, and Popieluch's vocal performance here remains indicative of that as well. On the Wing Now was impressive for a debut album, but Person to Person exceeds it on most fronts in being the summation of Foreign Born's underrated depth and potential. Merely avoiding the sophomore slump is an achievement in itself, to make an album that trumps an already-impressive debut in several ways is a rare spectacle that is hard to rival.
——————————————————————————————
——————————————————————————————
——————————————————————————————
——————————————————————————————