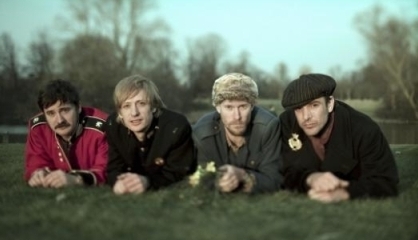 by Jon Chapple
In the harsh light of this cynical and paranoid new millennium in which we now unfortunately find ourselves, it's easy to forget just how massively popular Kula Shaker were. Admittedly, that popularity lasted approximately ten months (at the very most), and, of course, never quite made it across The Pond. But for a short period, the boys from Richmond's curious melding of Hindu religious sentiment with guitar-heavy neo-psychedelia won over the hearts, minds, and souls of British music-buyers. Their début, 1996's K, was the fastest-selling since Oasis' monster hit Definitely Maybe.
But alas, theirs was a cautionary tale. So much of a cautionary tale, in fact, that I'm sure if you looked up the term in an encyclopedia there would be a bloody great picture of Crispian Mills' grinning face next to it. Following some well-meant but catastrophically ill-advised remarks regarding the mystical properties of swastikas in an interview with the NME, the unlucky foursome rapidly fell out of favor with the notoriously fickle British public and faded back into the murky obscurity from whence they came. Their following effort, 1999's Peasants, Pigs & Astronauts, limped in at number nine before quietly sliding out of the charts altogether, and the group announced their split shortly after.
And now they're back. Well, they were back once already, but 2007's Strangefolk was a mixed bag at best, the sound of a band trying to find their feet once more after eight long years in the musical wilderness. I mean they're back.
Right from the outset you can tell that Pilgrims Progress is going to be a very different affair entirely. Opening with irresistibly baroque first single "Peter Pan R.I.P." – a gorgeous, melancholic, cello-driven pop-rock ode to that most famous of lost children, provides the setting before moving on to the even more precious (and just as fantastical) chamber folk ditty "Ophelia". The decidedly more rootsy psychedelic blues number "Modern Blues" also shapes the diverse sound. "Only Love" – a driving, insistent faux call-and-response session that boasts a healthy dose of jangling Byrds-ian Rickenbacker and some three-part harmonies to die for (the response to each call, incidentally, is that "only love will take you there"; but you already knew that) – makes it become quickly apparent that Pilgrims Progress' infinitely-varied forty-one minutes are going to be playing host to the entire gamut of the musical spectrum of the late '60s and beyond.
The irresistible sitar-driven country shuffle (!) "All Dressed Up (And Ready to Fall in Love)", the near-Adam Ant/Wild West instrumental "When A Brave Needs a Maid", and the hauntingly desolate ballad "Cavalry" – which relays the desperate tale of an outnumbered and demoralized group of soldiers ("We can't turn back, we're under attack / outnumbered too, I believe") – sound like they could be out-takes from a Ennio Morricone soundtrack, whilst the smoky, romantic soul waltz "Ruby" contains a subtle nod to both Mills' own (now noticeably less prominent) religious beliefs and original musical mystic George Harrison in the lines "Beware of darkness, don't let it bring you down" (repeated later as "Beware of m?y?", both direct lifts from Harrison's "Beware of Darkness", the opener to side three of 1970's All Things Must Pass). "Figure it Out" is vintage Kula, mashing trippy Revolver-esque psychedelia with spoken Hindu mantras. The organ-driven curtain call "Winter's Call" builds to a crashing crescendo that brings to mind much of the earnest, self-conscious seriousness that characterized early British progressive rock.
But the thing is, inexplicably, none of it feels like a pastiche. Not once do you feel like the band are simply exhuming the ghosts of the rock behemoths of days gone by, despite the fact that the template for the exotic, acid-fried musical nuggets contained within is clearly so deeply-rooted in that lysergically-enhanced blur that has come to be known as the "Swinging Sixties". It's also evident that three years that have elapsed since the release of the lackluster aforementioned Strangefolk have been productively spent. Each song feels like a meticulously-crafted and neatly-packaged mini symphony, crammed full of endless musical ideas and killer hooks; these are songs that will get inside your head, and won't leave again in a hurry.
On paper, the template for album number four is much the same as their previous three efforts. But where Pilgrims Progress really shines is in its rare ability to present the sounds of another era in a setting that feels mature, fresh, current and progressive. It is a leap forward for both Kula Shaker and for modern rock and roll in general, with Pilgrims Progress becoming the band's first true must-have LP.
"Retro" is no longer a dirty word.
9.0/10.0
RIYL: George Harrison, Ocean Colour Scene, Mansun, Suede, The Beatles, The Verve, The Charlatans, Blur, Oasis, The Jeevas, The Stone Roses, Shed Seven, Ash, Elastica, Cast, Manic Street Preachers, James, Gene, Stereophonics
——————————————————————————————
——————————————————————————————
Kula Shaker – Peter Pan R.I.P.

[audio:http://mineorecords.com/mp3/kshake-pet.mp3]
——————————————————————————————
——————————————————————————————