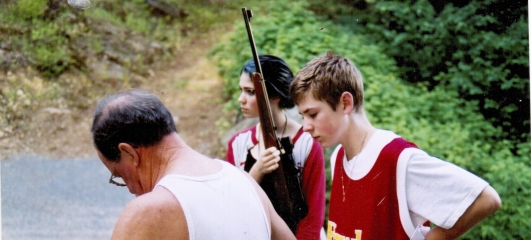 In my first feature of Grimes, I made the point that the music of Claire Boucher resembled conceptual art. With gauzy layers of synth that embed themselves into post-punk rhythms reminiscent of Joy Division's "She's Lost Control", theatrical art-pop hooks that resembles the likes of The Knife and Björk, and subtle sampling to the effect of Kraftwerk and Burial, her music does not confine itself to one influence or genre. Instead, one experiences a meshing of several different components that combine for a sound that – while occasionally bizarre or puzzling – is thoroughly fascinating in its delivery. Boucher's engrossing tendencies does not stop at the appearance of her style though, as her pop tendencies are present in each song. Unlike the absurdly pretentious conceptual art that offers an interesting delivery but no substance, Grimes plays like an infectiously majestic series of stylistic concoctions. Boucher makes her music align with her artwork and photos, which feature abstract shapes (usually of body parts) and a wide array of colors that give off the initial appearance of spontaneous disarray, only to reward the attentive viewer with beautifully cohesive formations that take effort to spot – but not too much to the point of becoming frustrating. Like her artwork, Grimes' music has plenty of unconventional surprises.
Boucher's additional talents in the visual arts were shown off wonderfully on her debut Geidi Primes, which featured songs that were as apt for artistic cinema as they were for caliginous electronica venues. I noted that a track like "Sardaukar Levenbrech" would be a great choice for inclusion in the next film by Hirokazu Koreeda, who is able to combine traditional Asian music and contemporary electronica to riveting images of resignation, loss, and isolation. Then there were efforts like "avi" that followed more catchy dance, with its reverbed percussion, pulsating bass, and gleaming of strings creating a dark but soothing atmosphere among Boucher's flexible vocals. Her voice alternates between a subdued murmur of sorts and high-pitched flashes of enthusiasm, showing no hesitance to hold a shrill note if it sounds appropriate over gushing synth pads and austere percussion. We are merely a few months after the release of Geidi Primes, and apparently Boucher is discontent in having just one album to compete for a spot in the Top 50 of the year. Her new album, Halfaxa, was released in typical under-the-radar fashion, and it stands just as strong as its predecessor released earlier this year. To my delight, Boucher has not alternated her sound much, which she describes primarily as "goth-pop", but with a heavy influence from "Medieval organum, R&B and hip-hop."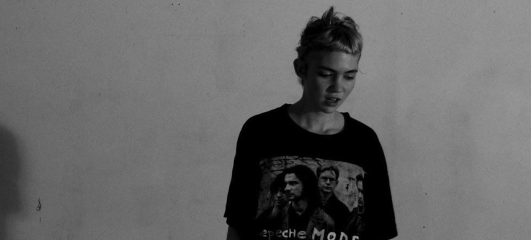 Halfaxa represents, in several ways, the beginning of a transformation period for Boucher. All the songs on Halfaxa are recorded like on Geidi Primes, in DIY fashion directly through the microphone on Boucher's computer. Change is on the horizon though, at least in regard to studio methods. It would be difficult to spot this based on the quality of her material, but quality songwriting and production always shine regardless of the medium. Ironically, directly after she wrapped up Halfaxa, Boucher realized how to record things through an interface. As a result, "Crystal Ball" – which was recorded using his new interface – did not make it to the album, but Boucher said this likely represents her "new phase", which she looks forward due to the elimination of MIDI and the prospect of recording her synth straight into the computer. The result is not nearly as dark as her previous material, but with an optimistic glimmer that translates into a more upbeat and overall infectious effort. The percussion pattern follows post-punk as usual, with the click-clacking of minimalist percussion resembling the ominous shuffle of Joy Division. Boucher's voice is crisper and more expansive than usual though, the variation between her high-pitched and lower vocals combining for some clever hooks. Her methodologies remain the same as various vocal melodies overlap for a sensational melodic turn-out, but "Crystal Ball" suggests we should expect a more accessible output from Boucher in the future. Regardless of whether or not "Crystal Ball" is on the album, I feel it is great enough to catch on like fire regardless. Expect to see this one posted on a bunch of blogs by the end of the year.
Moving on to cuts that actually made the album, "sagrad …" . Boucher's ooh-ing complements a harp-like progression guided by a single snare, with the ooh-ing eventually serving as an additional synth pad as her lyrical verses emerge. The harp/mandolin-like qualities are eventually phased out in favor of an effervescent synth pad that begins to recall fastidious dance-pop in addition to the initially prevalent dubstep, a style that is present more often than not in the percussive additives alone. The structural route this song takes is extremely spontaneous, perhaps a bit too much for some, but the beauty of the track speaks volumes. The bursting effort "Dream Fortress" may appeal to those who like their structures a bit more accessible, as Boucher expands a string-drenched intro into a bouncy hustle of delicate synth whole notes. Her vocal melody here initially resembles the fantastic "avi", but that is before the track incorporates additional string elements that border on the avant-garde. The squealing samples contrast with the strings around the two-minute mark quite remarkably though, and especially when the percussion kicks back in there is little to doubt as far as the track's innovative appeal goes. The conclusion greets the listener with the same delicate chord progression from the beginning, albeit this time with a clanging yet fitting arpeggio that allows the song to end with its feet still on the ground.
Many of Boucher's songs are so spontaneous and visually stimulating that length is not an obstacle. In fact, there are several five-minute tracks on here that I wished would go on longer. Tracks like "world ? princess" and "sagrad …" contain a multitude of memorable moments that bear repeating before a transition comes on too abruptly. What follows is always entertaining, but there are some greater ideas than others and it is evident that Boucher is still learning to identify these and capitalize upon them. "Weregild" does not suffer from this at all though, standing as one of the better efforts on Halfaxa in regard to mood, tempo, and general infectiousness. Like "Crystal Ball", this should spread rapidly among fans of moody electronic music. This one specifically recalls Depeche Mode, a band that Boucher is not hesitant to express her respect for (check her shirt in the second press shot). Of course, Boucher's voice is extraordinarily unique here as usual, and her exploitation of the various pitches she is able to emit is awe-inspiring. Check out the retrospective push of billowing synth sequences around the 02:30 mark and try not to be swept away. Most songs on Halifaxa are just as inspiring, and Boucher is the only artist I am aware of in 2010 who has released two full-lengths worthy of year-end mentions.
RIYL: The Knife, Björk, Depeche Mode, Joy Division, Kraftwerk, Marissa Nadler, Forest Swords, How to Dress Well, Prince, Black Dice, Hildegaard von Bingen, Cocteau Twins, Twin Shadow, Julian Lynch, Wild Nothing, James Blake, Autre Ne Veut, CEO, Avey Tare, Glasser, Gold Panda, Small Black, Blackbird Blackbird