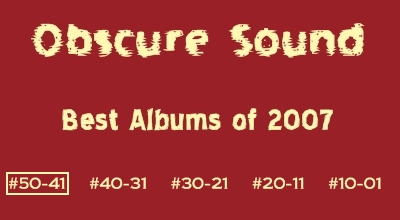 Oh, here we are again. I hope you were looking forward to this as much as I was. 2007 was a great year in music and, just like last year, I have rediscovered a bunch of great artists from the earlier months of '07 in the process of compiling Obscure Sound's annual "Best Albums" list. As for the most recent — it would be extremely easy for me to say that 2007 was a great year in music. Since this list is compiled from merely the viewpoint of one individual, I remind you to keep in mind that there is no "master list" of sorts. If you have found that our music tastes have overlapped in the past, I believe we will mostly be in agreement. If not, I look forward to engaging in a few cleverly worded comments below. Either way, I recommend a listen to anything that interests you. The aspect that separated 2007 from its near predecessors is the stylistic diversity that quality artists have put out. From indie-rock and dance-pop to dubstep and funk-jazz, I was constantly embraced with a plethora of different genre-led approaches this year. Due to this, I never found myself tired of one genre throughout the entire year. This list is reflective of such ceaseless enjoyment. So, enough with the rambling. Let's get to it…
———————————————————————————————–
50. Tunng – Good Arrows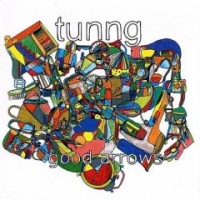 We kick it off with Tunng, a collective of experimental folkies from the UK. After early careers as softcore pornography composers, frontmen Mike Lindsay and Sam Genders have found success after three albums with Tunng, offering unconventional folk-pop that sparkles with acoustical instrumentation, backing melodic vocals, and smatterings of electronica. With Genders' delicate vocals carrying itself swiftly over Lindsay's proficient guitar work, the result on their third album, Good Arrows, is often of initial enjoyment. It marks their most mature effort yet too, with a newly acquired stylistic confidence resulting in an increase of electronic implementation. The album's centerpiece, "Bullets", sees an array of pop hooks uplifted by several vocal accompaniments in the infectious chorus, led by a pair of keys that increases and decreases tempo on a whim. The variety of shuffled sounds implemented, from the chirping sound of an insect to the slight twinge of an unidentifiable woodwind instrument, among the song's impressively intricate structure provides for an unpredictable, yet enjoyable, listening experience. With each song's intricacy being intertwined with Tunng's trademark form of oddball folk, Good Arrows is Tunng's best effort to date.

Tunng – Bullets
[audio:http://mineorecords.com/mp3/b07/tunng-bul.mp3]
———————————————————————————————–
49. Dogs – Tall Stories from Under the Table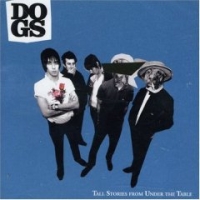 The punk-oriented aggressiveness that the appropriately named Dogs convey has been tough to match this year. Led by the snarling vocals of Johnny Cooke, Dogs' second album, Tall Stories from Under the Table, encompasses all the traits of a post-punk revivalist band that actually does things right. Though it would be easy to initially dismiss their guitar-oriented sound as sloppy or disconcerting, Tall Stories from Under the Table has proved to be a very enduring listen. With the rapidly presented tale of suicide, "On a Bridge, By a Pub", being a prime example, the abundance of hooks eventually becomes an undeniable factor as the album progresses. Depicting lonely nights and self-infliction over a faultless rhythm section and guitars, the social malcontentedness conveyed comes off ardently genuine. You can thank the uniquely capable vocals of Johnny Cooke and the outstanding guitar duo of Rikki Mehta and Luc Vargas for that one. The melodically empowering riffs incorporated behind the snarls of Cookie provides for an exciting listen that could push Dogs to the forefront of post-punk revivalists. If I did not convince you, maybe Paul Weller (former frontman of Dogs' most glaring influence, The Jam) will. He contributed vocals on a track, "Let It Lay", on the album after becoming impressed with the group's debut.
———————————————————————————————–
48. Deer Tick – Deer Tick
Age certainly does not hinder John McCauley. The sole performer and songwriter for Deer Tick just turned 21 and has already amassed an extremely dedicated fan following. Listening to his debut album, War Elephant, it is not hard to see why McCauley has been labeled a folk sensation ever since his teenage years. One of the few rising folk artists who actually focuses on both melodic and lyrical depth, McCauley's War Elephant is an extremely impressive debut. Though the majority of the songs tend to be acoustic, various forms of strings, percussion, and guitars are abundant throughout. With twangy vocals somewhat reminiscent of Neil Young or Dan Boeckner, McCauley's mixture of yelps and emotional quivers prove to be extremely effective. "Long Time" sounds like a lost country-folk classic from the '60s or '70s, while "These Old Shoes" takes a Chris Paddock acoustic original and turns it into an energetic romp featuring intertwined strings and rollicking guitar riffs. Despite being one or two tracks too long, War Elephant is an extremely enjoyable debut that serves as a grandiose display of McCauley's rich potential.
———————————————————————————————–
47. Julius Airwave – The City the Forest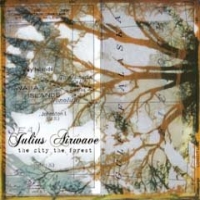 As they perform on stage with a custom-made (tubes, light bulbs, and LCD lights) robot by their side, attendees at a Julius Airwave show may find it initially difficult to take the band seriously. However, once they kick into one of the excellent songs on their sophomore album, The City the Forest, the number of skeptics in the audience should reduce dramatically. Playing a straightforward set of infectious indie-rock, The City the Forest is one of the biggest surprises of the year for me. Having never heard of the Florida-based five-piece before, I popped in their latest album and was hooked immediately. Apart from lighthearted breeziness of the fantastic "Glory Glory" and the deadly synth-guitar combo in "Shipwreck", the brilliantly infectious "Appley" is one of my favorite songs of the year. Though it amounts to structural simplicity, the chorus erupts into a series of guitars and synths that provides for immediate excitement. Comparisons to The Strokes should be abound, as frontman Rick Colado encompasses vocals that are eerily similar to Julian Casablancas, especially in the impressive "Appley". Give that song in particular a listen; it gives The Strokes a run for their money.
———————————————————————————————–
46. Testa Rosa – Testa Rosa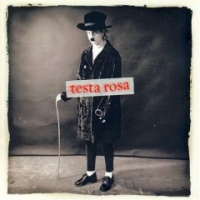 For some, it may prove somewhat difficult to pinpoint Testa Rosa. After all, the trio's influences are spread anywhere from '60s Motown to synth-infused post-punk. Such circumstances can either create an epic mess or an audible state of diverse bliss. On Testa Rosa's excellent eponymous debut album, the latter fortunately applies. Testa Rosa seems to be most masterful when attempting an fusion of folk and pop, an eclectic mixture that proved to circulate throughout one of the year's most addictive songs, "Ollie & Delilah". Detailing a contemporary Bonnie and Clyde, lead vocalist Betty Blexrud-Strigens "Delilah softly holds his arm while Ollie smiles, swallows heart," she sings before the stunning chorus, "And he says, 'Don't be scared, I am here, you'll always have my heart.'" Blexrud-Strigens relays a slight tinge of country in addition to her excellent range, reminding me of Stevie Nicks and her classic mixture of folk and country. Though the album's best two tracks are the first two in "Ollie & Delilah" and "Book About Clouds", Testa Rosa closes gracefully with "I Want to Be Alone on Christmas (Here With You)", a melodically beautiful tale of loneliness at a time when "it's too cold to cry". For a heart-tugging array of dynamically written songs, you cannot go wrong with Testa Rosa's wildly impressive debut.
Testa Rosa – Book About Clouds

[audio:https://obscuresound.com/mp3/testaro-boo.mp3]
———————————————————————————————–
45. Dungen – Tio Bitar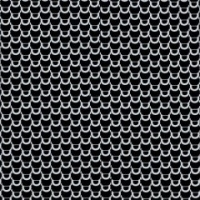 Dungen, primarily the work of vocalist/composer Gustav Ejstes, has the pleasure of being the first Swedish artist on this year's list. Obviously, considering the number of quality artists the country is outputting, he will not be the last either. Regardless, Ejstes has become reputable for straying outside the norms. He does not craft sugar-coated indie-pop like many of his native contemporaries. Instead, he incorporates instances of post-rock and psychedelia, with sprinklings of a Swedish pop mindset occasionally entering the picture. With flutes, organs, and strings accompanying other more conventional instruments, Dungen's fifth album, Tio Bitar ("Ten Pieces"),. With guitar-led anthems like "Du Ska Inte Tro Att Det Ordnar Sig" blending seamlessly on the same album with intricately layered 9-minute epics like "Mon Amour", Ejstes is a pure master of unpredictability. The beautiful string arrangement in "Carolina Visar Vagen" over the rapid plucking of an acoustic guitar and the hushed momentum of an organ serves as a good summation of Ejstes' talents. He is able to blend several instruments together seamlessly, always keeping his arrangements excitably dramatic. Tio Bitar serves that sentiment well, with all "ten pieces" being worth the time.
Dungen – Du Ska Inte Tro Att Det Ordnar Sig
[audio:https://obscuresound.com/mp3/dungen-dus.mp3]
———————————————————————————————–
44. Interpol – Our Love to Admire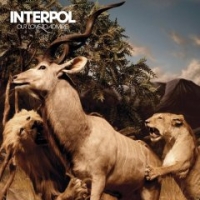 When Turn on the Bright Lights was released in 2001, Interpol could do no wrong. It proved to be one of the best debuts of the decade, conveying an original sound of contemporary garage-rock while simultaneously channeling legends like Joy Division and The Chameleons UK in the process. Few would argue that Interpol was easily one of the most likable bands in the earliest stages of this decade. Though many fans will continue to beg Interpol to stick with their original sound, it is perhaps in their own reluctance to "give something new a try" that sees each release decrease slightly in quality. Though I say that, remember I do not think Our Love to Admire is not bad by any means. After all, it made the list. Though Interpol's quality is slowly but steadily decreasing, the enjoyment on Our Love to Admire tends to be more sporadically discoverable than their previous two releases. There is no denying that songs like the energetic fervor of "Who Do You Think", the progressive "Pace is the Trick", or the brooding "No I in Threesome" are Interpol at their near-best, but to once again reach their absolute best ("The New", "Hands Away" most of TOBTL), a newly discovered transitional period of structural diversity would be something to consider.
———————————————————————————————–
43. Shiina Ringo – Heisei Fuzoku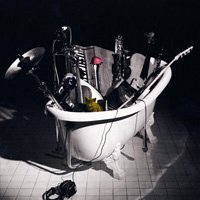 I always hold a decent amount of respect for foreign artists who draw a worldwide following. As one of the greatest songwriters Japan has ever seen, Shiina Ringo can seemingly do it all. As she has proven time after time with her own solo career and self-formed collective Tokyo Jihen, her eclectic offering of styles allows for a presentation that incorporates a numerous variety of excitable genres. Rock, J-pop, jazz, and funk are just a few that are shown on her fifth solo album, Heisei Fuzoku, and – as usual – it is done so in In the spotlight since her teenage years, longtime fans will see Heisei Fuzoku as no surprise. Though it is not even considered her best solo album (check out Karuki Zaamen Kuri no Hana for that), Heisei Fuzoku should please admirers of grandiose, orchestra-laden pop music, with additional tracks like "Meisai" capitalizing on a desirable "big band" sound. Heisei Fuzoku follows a 4-year solo absence, after Ringo previously vowed to devote all her time to Tokyo Jihen. Fortunately for everyone, she has chosen to now juggle both at once. The result is just as appealing as when she left, with songs like the epic "Gamble", in which the orchestrally domineering hook in the chorus is viable to easily send chills up one's spine, being devastatingly powerful. Though she is only 29, it seems that Shiina Ringo has been around forever with her plethora of quality releases. She is doing anything but overstaying her welcome.
———————————————————————————————–
42. Girls Aloud – Tangled Up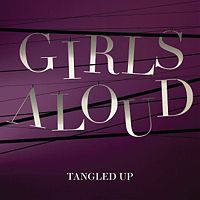 Undoubtedly the best thing to ever originate from a music-related reality television show (though Kelly Clarkson ain't half bad), Girls Aloud have produced one of the year's catchiest dance-pop albums in Tangled Up, their fifth and most accomplished album to date. Though they will be one of the most recognizable names on this list, I believe that Girls Aloud deserve all the acclaim that they receive. Led by writer/producer Brian Higgins and the insanely talented songwriting team of Xenomania (writers of 16 consecutive "Top 10" singles in less than 4 years), the five gals in Girls Aloud should be grateful with their latest output; "Girl Overboard" and "Can't Speak French" are a pair of the best songs Higgins and co. have written – and they have written some great ones before. While those who oppose high levels of flamboyancy will likely not be in favor of Girls Aloud's club-friendly version of techno-pop in the fantastic "Girl Overboard" or "Call the Shots", those more receptive to variety should embrace it. Though I was never keen on one group being controlled behind a curtain by a group of songwriters, the talented vocalists in Girls Aloud were certainly well-selected on 2002's "Popstars: The Rivals". With sparkling choruses, seductive vocals, and infectious melodies being the core in each and every song on Tangled Up, fans of dance and pop music should walk away extremely satisfied with Tangled Up.
Girls Aloud – Can't Speak French
[audio:https://obscuresound.com/mp3b/galoud-can.mp3]
———————————————————————————————–
41. Joe Henry – Civilians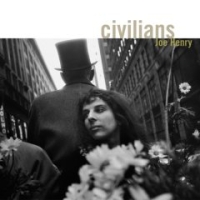 I previously mentioned that 2007 has been a year abundant with stylistic diversity. With that in mind, Joe Henry's career is has been an epitome of what I consider a blessing in regard to this year. Stretching more than 21 years, the veteran songwriter/producer has consistently churned out quality album after album, whether he was writing his own solo material, scoring movies (most recently, the Knocked Up soundtrack with Loudon Wainwright III), or producing albums for the likes of Ani DiFranco, Solomon Burke, Elvis Costello, or Allen Toussaint. Henry's solo career has encompassed a countless number of genres, from audacious country-rock and somber acoustical folk to rhythmic jazz and gritty blues. On his eleventh solo album, Civilians, Henry primarily chooses to dwell in an area of expansive folk, with collaborations from the legendary Van Dyke Parks (he supplies the tragic piano on the barefaced beauty of "I Will Write My Book" and the haunting "Civil War") contrasting beautifully with Henry's lyrical tales involving politics and nostalgia. "Our Song" is particularly gripping, where Henry uses an anecdote concerning a run-in with Willie Mays as a device to share his thoughts on the shameful state that modern baseball is in due to illegal substance and greed (Barry Bonds, anyone?). One of my favorite tracks on the album is "You Can't Fail Me Now", a romantically gripping track that sees Henry at his genuine best, both melodically and lyrically. "I lost the thread among the vines and hung myself in storylines that tell the tales I never would allow," he declares during the rapturous hook, full of expressive honesty and raw emotional power, "God knows the name of every bird that fills my mind like angry words." One thing is for certain – Joe Henry is one of the most consistent artists of the past two decades. With the powerful Civilians, it merely proves as more solidification to Henry's prolific status as a highly skilled musician and producer.
Joe Henry – You Can't Fail Me Now

[audio:https://obscuresound.com/mp3/jhenry-you.mp3]