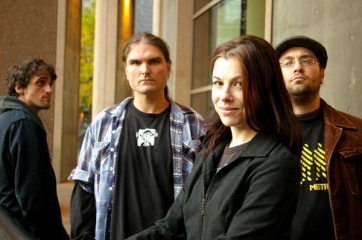 Unless their family name is worth a few cool million, most people have had at least one noteworthy run-in with a boss who could, at best, be described as a difficult individual. Power trips, flagrant favoritism, and enlarged egotism are a few possible occurrences for an overly egotistical ruler of a workplace. A hilarious example of such a character would be Michael Scott (Steve Carell) on The Office, though I am sure most of you (including me) are in no need of a fictional example, as first-hand experience seems to be abundant in this topic. But, as we all know, money does not grow on trees. Whether it is paying the bills, filling up the car, or bringing the girlfriend/boyfriend out to dinner, we are forced to bring in the moolah somehow. Some people occasionally get lucky and find themselves with a boss that is so personable and fair that they actually become friends. Friends with your boss? Yeah, it may sound odd, but weirder things have happened. Want something that sounds even weirder? Well, imagine actually forming a band with your boss. For The Feminists, this is how it started. The four-piece based out of Vancouver formed when a boss and his colleague came together in musical form, marking a point of hierarchical irrelevance that merely serves a display of the group chemistry that The Feminists expose both on stage and in the studio.
The group kicked off around 2000 when songwriter/guitarist/vocalist Keith Grief set his sights on forming a rock band using several proficient musicians from Vancouver. He eventually found his own employee, Allyson Mara, to be an ideal candidate. The keyboardist/vocalist was playing in a jazz trio at the time and, though the style was in stark contrast to Grief's indie-rock preferences, the two decided to join forces. As the lead songwriter, Grief obviously had the most substantial role in choosing the style of The Feminists. What resulted was a form of angst-ridden, eclectically presented indie-rock that Grief found to be familiar with his past musical history. Prior to the formation of The Feminists, Grief had been involved with a variety of local projects since the early '90s, serving as a key member in alternative bands like The Goodtime Clubsters, Hunter Gracchus, and Vegas in the Name. Shortly after the duo got things rolling, drummer Mike Zobac joined the band and invited his friend and bassist, Ferdy Belland, to complete the rhythm section. Before the initiation, Belland was an entrepreneur of sorts. Among many other occupations, he was previously an indie record store owner, a journalist, the assistant manager of a bar, and a street festival director. All self-professed "music snobs", the four members show no hesitation for demonstrating their love of all musical genres. From jazz to blues and classical to indie-rock, the four-piece holds enough past experience to accompany an orchestra.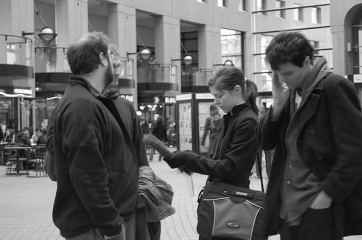 Can't Scream Loud Enough marks the band's third full-length effort. Their debut album, Anything You Can Do, dropped in 2004 and their sophomore effort, She Could Be, was released the following year. Proudly labeled as one of the best active Vancouver-based bands by a variety of critics, The Feminists envision their third effort as their most confident and harmonically engaging yet. In somewhat appropriate contrast to their namsake, there is no favoritism shown toward one member in The Feminists. The vocal aspect of the album is largely focused on Grief's efforts, though Mara adds vital backing vocal contributions that serve as both sweeping hooks and atmospheric elements. Her work on a variety of keys (piano, synths, and organs are a few) also proves to be perhaps the most distinguishing aspect of The Feminists' wholly engaging sound. Professionally trained in a variety of musical styles, Mara makes her presence known in each of the tracks on Can't Scream Loud Enough, whether it be her contributions on keys or vocals. In the midst of the things, the rhythm section that comprises of Belland and Zobac proves to be continuously effective throughout the album. Considering the frantic pace that songs like the infectious "The Beginning of the World" can take on, it serves as an impressive accomplishment.
The album's brilliant opening track, "The Beginning of the World", takes its dues from energetic '80s synth-rock, with a pulsating synth leading the way over Grief's vibrant vocals. "Sometimes the city moves too fast," Grief proudly proclaims as the album's first line, serving as nearly a contradiction to the group's futuristic intentions. The Feminists call themselves a "21st century rock band", and though their influences of '80s synth-rock may appear outdated to some, their ability to interweave it with contemporary elements makes the title justifiably appropriate. The newly added strain of a high-pitched synth signifies the chorus for an ardent Grief, just before the song transforms into a lush, piano-laden ballad. With the synth-rock and piano-led pop sections of "The Beginning of the World" serving as two separate entities, Mara serves as an unstoppable instrumental force, tackling both genres with talented proficiency. The song would have benefited by stopping after the ballad's section, though the concluding synth solo is worth the time for those interested (even if the structural repetition serves little purpose).
"21st Century Ghost" is also led by a mixture of guitars and keys, with Grief's vocal delivery being more reminiscent to a standard of punk-rock. Though quite catchy, repetition also proves to be its downfall toward its conclusion. Though I would have enjoyed several songs on Can't Scream Loud Enough more if they contained more variation in place of the structural repetition, there is no denying great moments on tracks like the synth-rock thumper "The Beginning of the World" and the infectious "A Nihilist's Song", a song that seems to capitalize on all of the band's strengths with sparkling keys, dynamically ardent vocals, quick-paced guitars, and a catchy chorus that proves irresistible. The country-tinged ballad "Goodnight, Irene" also translates successfully with Mara's gentle backing cooing over alluring key-led melodies and acoustical variations serving as a strong point. The Feminists are already planning to release their fourth album in 2008 and, with the quality displayed on Can't Scream Loud Enough, I am hotly anticipating it.
——————————————————————————————
The Feminists – The Beginning of the World

[audio:http://mineorecords.com/mp3/thefem-beg.mp3]
——————————————————————————————
The Feminists – A Nihilist's Song

[audio:http://mineorecords.com/mp3/thefem-ani.mp3]
——————————————————————————————
The Feminists – 21st Century Ghost

[audio:http://mineorecords.com/mp3/thefem-21s.mp3]
——————————————————————————————