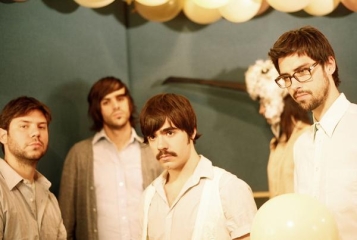 I do hope to travel across a wide variety of locations one day, but as a middle-class college student I understand that my resources are somewhat limited. That being said, it is a common process for me to singularly identify certain cities based on the musicians who originate from there. You can call it the result of ignorance from a young inexperienced traveler or simply the product of someone who loves music to death, but I have to say that the result is almost always complementary. After all, how else would those not too keen on geography or history identify some of the world's more bustling and artistically productive areas? Montreal is by no means an unidentifiable city as the second-largest city in Canada, but the prosperous amount of musical activity has certainly brought more attention to the area as a ceaseless hotspot for artists who defy all stylistic and cultural boundaries. From commonly identifiable contemporary acts like Arcade Fire and Wolf Parade to legendary artists like Leonard Cohen who your parents (and hopefully you as well) can identify with, the city has been producing worthwhile artists for decades. That being said, there is little to question in whether or not one of the latest Montreal-based groups, Winter Gloves, have enough of an audience to gain exposure, as they have captured the attention of a city who is used to nothing but the utmost quality in independent music.
Capitalizing on a commonly receptive form of integrated indie-rock and synth-pop that has seen local contemporaries like Stars and Chromeo, go on to national success, Winter Gloves refine their approach by being neither intimidating nor overly aggressive. With ambitiously modernistic minds like Spencer Krug also hailing from the same city, their songs are not even remotely the most complex or intricate pieces to hail from Montreal, but the four-piece are able to emit a form of convincing infectiousness that makes their success appear nearly imminent. In support of their recently released debut album, About a Girl, they are currently wrapping up a Canadian tour that has earned them both hot press and a budding fan base. Prior to this release, however, they put out an EP, Let Me Drive, that primarily consisted of frontman Charles F.'s solo musings. Winter Gloves itself was originally intended to be a solo side project for Charles, but he found the life of a solo musician to be too restrictive for his taste. "When you record everything yourself and then you listen back to the CD, everything is a bit boring," he said in an interview. "It's like a talent show for you." Seeking both an outlet for constructive criticism and stylistic expansion, the search for the proper musicians proved easy for the native of Quebec City when he returned to his native roots.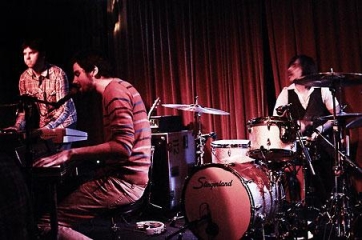 After he had spent one year overseas in Britain and had gotten a bit bored of the straightforward art-rock infesting the likes of NME, Charles F. relocated back to Montreal in hopes of gathering some like-minded musicians to complete the process of finalizing Winter Groves. First, he looked toward Vincent Chalifour, a friend who had helped him mix the debut EP. After Chalifour's quick agreement, the two then connected with collaborators Patrick Sayers and Jean-Michel Pigeon, completing the four-piece. First, he looked toward Vincent Chalifour, a friend who had helped him mix the debut EP. Off the heat of the EP alone, the group began touring with the likes of Tokyo Police Club and Jealous Girlfriends despite not being signed to a label at the time. The critical acclaim for both their EP and live shows sent labels a knocking though, and the Toronto-based Paper Bag Records swooped Winter Gloves in anticipation for the release of About a Girl. Now on the same label with the likes of The Acorn, Tokyo Police Club, Sally Shapiro, and Stars, they look to fit well among a group of excellent songwriters and performers that capitalize in a variety of original hooks and multifarious stylistic tendencies.
Although the longest track on About a Girl is no longer than four minutes, this works to the group's advantage in regard to their stylistic preference. For most of the tracks, if they were any longer then they would overstay their welcome, mainly due to an instrumental focus on keyboards and synths that remains consistently accessible. "I Can't Tell You" is a fine example of their key-driven sound, often backed by a revolving array of warbling synths and a very brisk rhythm section that can be surprisingly and efficiently complex in specified areas. This is found accordingly in the chorus of "I Can't Tell You", where a series of twinkling synths further supplement a repeated key progression as Charles' vocals change pitch from a series of half-spoken verses to a falsetto-aided bridge. His dynamic range allows the arrangements to flourish abundantly, perhaps overshadowing any simplistic melodic aspects that may turn off some listeners. The opener, "Factories", is more demonstrative of their enthusiastic nature. In contrast to "I Can't Tell You", the track is a constant whirlwind of energy that sees a guitar arpeggio complement an already engaged series of synth lines. The lyrics are generally nonexistent during this section, as Charles opts for a melodic croon that sees his vocals substitute for any extraneous instrumental accompaniments.
I suppose you could make comparisons to a handful of Wolf Parade's more accessible tracks – "Fancy Claps" or "Modern World" – on a track like "Let Me Drive", though the structure without being all too predictable. The implementation of handclaps over the building bass line adds to the songs immensely, adding a sense of anticipation that should find the listener in a state of appeasement when the track reaches its conclusion. Overall, About a Girl is not the most intricately resounding thing to come out of Montreal, but it is certainly some of the catchiest material from the city I have heard so far this year.
——————————————————————————————
Winter Gloves – I Can't Tell You

[audio:http://mineorecords.com/mp3/wgloves-ica.mp3]
——————————————————————————————
——————————————————————————————
——————————————————————————————