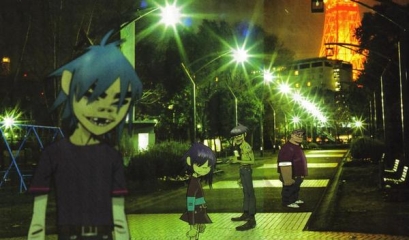 by Mike Mineo
For the average music fan, it would be easy to say Damon Albarn is cheating. His Gorillaz project has been one of the best-selling groups of the past decade for several reasons. While Gorillaz is certainly aided by a PR-friendly campaign of engrossing visuals courtesy of Jamie Hewlett, Albarn's success is indebted largely to his inarguable talent as an alarmingly consistent songwriter and producer. As one of the most melodically gifted pop songwriters of the past several decades, his consistencies defy expectations for any songwriter prominent since the early '90s. For over twenty years, he has been producing stellar material, with each of his most popular projects – Blur and Gorillaz – becoming some of the most popular acts of their respective decades. Blur, in my opinion, was the best Brit-pop act of the '90s. We see this now more clearly as groups like Oasis and Suede dissolved into nothingness, shortly prior to Albarn disbanding of Blur on amicable terms before they released even one flop. Albarn's prevalent ambition has always suggested a discontent with treading in one stylistic spot too long, as even with Blur one can see obvious differences between the catchy pop of Parklife and more atmospheric-driven works on 13. That he would pursue a commercial-friendly blend of ominous pop and infectious trip-hop after Blur was not at all surprising, nor was the massive success of Gorillaz that followed.
Plastic Beach, to put it bluntly, is the most selfless album Albarn has ever done. Even looking at the tracklisting of Gorillaz's third album can be daunting. The sixteen tracks, only four of which appear to have no collaborators, make it bear an initial resemblance to a hip-hop mixtape. After all, can anyone even envision Lou Reed, Mos Def, Snoop Dogg, and Bobby Womack working on the same album together? Perhaps this sounds odd, but like a quality mixtape Plastic Beach is bound to introduce listeners to new artists using a concept and artist they are already familiar with. From cult staples of classic-rock like Reed and Mark E. Smith to relevant staples of contemporary hip-hop culture like Snoop Dogg and Mos Def, Albarn is somehow able to pull off an experiment of epic proportions that finds amazing consistency in his ability to revel in other's supplemental talents. Other more low-key collaborators, like Little Dragon and Hypnotic Brass Ensemble, are going to achieve substantial recognition on account of Albarn's cleverness and, in some cases, actually prevail over the bigger names. Albarn writes and produces all the tracks here, using these collaborators as instruments of sorts to fulfill visions of stylistic defiance. By all accounts, Plastic Beach may end up being a timeless album for one specific reason: Albarn has taken timeless performers themselves, those that have developed a certain stylistic movement, and adjusts his songwriting formula for them specifically. This is the same type of songwriting that, after over twenty years, has proved timeless itself.
Stemming from this timeless quality is an album that is stunningly cohesive despite running nearly an hour. On 2005's Demon Days, Gorillaz employed Danger Mouse to produce a more vivid form of their dark, brooding, but often infectious blend of pop trip-hop. The album was certainly a large success, but at times felt constrained to one technique of production that relied on Danger Mouse's slight linearity. Despite having several other producers at hand, the final vision felt constricted and too uniform. This is corrected somewhat immediately on Plastic Beach, where "Orchestral Intro" clashes with ocean sounds and a climactic string accompaniment. Think Philip Glass meets Gustavo Santaolalla. Only a minute long, it merely sets up "Welcome to the World of Plastic Beach", which is basically an extended introduction in itself. Even if its purpose is more atmospheric than hook-driven, hearing Snoop Dogg as the first voice on a Gorillaz album brought a grin and, later, a surprising sense of satisfaction. Albarn caters to Snoop's signature calmness with slowly vibrating synth arpeggios and a cooing vocoder in the background. Hypnotic Brass Ensemble, which is also outstanding during the Mos Def-featured "Sweepstakes", provides plenty of orchestral elements that give the song a fantastic sense of fluidity. Leave it to Albarn to make vocoders actually sound good (even if Snoop helps out). If there is a production technique with a bad reputation, then Albarn practically considers it a challenge to make it sound good. As usual, he succeeds here.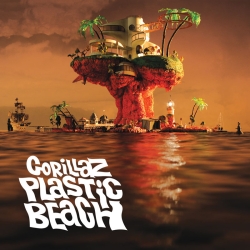 One of the album's brightest moments is "Rhinestone Eyes", a track that sounds like classic Gorillaz in its minimalistic, sample-led resemblance to efforts like "DARE" and "Clint Eastwood". This is one of the few efforts with no collaborators, which is practical because even one may have diluted Albarn's sole presence. This is an utterly infectious, nearly flawless work that stands alongside "Feel Good Inc." as a readily accessible gem that capitalizes upon Gorillaz's uniqueness. The Noodle-like audio sample during the chorus of shrill synths, the sample of a woman's "oh!" during a serene escape from percussion and bass, and the main organ lead are a few examples of ingeniously concocted placements of hook-driven madness that reminds us why Albarn relishes in critical acclaim with each album. I cannot get enough of this song, and I doubt it will get sickening by the time radios are blasting it this summer. The only effort that comes close in downright infectiousness is "Pirate Jet", a teaser of sorts that concludes the album. With a pulsating shrill of an organ directing itself over a kangaroo bounce sort of percussion, it is a somewhat apt way to close off the album considering Albarn's next foray will be with the re-formed Blur. This is vintage Albarn pop, with few electronic modifications creating either an ominous or soothing atmosphere. In the vein of "Boys & Girls", it drives home an insanely catchy melody and has no faults in presentation or demeanor, its lead melody carrying everything. Here, it basks in exuberance again. "Still connected to the moment it begun," he sings, almost ironically in the sense that this is most certainly a throwback to his younger days as a songwriter.
"Superfast Jellyfish" is intended to be radio-friendly like "Stylo" and "Rhinestone Eyes", but its lack of expansion makes more novelty than quality. De La Soul really does a great job of delivering verse-per-verse, but Gruff Rhys feels sort of wasted in his short cameo during the chorus. The melody here is way too simplistic and underwhelming in comparison to what is presented later, mainly because the last minute or so goes into an addictive array of escalating synths that tends to magnify the earlier . This section resembles the hurried music to Super Mario Bros. and it could not have been done better. Enough has been made of "Stylo" by now, as it is one of the strongest singles of 2010 thus far. It is the quintessential example of Albarn's collaborative genius, which finds him juggling Bobby Womack's soulful howl with Mos Def's rhythmically inclined spurs to produce a riveting accomplishment. Its dark, synth-y vibe along with Womack's trademark croon makes it sounds like an early '80s lovechild of disco, soul, and recently emerging synth-pop. The song gives nothing to complain about, and continues an amazing stretch of songs that begins at "Rhinestone Eyes". Among these is "Some Kind of Monster", a head-scratching sort of track that makes you ask how Albarn made electro-pop and Lou Reed mix cohesively. I have to say, one of the most rewarding moments on the album is when Reed plays along with Albarn during the song's latter two choruses. It is effective because it surprisingly works, but mainly because it is impossible to resist Reed when he stutters "some kind of nature, some kind of soul" at the song's final moments. His accompaniment is not just novelty either… listening to this song, his parts seems absolutely essential to its success.
One of the unexpected stars on an album full of them is Sweden's Little Dragon. They appear on two tracks, "Empire Ants" and "To Binge", which both serve as accomplished standouts. Vocalist Yukimi Nagano is utterly consuming with an obvious background in jazz, experience that works incredibly well for musicians in the vein of Albarn or Matthew Herbert that employ rhythmically-based electronic-pop. "To Binge" sounds like a tropical treat with its high-pitched keys and soft cooing vocals, the style retaining a psychedelia influnece with flourishes of reverbed guitar and vocals. The duet here between Albarn and Nagano is quite nice too, as her beautiful voice interweaves well with Albarn's distinctive voice. "Empire Ants" is already a fan favorite for good reason. It generally exists in two parts: one where we find Albarn singing softly over a beautiful accompaniment of acoustic guitars and pianos, the other where Nagano takes control of pulse-charging synths that resemble material on Röyksopp's Junior. Both sections are outstanding and the transition from one into another is seamless. "Cloud of Unknowning" is also a nice addition for its subtle beauty; when the woodwinds and strings finally converge, Womack is going to send chills up your spine just like he did in 1972 when he released "Across 110th Street". I stand by this: Damon Albarn seems nearly equivalent to Quentin Tarantino when it comes to unexpected revivals. It also helps that neither of their résumés show a decrease in quality, giving artists like Reed and Womack comfort in knowing their legacies are in good hands.
Another recommendation is "Sweepstakes", an overlooked gem featuring Mos Def that packs the build-up that most hip-hop tracks envy. I dare you to sit still once the brass kicks in. It is not a downright accessible effort like the extremely conventional but very pleasant "Melancholy Hill", but as Mos Def eases the listener into his area of rhythmic comfort there is nothing that can deny the energy of his delivery when the Hypnotic Brass Ensemble provide their irresistible orchestral additions. The only two tracks I take issue with on the entire album are "Broken" and "White Flag" not American flag, both of which stumble out of the gate and never pick up the pace. If both of these tracks were omitted then the album would approach a rare instance of cumulative perfection. Spotty decisions and forced stylistic fixtures are faulty components of these two efforts, but the rest of Plastic Beach is just the opposite. From Little Dragon's melodic synth-pop efforts to the wonderfully spontaneous additions of Mos Def and Lou Reed, this is one of the few collaborative albums that actually works. Easily one of the best albums of 2010, Plastic Beach is also one of the grandest musical accomplishments of the past decade. While most albums reliant on collaboration are commercial flops intending to cash in on popular names, this is an album where enjoyment will come in both the amazing quality of the songs and the talent that perfectly encompasses them. Rarely is an artist like Albarn willing to become so selfless to the point where listeners are finding other artists by listening to his music. When you have songs as great as those on Plastic Beach, I suppose there is nothing to lose.
9.5/10.0
RIYL: Blur, The Good, The Bad & The Queen, Daft Punk, Team Sleep, Radiohead, The Chemical Brothers, Soulwax, Massive Attack, Death in Vegas, Ratatat, The Prodigy, Röyksopp, Moby, Björk, MGMT, Cibo Matto, Goldfrapp
——————————————————————————————
——————————————————————————————
Gorillaz – Empire Ants (featuring Little Dragon)
[audio:http://mineorecords.com/mp3/goril-emp.mp3]
——————————————————————————————
Gorillaz – Some Kind of Nature (featuring Lou Reed)
[audio:http://mineorecords.com/mp3/goril-som.mp3]
——————————————————————————————
Official Web Site (requires flash – have fun exploring the island)
Download free Gorillaz ringtones to your phone at http://www.brinked.com