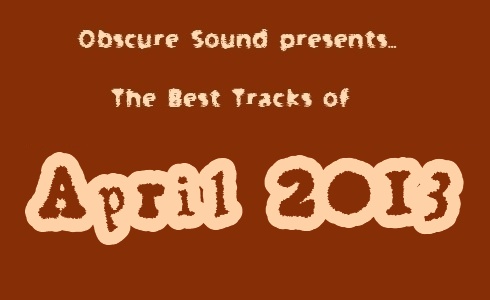 April is a month that often serves as the middle man between winter and spring, at least here on the East Coast. Maybe it was the re-emergence of sunshine, but I was able to get through a lot of submissions the past month — resulting in more featured artists than usual. There were 27 artists featured in April, all of them worthwhile. Still, I aim to keep these compilations at least relatively concise at 20 tracks maximum. So even though we're missing seven artists here, the flow and overall quality of April's compilation is still tops.
As with most 20-track compilations, there are a vast array of styles here. Kicking things off, Roman à Clef bring a lovably nostalgic slice of new-wave and jangle-pop, much in the vein of Prefab Sprout and The Church. I was so enamored by their sound I included both of their available tracks on here. The next few cuts are steeped in dreamy variations of shoegaze, electro-pop, and more '80s revivalism. Isaiah The Mosaic, Wild Nothing, and Everything by Electricity each take a different approach to their adoration, from Wild Nothing's poppy jangle to Everything by Electricity's shoegaze/electro-pop fusion. Germans' track "Cruel" sits in a similar decade of nostalgia, as producer Kurt Feldman helps engineer a sound rooted in magical synth-pop — true to his motto "Christmas synths abound, all year round." More electronic-minded gems come from Tiger Tsunami, Junip, Wildarms, and Ploy.
In the slicker and more immediate aspects of rock music, there's plenty here as well. Bird Names provide plenty of avant-garde psych-pop ambition, while the likes of Skeleton Coast and Trivial Shields tout a youthful guitar-led glow that would fit well on a dark '90s soundtrack. Strokes sound-alike The Gloss keeps things simple and accessible, as does the haunting croon of the NYC-based Redfoot, who sound like a meshing of The Auteurs and Grizzly Bear. Then there's MMOSS and their '70s psych-rock revivalism, contrasting nicely with the ferocious alternative punch of Silver Arm. Too aggressive? Try the quaint Swedish pop of Alpaca Sports, or the gentle acoustic-minded pop of Snowblind Traveler. There was something for everyone in April, from those who enjoy sunshine to those more enamored with rain showers.
01. Roman à Clef – "PSBTV" (post)
02. Isaiah The Mosaic – "The Obvious" (post)
03. Wild Nothing – "A Dancing Shell" (post)
04. Everything by Electricity – "Violet Haze" (post)
05. Skeleton Coast – "Young" (post)
06. Bird Names – "Another Locked Costume For Your Dreams" (post)
07. Roman à Clef – "Lucky Toasts" (post)
08. The Gloss – "Words" (post)
09. Young Hunting – "Maze" (post)
10. Trivial Shields – "Camelot" (post)
11. Germans – "Cruel" (post)
12. Junip – "Your Life, Your Call" (post)
13. Snowblind Traveler – "Love Is Dead" (post)
14. Wildarms – "Dreams of Cuba" (post)
15. Redfoot – "Make It Quick" (post)
16. Ploy – "VRDSNT" (post)
17. Alpaca Sports – "Telephone" (post)
18. Silver Arm – "Dead Tongues" (post)
19. MMOSS – "Nothing Left" (post)
20. Tiger Tsunami – "Antarctica" (post)
DOWNLOAD ENTIRE COMPILATION>>>
 (100 MB, .RAR)