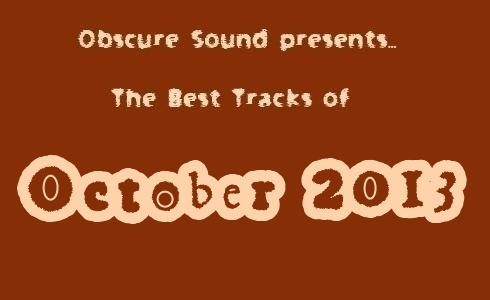 November is already here, huh? Hard to believe that the year is almost over. By this time next month, I'll be compiling the Best Albums of 2013 list. I'm looking forward to that, but I also anticipate using November to acquaint myself with other albums released this year that I haven't gotten around to yet. It's always a given that a few great albums will fly under my radar, but I try and minimize the amount as much as possible. November's compilation shows once again that with so many fantastic independent submissions, sometimes I can overlook a few buzzed-about releases. These acts are just as good, so they can distract from that.
Some old favorites like The Derevolutions, Haunter, The Explorers Club, and Mumblr say hello again this month with excellent tracks. They all vary quite differently in style, from The Explorers Club's surf-pop harmonizing and Haunter's quaint Grizzly Bear-like folk, to The Derevolutions' integration of both infectious sampling and natural instrumentation. The Derevolutions track leads into another sample-friendly gem, the extra lovely "Extra Lovely" from Flamingosis. Some post-punk revivalism courtesy of Frankie Teardrop is another highlight, as "Chicago" borrows from The Jam and The Ramones in the best way possible. Other favorites include Los Waves' MGMT-style psych-rock, Hereticks' infectious angst, and Soft as Snow's Knife-like dark electro-pop.
Belgian-based The Feather and French duo Million Kopek are two newly featured projects that really wow, as well. The Feather's "What If" is an anthemic tour-de-force, with a seemingly endless melodic range and punch-in-the-throat hook. Million Kopek's atmospheric grasp is just as admirable, resembling countrymen Air in their scenic approach. There are a bunch of quality tracks on Obscure Sound's Best of October 2013, so enjoy!
01. The Feather – "What If" (post)
02. Los Waves – "Got A Feeling" (post)
03. The Derevolutions – "We Found That Beat" (post)
04. Flamingosis – "Extra Lovely" (post)
05. Million Kopek – "Tous les humains" (post)
06. Haunter – "Shadow Song" (post)
07. Frankie Teardrop – "Chicago" (post)
08. Mumblr – "Somebody Touch Me" (post)
09. The Explorers Club – "Don't Waste Her Time" (post)
10. Hereticks – "Promised Land" (post)
11. Sunset Pig – "Everything Is Fake" (post)
12. Soft as Snow – "Halo Heart" (post)
13. Hella Better Dancer – "Sleeptalking" (post)
14. River Fury – "Our Only Comfort (Being Fooled)" (post)
15. Strangefruit – "Sea of Fog" (post)
16. Colornoise – "No Name" (post)
17. Ghosts & Liars – "Sunsets on the Sidenotes" (post)
18. Crushes – "Heartache" (post)
19. White Denim – "Looking for a Place to Start" (post)
20. Freelove Fenner – "All Things Break Through" (post)
DOWNLOAD ENTIRE COMPILATION>>>
 (100.2 MB, .RAR)
This compilation can be extracted using WinRAR (PC), UnRarX (Mac), or any extracting programs.