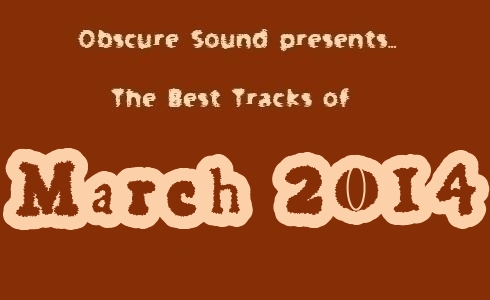 I was able to clock this compilation at around one hour exactly. I think it's a great 60 minutes, one that follows the recent months' trend of catering almost exclusively to the under-exposed. A rough barometer of "under-exposed" in this instance is under 10,000 plays for a track on SoundCloud. Only one of the tracks on here – Wye Oak's darkly infectious "The Tower" – exceeds that mark. I don't care about the number of plays a track has when I'm listening to it for the first time; my favorites just tend to be under that mark, for some reason. It's an exciting feeling, knowing that any of these tracks/artists possess the quality to explode at any point. Since posting, some artists on here – like Michael Rault and Daisy Victoria – have already earned spots in NME. I expect similar success from many of the other artists on here too.
There's a bunch of notables on here. Malandros kicks things off with some jangly goodness fit for springtime, with vibes reminiscent of Real Estate and Mac DeMarco. Meanwhile, the infectious Michael Rault brings some sunshine-y rock 'n' roll akin to Dr. Dog with a touch of Lennon. Daisy Victoria's bustling guitar-led sound is capped off by ferocious female vocals comparable to Karen O, while the equally energetic vocals from garage-rockers Inevitable Daydream pay off with "Summer Song". The Swedish one-two punch of Wouie and Pinguin should satiate your indie-pop needs, while efforts from Emeron & Fox, Man vs Indian Man, Banquise, and Turboslash show varying elements of electronica — from sleek nostalgia (Banquise, Turboslash) to experimental electro-pop (Man vs Indian Man).
I hope you enjoy!
01. Malandros – "Writer's Block" (post)
02. Michael Rault – "Too Bad So Sad" (post)
03. Wye Oak – "The Tower" (post)
04. Daisy Victoria – "Macbeth to My Lady" (post)
05. Diamond Mind – "Better Alone" (post)
06. Banquise – "The Tramp and the Radio" (post)
07. Man vs Indian Man – "Ice Accountant" (post)
08. Wouie – "Sydow" (post)
09. Pinguin – "Don't Talk" (post)
10. Inevitable Daydream – "Summer Song" (post)
11. Emeron & Fox – "Windup" (post)
12. Sun Cut Flat – "Happiness Is A Wandering" (post)
13. Fou De Toi – "Dreams" (post)
14. Beverly Girl – "In the Street" (post)
15. Turboslash – "Deathracer" (post)
16. Sarit Barkan – "Shut Your Mouth" (post)
DOWNLOAD ENTIRE COMPILATION>>>
 (67.9 MB, .RAR)
This compilation can be extracted using WinRAR (PC), UnRarX (Mac), or any extracting program. Keep in mind, sound quality is best when played via the Soundcloud embed at the top of this post.