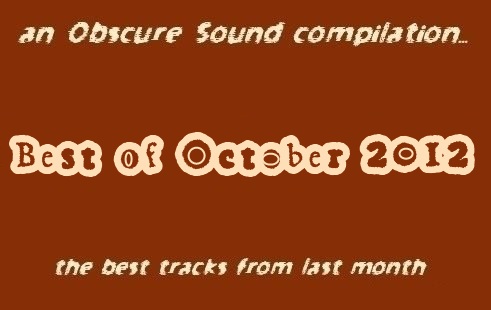 This compilation was a challenge to compile, since there was an excess of quality content to choose from. I literally had to cut my options in half. The result is something I think you'll be very pleased with. There's a little something of everything here. We start with an excellent track by Haunter that touches on '60s psych-folk, before Karl X Johan pursue something entirely different with seductive late-night electro-pop. Soaring rock anthems come courtesy of The Pollies and Rare Monk, who use somewhat comparable Modest Mouse comparisons to their benefits. Crystal Castles and Bravestation craft an exotic soundscape from a variety of bubbly synths, a darker tone for the former and more of a twinkling futurism from the latter. And then there's that amazing album Kendrick Lamar released this month, good kid, m.A.A.d city. I just had to thrown in the non-album track. Like the rest of the album, it's stunning — and actually lives up to the insane hype it's been driving on for the past month.
The spectral folk of The Good Legs reminds of a mix between José González and Simon & Garfunkel. It received a very positive reaction when posted a week back, and it's easy to hear why. The swift art-rock of Dora Brilliant jolts the mix back to life, before !mindparade hypnotizes with his addictive psych-rock. And then… well, I'll just stop there. I've only described half the compilation up to this point. I encourage listeners to discover the rest on their own. You won't be disappointed. October was a month of wonderful submissions and finds, so I thank the artists and fans that are constantly sending me great material to write about. You're the reason I never run out of amazing music to listen to. It helps to share the love.
01. Haunter – "Take Me Back (To Those Times)" (post)
02. Karl X Johan – "Get It All" (post)
03. The Pollies – "Something New" (post)
04. Crystal Castles – "Affection" (post)
05. Bravestation – "Future Love" (post)
06. Kendrick Lamar – "The Heart Pt. 3 (Will You Let It Die?)" (post)
07. Rare Monk – "Underground" (post)
08. The Good Legs – "Forty Years" (post)
09. Dora Brilliant – "Talk It Up" (post)
10. !mindparade – "Gravitation" (post)
11. TOPS – "Easy Friends" (post)
12. Vince Dynamic – "Someone Else's Dream" (post)
13. Young Holidays – "Teenager" (post)
14. Skittish – "The Fixer (Bargaining)" (post)
15. Tiger Waves – "Countryside" (post)
16. Fou – "Don't You Know?" (post)
17. Bubbly Mommy Gun – "Cuckoo Lungs" (post)
18. Joe Ferraro & Dan Stevens – "Rooftop" (post)
19. Humfree Bug Art – "With Nights and Lights" (post)
20. The Sea Life – "Sex Appeal, Pt. 1" -> "Body Language, Pt. 2" (post)
DOWNLOAD ENTIRE COMPILATION>>>
 (115.84 MB, .RAR)
The compilation can be unzipped using WinRAR.