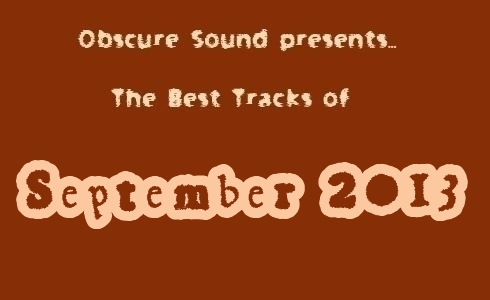 September's compilation is one I am very proud to release. 14 of 20 tracks on here have under 10,000 plays on SoundCloud, signifying to me that there are many that have yet to discover these talented acts. More importantly than play count, the twenty tracks here are of extremely high quality; this is a collection of songs that I cumulatively consider the strongest out of any other Obscure Sound compilation released this year. Listen for yourself to see if you agree, either via the Soundcloud embed above or the .RAR download below. Keep in mind, the SoundCloud embed offers the highest quality, and works very well with the SoundCloud app on your smartphone of choice.
In addition to the consistent quality, there are an abundance of different styles throughout. Kicking things off, Elephant's suave "Shapeshifter" is a tour-de-force that sounds like it could be culled from a '70s spy film. Speaking of the word "culled", Cull's "World Inside Your Head" is a beautiful meshing of shoegaze and alternative with a killer guitar-driven bridge during the second half. The next two efforts, from French Cassettes and Sunboy, show crisply polished indie-rock with a bevy of hooks; these two groups are going places, and fast. Familiar faces The Stepkids and Ducktails also make solid entries. Also of note is the two separate projects of Swedish brothers: Man on the Moon and his younger brother, Mr. Roffla. The amount of musical ability within that family is impressive, to say the least.
Those tracks are just the tip of the iceberg on September's compilation. From shoegaze-driven entries from Cull and Spells to intricate alt-rock efforts via Oso Leone and Marius, there's a lot to dig through. As usual, let me know your thoughts in the comments. As I keep saying, I really think everyone will dig this one.
01. Elephant – "Shapeshifter" (post)
02. Cull – "World Inside Your Head" (post)
03. French Cassettes – "Us Kids" (post)
04. Sunboy – "Aphrodisia" (post)
05. The Stepkids – "The Lottery" (post)
06. Soft Pyramid – "Tweakin' on the Weekends" (post)
07. Ducktails – "Honey Tiger Eyes" (post)
08. Chrome Sparks – "Marijuana" (post)
09. Marius – "Rounds" (post)
10. Oso Leone – "Ficus" (post)
11. Man on the Moon – "Protesters" (post)
12. Cruiser – "Kidnap Me" (post)
13. Benin City – "Wha Gwan" (post)
14. Simian Ghost – "Know It All" (post)
15. Mr. Roffla – "Truth As We Know It" (post)
16. Spells – "Colors" (post)
17. Magenta Skycode – "We Will Be Warm" (post)
18. Lectures – "Hanging from the Banister" (post)
19. Kal Marks – "Parking Lot" (post)
20. Nathaniel Noton-Freeman – "That Wind!" (post)
DOWNLOAD ENTIRE COMPILATION>>>
 (94.2 MB, .RAR)