Posted
June 16, 2014 by Mike Mineo
in Playlists
Obscure Sound: Best of May 2014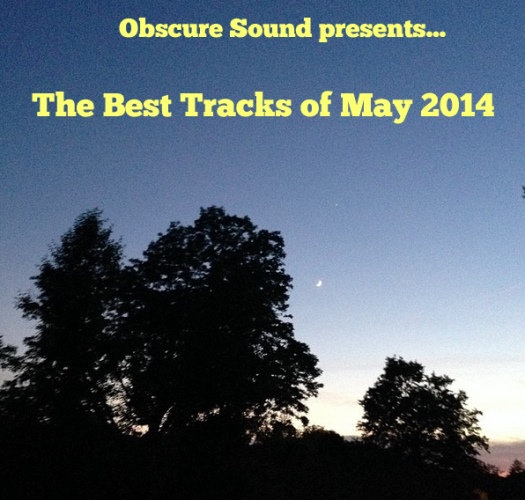 I consider this to be one of the highest-quality compilations released on OS, despite it being less stylistically eclectic than usual. For whatever reason this month, rock dominated. The first eight tracks here are very rock-forward, actually, featuring the surf-injected punch of Hot Flash Heat Wave and The Yetis, the anthemic power-pop of Likers, the shimmering post-punk of Nick Raven, and the nostaglic bite of The Vaporettos and AstroMike Gordon. Not to worry though — Canopies' psych-infused synth-rock and Hazy Mountains' atmospheric electronica provides a dose of the electronic side, as does Chloe Ann the Van's oddball Ariel Pink-aided electronica and Jacob Trombetta's nocturnal electro-pop allure. Either way, I've been playing the majority of the tracks here non-stop the past month, more so than usual. I'm extremely grateful to have come across such a talented cast of musicians throughout May. I wish every month was filled with as much quality. Enjoy!
01. Corsica Arts Club – "California I Follow" (post)
02. Hot Flash Heat Wave – "Turning Blue" (post)
03. The Yetis – "Warm California" (post)
04. Likers – "Kamikaze Hearts" (post)
05. Nick Raven – "Nineteen Fifty Three" (post)
06. The Vaporettos – "Fortress" (post)
07. AstroMike Gordon – "Ministry Song" (post)
08. Cypress Grove – "Lately" (post)
09. Canopies – "Getting Older" (post)
10. Michael Rault – "Lost Something" (post)
11. Halcyon – "Won't Cry Tonight" (post)
12. Joy Classic – "Metro" (post)
13. Hazy Mountains – "Blush" (post)
14. Juliette Jules – "Johnny Was" (post)
15. Miles Wick – "In My Town and Your Town Too" (post)
16. Graphics on Television – "Drawing Game" (post)
17. The Delphines – "Careless" (post)
18. Chloe Ann the Van – "The Marker Maker" (post)
19. Ocean Hands – "Pictures of What" (post)
20. Jacob Trombetta – "Dark Cul-De-Sac" (post)
This compilation can be extracted using WinRAR (PC), UnRarX (Mac), or any extracting program. Keep in mind, sound quality is best when played via the Soundcloud embed at the top of this post.