Obscure Sound: Best of July 2013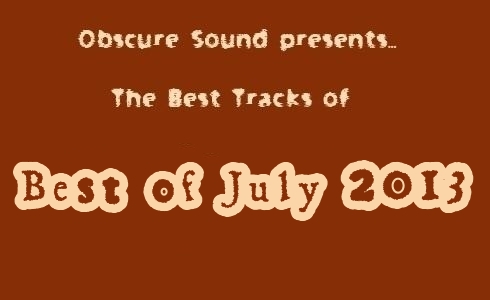 Just in time for the weekend, here are the best tracks from July. We have a wide assortment of artists here. Keebo's "Native American" is a great track to get things going, with an exotic infectious fervor that'll easily get your day going. The Ariel Pink-Jorge Elbrecht collaboration "Hang On to Life" is aces, as well. Lush, key-driven pop seems to be their collaborative signature. Artists like Sun Machine, Comfort Clouds, and Matthew Baker serve as blasts from the past; the first two seize hold on wonderful interpretations of '80s jangle-pop and post-punk, while Baker pursues a sound where '60s pop clashes with modern-day electronica. Fun stuff on all ends. JAP provides some fun hip-hop with "#hashbags", and while I'm a bit late on the Hemsworth train it's better late than never to post the superb "Charly Wingate". The second half of the compilation features some lush electronic acts, namely the R&B-driven appeal of BurnHard and the lush dream-pop revisions of White Blush, Outerhope, and Porcelain Pale. I'm sure your weekend will be great, and this compilation will help. Stream it in full above, or download it below.
01. Keebo – "Native American" (post)
02. Ariel Pink + Jorge Elbrecht – "Hang On to Life" (post)
03. Sun Machine – "Save Your Sorrows" (post)
04. Comfort Clouds – "Pony" (post)
05. Wiley – "Time Flies" (post)
06. Matthew Baker – "All I Wanna Do" (post)
07. JAP – "#hashbags" (post)
08. Smith Westerns – "Case & Point" (post)
09. Ryan Hemsworth – "Charly Wingate" (post)
10. The Anatomy of Frank – "Bill Murray" (post)
11. BurnHard – "Oh Sheila" (feat. Brendan Vintedge) (post)
12. Bloum – "La Folie" (post)
13. White Blush – "Neptune" (post)
14. Outerhope – "No End in Sight" (post)
15. Porcelain Pale – "Rapid Eyes and Restless Mind" (post)
16. Pure Bathing Culture – "Dream the Dare" (post)
17. Marc Neibauer – "Playtime" (post)
18. L.A. Witch – "Get Lost" (post)
19. Hello Ocho – "Stickin' to the Sheets" (post)
20. Fé – "Time" (post)
DOWNLOAD ENTIRE COMPILATION>>>
 (92 MB, .RAR)
The compilation can be extracted using WinRAR.
yhs-per_001
#hashbags jap
sun machine save your sorrows mp3