Obscure Sound: Best of August 2013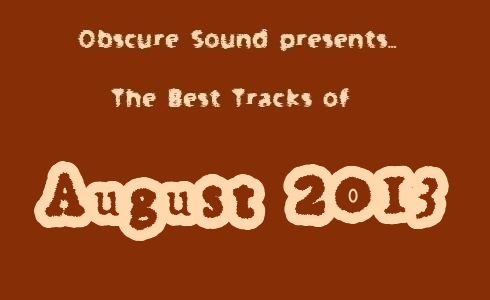 Summer may be over, but September offers up the best weather and the return of football, so no need for melancholy. Sweatshirt weather isn't such a bad thing. Looking back on August, it offered a plethora of quality artists I had not heard of prior. That's why – perhaps apart from Frankie Rose and Gap Dream – the artists in this month's compilation will be brand new to your ears. I loved J. Riley Hill's album so much that I decided to bookend the compilation with two gems from the release. Some of his tracks sound like they were culled from a dusty '70s folk vinyl. Atlanter's "Kaktos" is just solid all-around rock with spaghetti western flourishes, while The Key Key delivers irresistible pop typical of his Scandinavian heritage. Gap Dream, Ghost Cousin, Frankie Rose, and The Airplanes also provide their own doses of nostalgia, ranging from vintage prog-rock (Gap Dream) to nocturnal '80s post-punk (Frankie Rose).
Among the many electronic-minded cuts this month are IYES' anthemic build-up "Glow", Honey Bones' slick funk-tinged "Shutter", Phosphene's gorgeously ambient "Owls", and Brave Young Lion's infectious "122A". A couple of caressing folk efforts round it out, with J Riley Hill's spacey epic "Fio" closing the book for good. August proved to be a very eclectic month, offering everything from shivering electronica to warmly joyous rock and folk. September should offer up some similar diversity, a lush month providing pleasing weather as the season starts to change. Tonight you should watch some football, ingest some pumpkin beer, and relish everything good about the transition.
01. J. Riley Hill – "Alone" (post)
02. Atlanter – "Kaktos" (post)
03. The Key Key – "What It Takes" (post)
04. Gap Dream – "Shine Your Love" (post)
05. Ross Fish – "Chasing Ghosts" (post)
06. Ghost Cousin – "Breakfast and Tea" (post)
07. IYES – "Glow" (post)
08. Honey Bones – "Shutter" (post)
09. Phosphene – "Owls" (post)
10. Safe In Houses – "Can't Keep On" (post)
11. Frankie Rose – "Street of Dreams" (post)
12. Brave Young Lion – "122A" (post)
13. U.V. – "Fallen" (post)
14. Cold Fronts – "Know It All" (post)
15. The Airplanes – "Paper Hearts" (post)
16. Me And My Drummer – "Don't Be So Hot" (post)
17. Palehound – "Pet Carrot" (post)
18. Edward Herda – "Them Days" (post)
19. J. Riley Hill – "Fio" (post)
DOWNLOAD ENTIRE COMPILATION>>>
 (91.5 MB, .RAR)
The compilation can be extracted using WinRAR.
2013 top song compilation mp3
best of august 2013
Best of august 2013 mp3