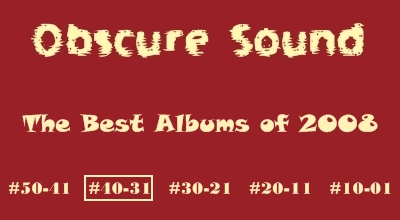 by Mike Mineo
———————————————————————————————–
40. Kristoffer Ragnstam – Wrong Side of the Room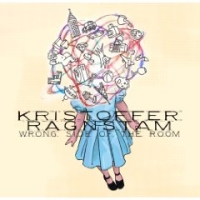 We all knew that it was only a matter of time before a Swedish pop artist made this list, and I will also admit that Kristoffer Ragnstam will not be the last before this year's best-of concludes. I first took notice of Ragnstam when he released a great single in "Breakfast by the Mattress", a sly effort that saw his practical use of fast-paced indie-pop flourish with irresistible melodies and gleeful hooks. Accessibly enjoyable melodies and hooks in Swedish indie-pop? Who would have known? Well, Ragnstam's second album, Wrong Side of the Room, provides a wildly accessible look at some of the catchiest pop music to derive from the musically incessant country of Sweden in 2008. "Swing That Tambourine" is a gleeful sing-along that finds Ragnstam reciting the track's title during a chorus filled with anthemic guitar lines and vocal outbursts, with the latter being a trademark of Ragnstam's crisply invigorating delivery. "Happy Mistakes" may be the album's most impressive effort with the stark contrast between the verse and chorus; the verse stems off of keys and guitars that gradually increase in force, while the chorus delivers a suave and seductively brisk accompaniment that sees keys and wind instruments collide for a compellingly memorable conclusion. The final minute or so sounds somewhat like a '70s spy flick, which is just one of the reasons why Ragnstam's simplistically effective pop music remains so memorable. Other tracks like "Sorry for Being the Man of 1000 Questions" showcase his occasional synth-rock premise, while "2008" finds a seamless transition between acoustic and electric accompaniments that eventually finds catchy progression of high-pitched keys concluding each chorus. While his songs may be too simplistically orchestrated for those seeking avant-garde pop music, there are few albums this year that are as instantaneously infectious as Wrong Side of the Room.
Kristoffer Ragnstam – Happy Mistakes

[audio:http://mineorecords.com/mp3/ragnstam-hap.mp3]
Kristoffer Ragnstam – Sorry for Being the Man of 1000 Questions

[audio:http://mineorecords.com/mp3/ragnstam-sor.mp3]
———————————————————————————————–
39. The Bug – London Zoo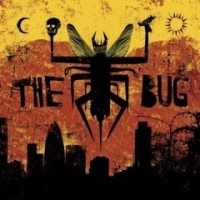 He has recorded under six main projects and released over one dozen full-length albums in the past decade, but Kevin Martin still remains an elusive figure despite his undeniable contribution to the recently invigorated genre of dubstep. In the process, Martin's variety of projects have allowed him to explore other genres like jazzcore and industrial hip-hop to an investigative extent, providing him with experience that most electronic artists foolishly dismiss as being stylistically irrelevant. Ever since his debut release, Techno Animal's Ghosts in 1991, Martin has been building this type of experience gradually but productively, as this year's release of The Bug's London Zoo has proven. It is saying quite a bit that London Zoo is his most eclectic release yet, as Martin has never shown a reluctance to tread in stylistic territories that would be deemed abnormally progressive for artists who primarily specialize in dubstep and other forms of electronica led by bass and samplers. What London Zoo does so brilliantly is capitalize on Martin's experience as a songwriter and his skills as a producer, resulting in something that sprinkles industrial hip-hop, dancehall, and grime into his mastered interpretation of dubstep. To add variety, he enlisted a different vocal performer on each track, basing his choices on the overall mood and pace of the track. It is an excellent collaborative method that makes the album even more redeeming. For example, Martin makes excellent use of Killa P's sonorous delivery and his prevalent reggae-based influence to capitalize on the ominous, bass-led fury of "Skeng", while Tippa Irie's irate delivery makes for several discordantly appropriate political statements during the percussive stampede of "Angry". Upon first listen, the tone of some tracks may sound irritated and disoriented, but with each successive play the listener will begin to realize the album's success in delivering something that is both infectious and emotionally responsive. This in addition to Martin's stellar production makes The Bug one of the finest electronic releases of the year.
The Bug – Angry (feat. Tippa Irie)

[audio:http://mineorecords.com/mp3/bug-ang.mp3]
The Bug – Murder We (feat. Ricky Ranking)

[audio:http://mineorecords.com/mp3/bug-mur.mp3]
———————————————————————————————–
38. The Ruby Suns – Sea Lion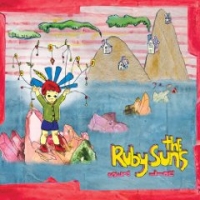 With the Internet now allowing anyone to access music from virtually any country they please, it has become a common practice for artists to integrate worldly influences into their initial sound. This high level of accessibility has made it convenient for some to expand their linear cultural perspective, but I would imagine that many would argue that a true cultural experience is accurately related to traveling to a country and experiencing it first-hand yourself. I imagine that Ryan McPhun, frontman for The Ruby Suns, would agree with this ideology quite well. A native of California, McPhun always had an interest in different cultures and countries, showing just that by moving to New Zealand in 2004 and forming The Ruby Suns while he was there. Prior to this move though, McPhun traveled around Africa and Thailand to quench his thirst for cultural exploration. A music fan all his life, he also took with him a different musical perspective after being personally exposed to the different types of art in each of the countries he visited. McPhun released The Ruby Suns' self-titled debut in 2006 to some notice, though to an extent that was incomparable to their second album, Sea Lion. This 2008 release saw McPhun reach into his worldly repertoire and pull out a collection of songs that were both strikingly original and culturally influenced. Gems like "Oh, Mojave" and "Tane Mahuta" borrow trademarks of Latin folk to integrate into the group's psychedelic-pop leanings brilliantly. "Tane Mahuta" is even sung in M?ori, an Eastern Polynesian dialect that is one of the official languages of New Zealand. For the tracks that sound a little more like home, "There Are Birds" is one of the standouts that are led by psychedelic-pop with a warmly reverberating mixture of keys and fuzzy guitars over McPhee's tranquil vocal harmonies. With tracks that are both culturally resounding and melodically appealing, Sea Lion is a uniquely successful album with one the most ambitious scopes you are likely to find for an indie-pop group.
The Ruby Suns – There Are Birds

[audio:http://mineorecords.com/mp3/rsuns-the.mp3]
———————————————————————————————–
37. Love Is All – A Hundred Things Keep Me Up at Night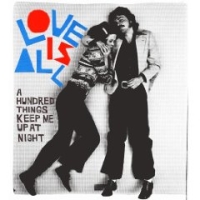 Love Is All's contagious formula of punk-tinged guitar progressions, devilishly triumphant uses of brass, and intricately bustling rhythm sections was so ingeniously engineered on their debut, Nine Times That Same Song, that it would be a crime to call the result even slightly derived; it simply did not fit in with either stereotypical Swedish indie-rock or western derivatives of punk music. Instead, the Swedish five-piece crafted a sound of their own that proved as successful as the plethora of hooks in their songs. As a result, you can probably imagine how gruesome it was for fans to wait three years for a follow-up. However, when A Hundred Things Keep Me Up at Night was finally released, most listeners were satisfied to hear that Love Is All did not change their stylistic make-up at all. Josephine Olausson maintains the same mixture of gleeful yelps and fastidiously passionate displays of emotion and the rest of the group engineers a countless number of hooks over their hectically melodic display of guitars, bass, keys, and brass. One of the album's clear highlights is "A More Uncertain Future". Olausson begins the track in a subdued manner when compared to the other brisker tracks, backed nearly exclusively by an expanding rhythm section as the slight overtone of an electric guitar gradually takes over prior to the emergence of keys. Olausson and Nicholaus Sparding both sing quite equally on the track, with the format being representative of a crumbling relationship as each vocalist relays the perspective of each significant other. Just like on "Felt Tip", Sparding eventually takes over as vocalist to complement Olausson's previous sentiments, only this time he takes on a larger role as he emerges after each verse. In a more excitable vein, the rush of guitars and heavy bass on "Movie Romance" reminisces their punk leanings to a larger extent with an explosive chorus in which Olausson and Sparding turn up their harmonizing abilities once again. "Last Choice" and "Wishing Well" feature choruses with a large emphasis on twinkling keys, and verses that see little more than a steady bass line and Olausson's fervent vocals overlap for an effect that many fans of Nine Times That Same Song should find familiarly invigorating. For old fans of Love Is All and new ones alike, A Hundred Things Keep Me Up at Night is a surefire success.
Love Is All – A More Uncertain Future

[audio:http://mineorecords.com/mp3/lisall-amo.mp3]
———————————————————————————————–
36. Bryan Scary & The Shredding Tears – Flight of the Knife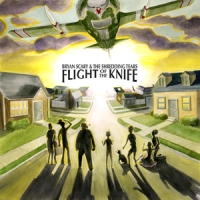 I remember finding myself in a state of regret when I discovered Bryan Scary & The Shredding Tears' debut early last year. With its portrayal of infectious '60s pop clashing fluidly with thematically invigorating forms of contemporary indie-rock, the quality exhibited would have likely stuck it in the top 20 of my "Best Albums of 2006" had I found it a few months earlier. That being said, my inattentiveness was not at hand for this year's inclusion of their second album, Flight of the Knife. This effort finds the Brooklyn-based songwriter continue upon his emphasis on '60s pop, though this time around his backing live band, The Shredding Tears, make their studio debut in fantastic form; their addition to Scary's immense level of creativity expands his scope of ambition even more. It allows Scary to provide more variation in both songwriting and instrumentation, with the obstacle of playing every single instrument an album to sheer perfection now being diminished substantially. His focus here is clearly on the songwriting, an aspect of the album that proves utterly outstanding. His style remains as an operatic version of '60s pop, providing for a very interesting twist on nostalgic pop music. Still though, Scary manages to not be overly pretentious in his interpretation of throwback pop, providing contemporary indie-rock snippets like the catchy "Imitation of the Sky" in addition to nostalgic pop gems like both versions of "Flight of the Knife" and the contagious key-led intricacies of "Venus Ambassador". Like their debut, Bryan Scary & The Shredding Tears' Flight of the Knife serves as one of the most ambitiously impressive and downright infectious albums of the year.
Bryan Scary & The Shredding Tears – Flight of the Knife (Part Two)
[audio:http://mineorecords.com/mp3/bscary-fli.mp3]
Bryan Scary & The Shredding Tears – Venus Ambassador
[audio:http://mineorecords.com/mp3/bscary-ven.mp3]
———————————————————————————————–
35. Kanye West – 808s & Heartbreak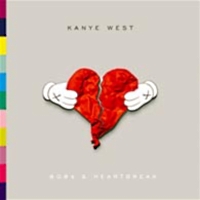 Up until the release of 808s & Heartbreak, it seemed like the only thing that was not controversial about Kanye West was the style of music he was pursuing on his first three albums. His singularly unique style of hip-hop, often with sharp production and soul-tinged samples, was something that seemingly everyone could get on board with. With a nice collection of Grammys, chart-topping albums and singles, and universal recognition as one of the most prominent producers in the world, West had no reason to alter his stylistic direction to achieve some sort of higher monetary success. His first three albums, all generally similar in style, were critically acclaimed for good reason, so the reason to pursue something completely new on 808s & Heartbreak must have been rooted entirely in some sort of emotional transition, right? After separating from his fiancée and coping with his mother's death, a return to the jovial, radio-friendly appeal of a track like "Champion" did not appear to be in the near future. Instead, West chose to explore his fascination with electronica and synth-pop. As the first part of the album's title indicates, automated electronic percussion is a standard throughout the album, along with the controversial use of Auto-Tune. The effect sometimes appears distracting, like in the Lil' Wayne-guested "See You in My Nightmares", but other efforts like "Paranoid" and "Heartless" see how it can be implemented successfully in both fast-paced hip-hop and somber soul music. Though the newer version of "Robocop" has been classified as being inferior to the original version, it is hard to deny the power of the chorus' hook in which twinkling keys and strings overlap over a vocal melody that appears as West's most upbeat on the entire album. "Paranoid", on the other hand, sees synth-pop and hip-hop collide for something that may be one of the most impressive tracks West has released in his already storied career. While the new stylistic direction of 808s & Heartbreak may turn off some fans, West's approach often proves immensely successful for anyone with an open state of mind.
———————————————————————————————–

34. Amadou & Mariam – Welcome to Mali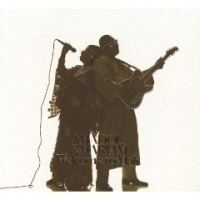 Ever since they met in 1975 at Mali's Institute for the Young Blind, Mariam Doumbia and Amadou Bagayoko have been inseparable. After they were married in 1980, Bagayoko made the transition from an aspiring solo artist to performing in a duo with a collaborative partner. Who was the other musician? Well, none other than his new wife, Mariam, of course. Since then, the duo has become one of the most respected performers from Mali and later Western Africa as a whole. They have been one of the acts that are prominently influential in the exposition of world music to young listeners, making it both accessible and fascinatingly cultural in the process. Their style in the '80s was stark in its featuring of little more than a guitar and vocals, but their breakthrough period in the late '90s saw them turn their focus to a more rock-oriented sound that was still heavily backed by influences pertaining to the traditional music of Mali. Their mixture of western rock with traditional Mali music has seen the duo play with anything from funk to electronica, with all of their albums in the past decades receiving critical acclaim all throughout the world. Their newest album, Welcome to Mali, is just as its title indicates: an extremely accessible journey into musical influences typical of Mali culture. The accessibility stems with how seamlessly Amadou & Mariam are able integrate western and African sounds, perhaps best shown in the Damon Albarn-produced "Sabali". Properly acting as the album's debuting single, "Sabali" incorporates Mariam's distinctively edifying vocals over a synth-led beat. For someone who has cut so many out of Gorillaz, Albarn's incorporated brilliance is not a surprise. A simplistic synth line is the tracks' heartbeat throughout the entire duration, gradually backed by a whirling array of glittering synths that grows in prominence as the duo's vocals increase in audibility. Along with other more culturally resounding gems like "Ce N'est Pas Bon" and "Djama", "Sabali" heads a very impressive album.
Amadou & Mariam – Sabali

[audio:http://mineorecords.com/mp3/amamar-sab.mp3]
Amadou & Mariam – Djama

[audio:http://mineorecords.com/mp3/amamar-dja.mp3]
———————————————————————————————–
33. School of Language – Sea to Shore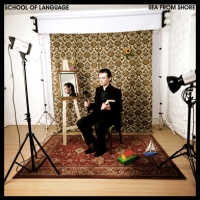 Though there are a few exceptions, there are admittedly not many solo artists who have matched or exceeded the quality exhibited in the main project from which they initially found recognition off of. After all, it is usually done after either the aforementioned main project breaks up or loses all credibility. Peter Brewis' decision to go ahead and form his solo project, School of Language, was not because of either reason, as the band's most recent release, Tones of Town, is one of their best and they are still together (though currently "on break" to try their hand at some other projects, like Brewis and his brother, Peter, have been doing). As one of the three members in Field Music, Brewis has proven to be a vital contributor toward the brand's engaging sound, with his vocal and multi-instrumental work being highly impressive. Enjoyably enough, School of Language's debut, Sea from Shore, does not stray too far stylistically from the shimmering pop flair of Field Music. Like his previous work with the band, Brewis produces admirable nods to pop greats in the vein of XTC and Brian Wilson, intertwining accessibility and melodic aptitude for an appeasing experience. The project's differences are primarily on an instrumental emphasis, as Field Music's Tones of Town held a similar form of instrumental dexterity but there was a larger abundance of keys and orchestral elements in the vein of strings and brass. Just because it is not a grandiose chamber-pop spectacle does not mean it suffers in any way though. In fact, the more personable nature presented on Sea from Shore allows Brewis to produce what a proficient solo project should sound like. While the emphasis on instrumentation may be marginalized in complexity, the melodies are as strong as ever. "Disappointment '99" remains to me as one of my favorite songs of the year. Brewis uses his form of vocal ingenuity brilliantly in the bridge, mimicking the quick chords of a high-pitched guitar with a shrill shriek. Surprisingly, that only serves as one of the song's hooks, with the sole plucking of a guitar guiding a percussion-less form of Brit-pop during the chorus' final moments (with vocals provided by Futurehead David Craig) also being aptly enjoyable.
School of Language – Disappointment '99

[audio:http://mineorecords.com/mp3/solang-dis.mp3]
School of Language – This Is No Fun

[audio:http://mineorecords.com/mp3/solang-thi.mp3]
———————————————————————————————–
32. Silver Jews – Lookout Mountain, Lookout Sea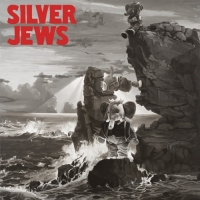 Widely touted as one of the best lyricists of the indie-rock era, David Berman has grown to be one of the most venerable figures in rock music ever since his emergence in the early '90s. Some of songs could appear eerily auto-biographical to any listener, while the contents of other tracks seem odd in a way that they could only exist in some atypical universe. A band whose lineup has changed constantly throughout its two decades in existence, the current lineup consists of nothing more than Berman and his wife, Cassie. Her most noteworthy presence on the Silver Jews' excellent sixth album, Lookout Mountain, Lookout Sea, is on "Suffering Jukebox", where she takes lead during the chorus. It provides for a remarkable transition between Berman's deep and narrative vocals, as she is transitionally melodic over the expanding use of backing guitars. Berman delivers the lyrical meat with his somberly charged vocals and his wife delivers the melodic hook; it is a situation where fans of both lyrical and melodic content should find solace. As far as stylistic mongers go, country-rock has always been present in most material by Berman, and this track along with "We Could Be Looking for the Same Thing" is an enjoyable indication of just that. "My Pillow is the Threshold" may end up being a classic from Berman, as it echoes the sort of bleak desperation and hopelessness that Berman has delivered so effectively for the past 20 years. "Because the pillow that I dream on is the threshold of a kingdom," he sings. "Is a threshold of a world where I'm with you." Compared to his wife's enjoyable presence on "Suffering Jukebox", Berman exemplifies how he can take complete control of a song's hook. His method is less melodic and more emotionally involved, with the slight quiver in his vocals creating the impression that Berman is indeed the victim of the anecdote at hand. The genuine tone of Berman's voice, his poetic brilliance, and the raw power he is able to convey through a performance are aspects that have made Silver Jews such a brand name. On Lookout Mountain, Lookout Sea, listeners are simply convinced even more of his authenticity.
Silver Jews – My Pillow is the Threshold

[audio:http://mineorecords.com/mp3/sjews-myp.mp3]
Silver Jews – Suffering Jukebox

[audio:http://mineorecords.com/mp3/sjews-suf.mp3]
———————————————————————————————–
31. Elbow – The Seldom Seen Kid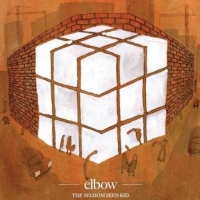 Bands that tend to improve with each release are a rare sight indeed. As bleak as it may sound, there are plenty of one-hit wonders and too few artists that withstand time and prove durable enough to learn from their own experience in a quest for incessant improvement. This is especially rare among contemporary artists, many of which appear too obsessed with monetary matters to stick with something that may not be initially successful. Finding initial success was never an issue for the British five-piece, Elbow, as they were nominated for the Mercury Music Prize with their debut album, Asleep in the Back, in 2001. What came next, though, could have been a devastating affair in seeing a group potentially chase the success of their first album embarrassingly, just like many other groups that foolishly believe that expanding upon an album or style is somehow detrimental to future success. Elbow made the wise choice though; they enhanced their sound to make it fuller, more exotic, and more intricate, with their songwriting and production also becoming more noteworthy with each successive release. Even more impressively, they chose to actually win the prize that they fell short of in 2001, releasing their fourth album, The Seldom Seen Kid, in 2008 and winning the esteemed Mercury Prize in the process. That they beat Radiohead's In Rainbows and Burial's Untrue was surprising to me, but I certainly felt that it was one of the best nominees and certainly well-deserved. Listening to the stunning "Grounds for Divorce" can attest to why such a choice was made, as I believe it to be one of the best songs of the year. With the backing harmonies invoking a sing-along effect of a very bluesy progression, the introduction to the song almost seems like a nod to Chicago blues and its integration of electric guitars and Delta blues. The chorus exists in an entirely different spectrum though, as it sees Elbow revert back to comfortable Brit-rock as Guy Garvey sings, "There's a hole in my neighborhood, down which of late I cannot help but fall". Other remarkable efforts include the progressive "The Bones of You" and the majestic "Mirrorball", the latter of which features a haunting mixture of piano, strings, and acoustic guitars. Take the Mercury Prize's word for it: The Seldom Seen Kid is one of the best albums of the year.