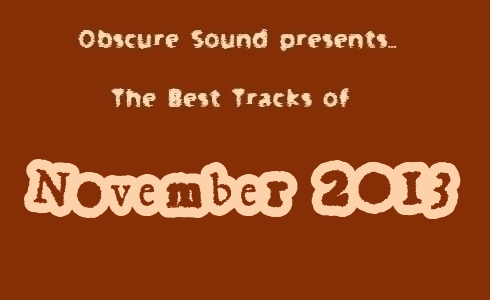 November's compilation will be the last of 2013, since – for me – December primarily consists of scouring through the many albums released this year, and attempting to sort them in order of quality. It's a purely subjective practice, one with the intent to expose and re-touch upon 50 fantastic albums released this year. Many will disagree with the order, as is the case with most internet lists, but all readers are bound to discover at least a few solid albums through the list. That's what I'm aiming to accomplish with it, and I'm looking forward to kick-starting the list on Monday, December 9th. Throughout that week, I'll reveal ten albums each day.
In the meantime, November's compilation provides a fond farewell to a year full of great independent artists, with some tracks even looking ahead to 2014. The track kicking this off, Temples' "Mesmerise", is off the group's upcoming 2014 album, Sun Structures. With psych-rocking vibes reminiscent of Tame Impala, Sun Structures is easily one of my most anticipated releases of 2014. Other highlights are rampant, as well. The Spires' put out a timeless jangly sound with "Flames (You & I)", while I'm in You shows infectious string-laden chops with "Tinnitus". This compilation is a strikingly eclectic one, from concise indie-rock (Million Kopek, The Symposium, Come on Like Gangbusters) and icy electronica (White Blush, Xodiak, Cuushe, Noisychicken) to inventive hip-hop (Khary Durgans). Dig in and enjoy.
01. Temples – "Mesmerise" (post)
02. The Spires – "Flames (You & I)" (post)
03. I'm in You – "Tinnitus" (post)
04. ROAR – "I Can't Handle Change" (post)
05. The Symposium – "The Fifties" (post)
06. Million Kopek – "From Inside" (post)
07. David Åhlén – "Linger" (feat. Timbre) (post)
08. Khary Durgans – "Sorry Khary" (post)
09. Mark Moreno – "Subway" (feat. Flunk) (post)
10. White Blush – "Wish" (post)
11. Xodiak – "My Soul to Take" (post)
12. Come on Like Gangbusters – "Oh Sister, Oh Brother" (post)
13. Cuushe – "Twilight" (post)
14. Ken Wakan – "Forever Found" (post)
15. Viscous Liquid – "It's Sort of Like…" (post)
16. Hudson Hank – "Breakfast of Fools" (post)
17. Cathedrals – "Ocean Charity" (post)
18. Noisychicken – "Trip" (post)
19. Polygon Palace – "Starpilots" (post)
20. Covers – "The Automation" (post)
DOWNLOAD ENTIRE COMPILATION>>>
 (100.2 MB, .RAR)
This compilation can be extracted using WinRAR (PC), UnRarX (Mac), or any extracting program.