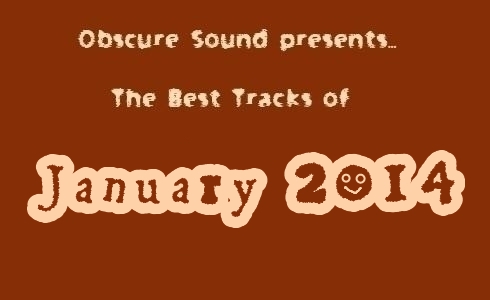 Sorry for the delay in this month's compilation, but at least this now has the potential to serve as a bright spot for Valentine's Day non-participants. Well, that's assuming the compilation is any good, which I truly think it is. It's really good, actually, courtesy of many talented artists that kicked off 2014 in grand fashion with superb tracks. New releases from longtime favorites include Mac DeMarco (jangle-rock usually, but "Passing Out Pieces" takes a psych-pop route), ceo (Swedish electro-pop), Marissa Nadler (haunting folk), Sun Kil Moon (personal folk), Wild Beasts (trickling indie-rock), and Timber Timbre (saxed-up smoothness). All of their tracks are exceptional, and reasons alone to check out their respective new releases.
Moving onto some of the lesser-known names, Baby Baby are a supremely talented group out of Chicago whose self-titled debut is probably my favorite discovery of the year so far. Mix The Doors' psych-ready hooks with Deerhunter's indie-rock innovation, and their sound comes out somewhere. Other rock-oriented highlights include Million Kopek's infectious "Love Frustration" and Travis Bretzer's jangly fun "Debbie", whose sound seems like a Mac DeMarco sidekick. The number of worthwhile electronic tracks with some really captivating soundscapes include efforts from Vizier, Josh Furey, Mano's Daughter, and The Derevolutions, the latter of which continues to impress with his sampling prowess.
So, enjoy the weekend. Hopefully this compilation makes it even better.
01. Mac DeMarco – "Passing Out Pieces" (post)
02. Baby Baby – "Keep Me Under Your Arms" (post)
03. ceo – "Whorehouse" (post)
04. The Derevolutions – "Automate Your Soul" (post)
05. Vizier – "Tonight" (post)
06. Josh Furey – "Petals" (post)
07. Sun Kil Moon – "Ben's My Friend" (post)
08. Marissa Nadler – "Was It a Dream" (post)
09. Million Kopek – "Love Frustration" (post)
10. Timber Timbre – "Hot Dreams" (post)
11. Wild Beasts – "Wanderlust" (post)
12. Travis Bretzer – "Debbie" (post)
13. Mode Moderne – "Grudges Crossed" (post)
14. Mano's Daughter – "The Machine" (post)
15. RCRDS – "I Feel Dizzy" (post)
16. Gumshen – "Bell Ringer" (post)
17. Legs Like Tree Trunks – "Anchorage" (post)
18. Selles – "Fading Moments" (post)
DOWNLOAD ENTIRE COMPILATION>>>
 (107.9 MB, .RAR)
This compilation can be extracted using WinRAR (PC), UnRarX (Mac), or any extracting program. Keep in mind, sound quality is best when played via the Soundcloud embed at the top of this post.