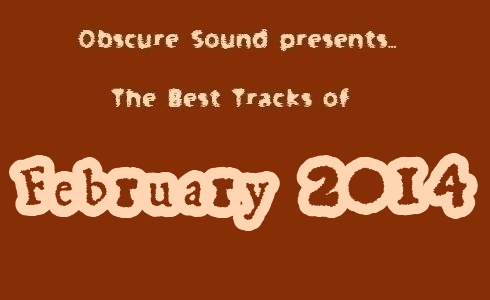 Over half the tracks in February's compilation have less than 1000 plays on SoundCloud. Of the five tracks that managed to get over that 1000 play mark, only one (Tommy's "Why Did I Say Goodbye) has over 2000 plays. So, if you're looking for quality music you've (very likely) never heard before, look no further. Play counts mean nothing when defining an artist's talent, but it's worth mentioning in this case, to reinforce that many of the groups below are just getting started in terms of recognition. Judging by the quality of these tracks, there is a boatload of cumulative potential here. There's no point in posting frequently about buzz bands, anyway, so this compilation does a great job continuing Obscure Sound's aim to deliver quality artists you've absolutely never heard of before.
Book-ended by fantastic Swedish electronic group Det lilla extra, whose mystique compares to The Knife, February offers multiple genres — from shoegaze/power-pop hybrids via Viscous Liquid and Dead Heart Bloom to exciting uses of sampling within electronic-pop, like Fennec, Koloto, and Vizier. AstroMike Gordon, Shmohawk, and Taani Ester remind of great rock music from the past, all in different ways. Overall, I think this is an exciting and eclectic compilation that is proudly full of independent artists. Let me know what you think in the comments below.
01. Det lilla extra – "Himlen är nära" (post)
02. Viscous Liquid – "If I Go" (post)
03. Canopies – "Miss You Now" (post)
04. AstroMike Gordon – "Youthful Spite" (post)
05. Shmohawk – "Believe It's Done" (post)
06. Vizier – "All the Things You Said" (post)
07. Fennec – "Hemlock Groove" (post)
08. Koloto – "Antares" (post)
09. Dead Heart Bloom – "Broken Babylon" (post)
10. Victory Kicks – "Junior Code Course" (post)
11. Taani Ester – "Kangaroo" (post)
12. Roladex – "Anthem for the Micro-Age" (post)
13. Tommy – "Why Did I Say Goodbye" (feat. Sally Shapiro) (post)
14. Det lilla extra – "Andra sidan" (post)
DOWNLOAD ENTIRE COMPILATION>>>
 (68.4 MB, .RAR)
This compilation can be extracted using WinRAR (PC), UnRarX (Mac), or any extracting program. Keep in mind, sound quality is best when played via the Soundcloud embed at the top of this post.